Like a typical Malaysian, I submitted my income tax forms on the very last day of the deadline.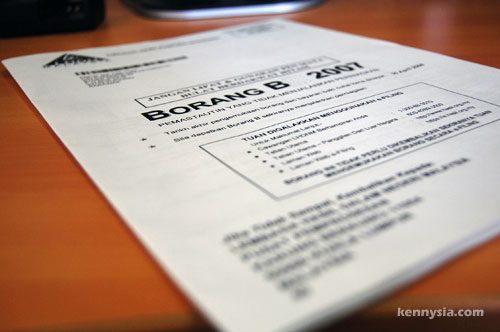 In total, I have to pay several hundred ringgit in taxes to LHDN, so now the government can use my money to build more SMART tunnels.
My income situation didn't use to be that complicated, so prevously I got someone else to do it for me. This year is the first year I had to submit my tax declaration as a business owner. And I also took a shot at filling out my tax forms completely on my own.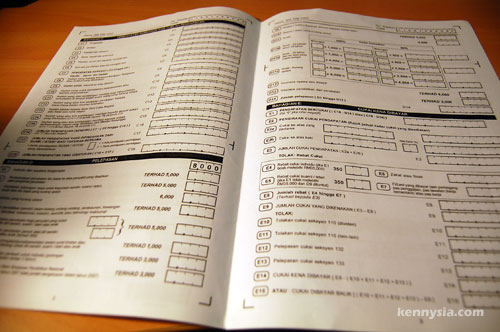 It's not easy, mind you. It's almost like we're expected have a degree in taxation to be able to fill out these tax forms.
As if it was not daunting enough that a first timer like me had to understand all the different tax laws, LHDN had to make my life more difficult by publishing the forms in BAHASA MALAYSIA.
Being new to this, I was obviously blown away by the various jargons and ended up as confused as a thirsty baby in a tittie bar.
Every few minutes, I have to stop and search for answers online.
It was during one of my searches that I suddenly stumbled upon this gem on Yahoo Answers.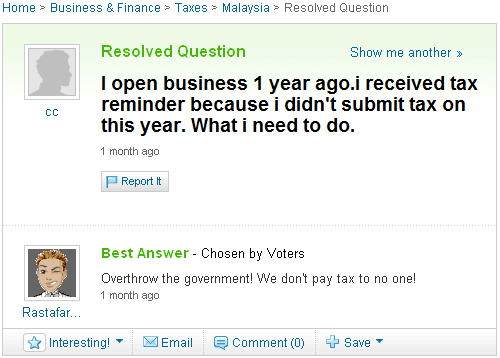 That my friend, the BEST advice ever given.

The Miss Malaysia World pageant is gruesomely diffferent this year. Instead of voting your favourite girl in, you eliminate others by 'killing' them on their website.
Remember that leggy girl in the short white bunny outfit from the Nuffnang Wild Live Party? Her name is Germaine and she's one of the contestants as well.