A few days ago, I went to Satok Shopping Center to have my Xbox machine modified. Upon returning to my car, I found out that I received a gift from the Kuching City Council in the form of this…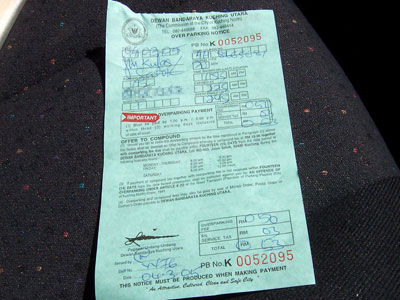 Yes, barely 2 weeks back in Kuching and I got a parking ticket. Its not that bad though since its only an extra 50 cents. But what gets me is that they have the audacity to charge me an extra 5%. For what? SERVICE TAX! Gee thanks, you're doing me a great service by giving me a parking ticket!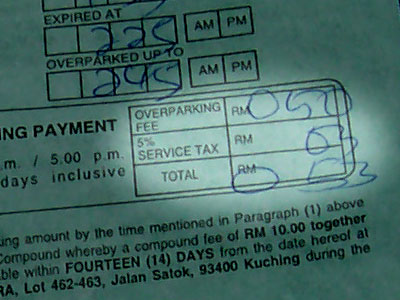 53 cents isn't much to pay for an overparking fine. But if you don't pay it, you'll cop a larger fine. The question is, where do I pay? I found the parking inspector who issued me with the fine and I was ready to give her 53 cents for her effort. She said she couldn't accept it, and that I had to pay at the pondok (booth) instead.
Now, since I'm sure many poor souls like me have to go there all the time, you would have thought that the pondok would be in bright striking red colour situated in a prominent location, maybe even decorated some neon lights advertising itself. Well, lets just say after some good 20 minutes of circling the carpark, I found the place behind the shop lots.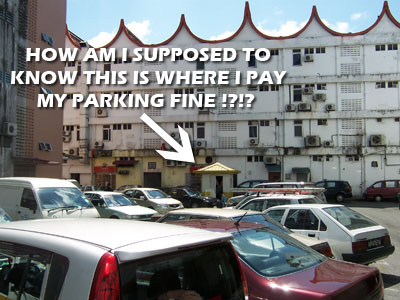 Seriously, it looked more like a cubicle where you chuck a shit than a place where you pay a parking fine!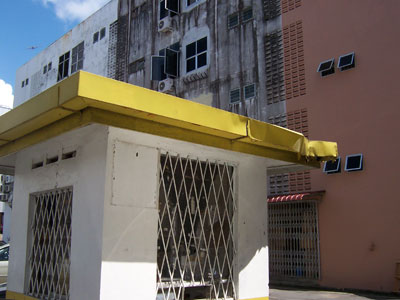 To top it off, there's absolutely no signage at all to tell me that that's the place I pay I parking fine! What lah… I thought my girlfriend is the only one who wants me to guess what she wants.
Speaking of parking in Kuching, the city utilizes a coupon system. Each coupon costs 20 cents and enables you to park up to 30 minutes at any marked public parking spot. That's definitely cheap!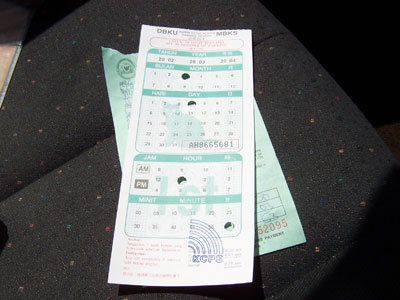 There's only one problem: everytime you park, you have to poke holes.
Now, it isn't so bad if the holes are big, loose and allow plenty of space for manouvre… but the holes here in Kuching are so fucking small. With my overwhelming girth size, I have so much trouble trying to poke the correct holes. So every now and then I would have accidentally poked the holes too hard…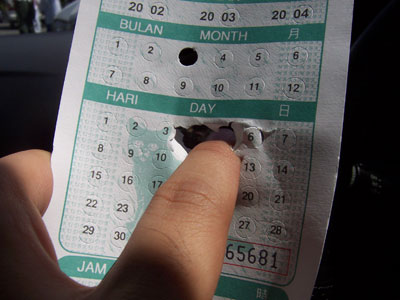 … which would cause pain, breakage, and the undesirable expansion of holes. 🙁