(This is a blog-vertorial)
I've been flying around a lot lately. And if you're like me, you'll realise that there's the so many flight operators in the market right now, and searching for the right airline to bring your from A to B is complicated enough to give you air-sickness even before you board the plane.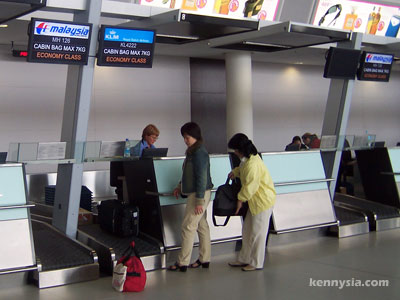 It wasn't used to be that difficult. Last time, if I want to go from, say, Singapore to Bangkok, all I gotta do is ring up my travel agent and they'll tell me which day, what time and how much.
That was when MAS and the other big players used to rule the skies lah. Nowadays, you got AirAsia lor, JetStar lor, ValueAir lor, TigerAir lor, SuperMan lor, all vying to get a piece of the sky. You call your travel agent also no use because when they hear the names of these low-cost airlines they also act blur like sotong.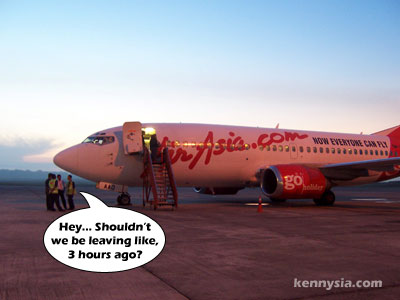 Fact is, most low-cost airlines don't pay much commission to travel agents because they wanna cut corners like taking out the reclining feature from your seats.
If you wanna get the absolute best airfares, you gotta do-it-yourself. That means, searching hundred over websites to find that right flight ,at that suitable schedule, at that price you're willing to pay.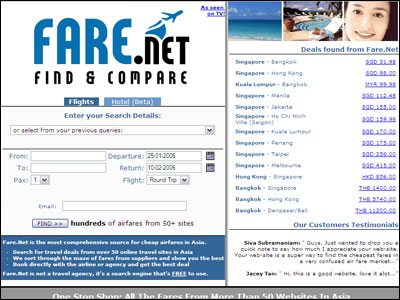 Enter Fare.net, an online travel search engine.
Fare.net is great. It's like the Google for airfares. It searches info from traditional airlines, low-cost airlines, online travel agencies, etc and displays the findings all consolidated in one site.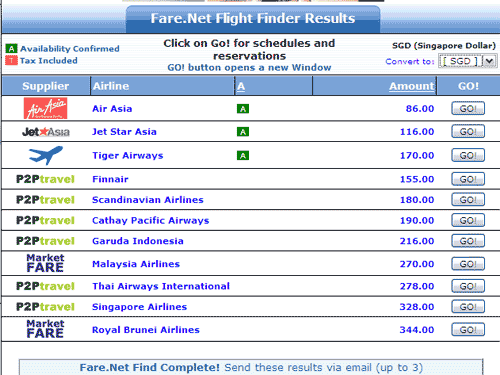 You see their search box on the sidebar of kennysia.com all the time. It's easy! You enter your flight details, wait a few seconds, and then out poops a list of all available flights along with how much moolah it's gonna cost you to get there.
Fare.net is the main advertiser on kennysia.com and has been that way since October last year. Writing on kennysia.com is nice though sometimes stressful and costly affair, so it's great to have them help offset that.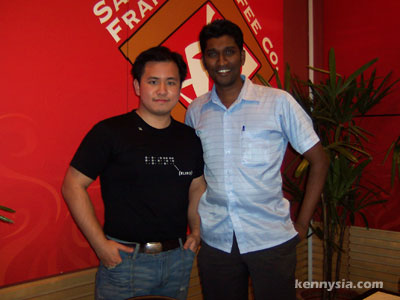 I recently met up with the CTO of Fare.net Gunesh Raj over coffee when I was in KL. This is one young, talented yet humble Kuching boy who's made it big on the Internet and personally, I just enjoy seeing a fellow Kuching-nite shining bright. On top of advertising on kennysia.com, Gunesh and I talked about the possibility of offering kennysia.com readers something so major, no other blogsites have done it before. I can't say anything before the deal is finalised, so you guys just have to keep an eye out for that. 😉
Thanks for the coffee, Gunesh!

Starhub Maxonline users in Singapore, I need your help.
Some readers complained that kennysia.com has been loading at turtle speed these past few weeks. After some investigation, I found out that all the speed complaints come from Starhub Maxonline users only. No one else is affected.
I sent an e-mail to Starhub already but blardy hell, they wanted me to tell you guys to comprain directly to them instead. Stupid Starhub, don't trust me issit?! Scare I bomb your internet ah?
*cough* Anyway, could kind Maxonline users please send an e-mail to helpdesk@starhub.com, requesting them to find out why only you guys are facing these problems on kennysia.com? Lemme know of the outcome yea?