No matter how many times I experienced it, the rock star in me never gets tired of seeing my name on a placard.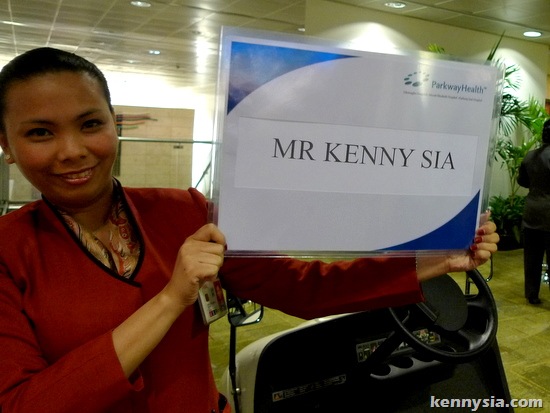 7 months after my initial consultation, I finally found time to peel myself away from my business to travel to Singapore again.
My purpose was to visit my ENT Specialist, Dr Goh Yau Hong of Mount Elizabeth Hospital.
I made my doctor's appointment through ParkwayHealth in Kuching, and they actually arranged somebody to wait for me at the airport terminal. Next thing I know, I was riding an electric buggy through immigration into a waiting limousine.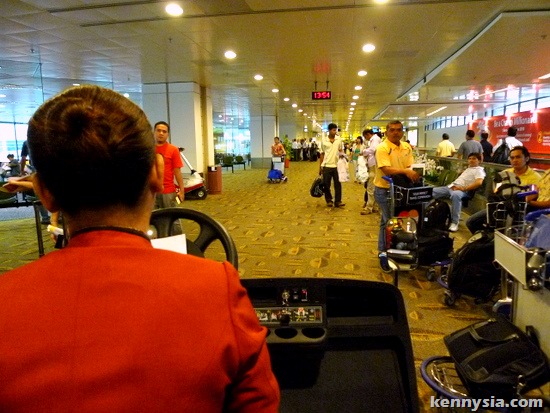 Dammit, I didn't even had time to stop for duty free.
I forgot to let ParkwayHealth know I was only there for my snoring treatment. The hospital provide this service for the critically ill, which I obviously was not. But hey, the buggy service is provided free of charge so why not make use of it right? 😀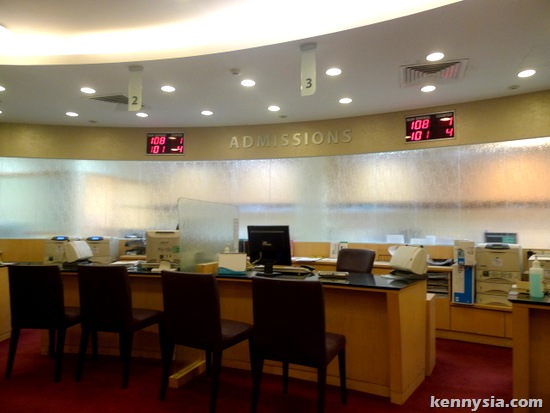 The arranged transport took me all the way to Mount Elizabeth, located in the vicinity of Orchard Road. As soon as I arrived the hospital, a concierge helped me with my luggage (as if I were staying in a hotel) and I was directed to the Admissions counter.
This is where I would be staying for the night.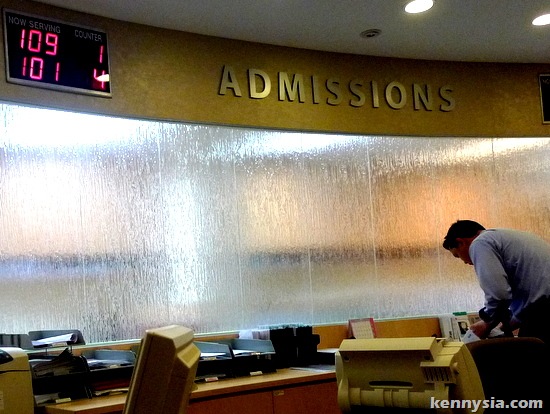 Unfortunately, disaster struck.
Apparently, all the standard wards were booked out!
It must have been the high season to get sick in Singapore, but the hospital ran out of single room for me to sleep in.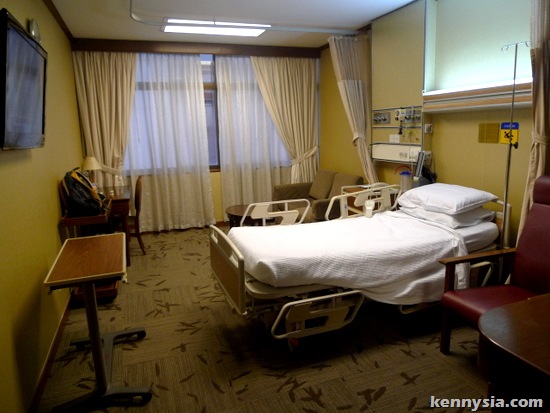 Lucky for me – they promptly upgraded me to an Executive Ward at no extra cost.
I later found out that I was in same floor where royalty usually stays when they come for treatment. Tried my luck to wonder around, but don't seem to see any Sultan or princess.
Hospitals are not my favourite place to stay overnight. But I gotta say, the room I was staying at Mount Elizabeth Hospital feels more like a hotel than a hospital.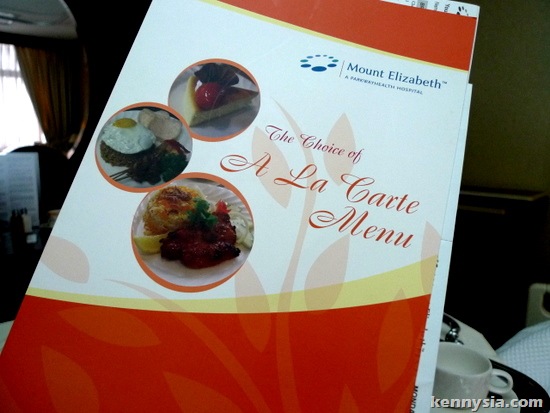 They got everything from flat screen TV, minibar and in-room WiFi internet. On top of that, they even serve food that does not classify as the stereotypical hospital food good food – like keropok and cheesecake.
But enough about the hotel hospital room.
The reason I had to stay overnight at the hospital was because I was instructed to go through a Sleep Test.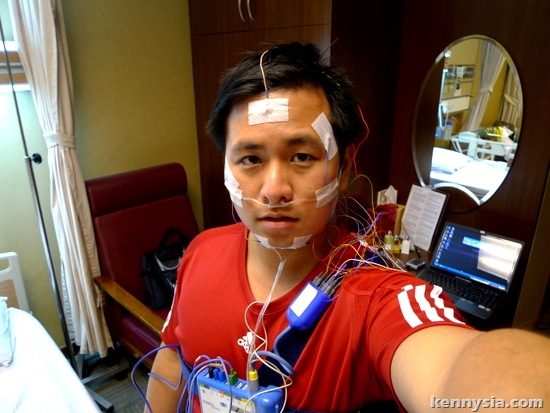 The test is to measure whether or not I suffer from a condition called "Obstuctive Sleep Apnea Syndrome" – a side-effect of which is my very loud snoring.
Apnea is more a condition more serious than just a simple snoring.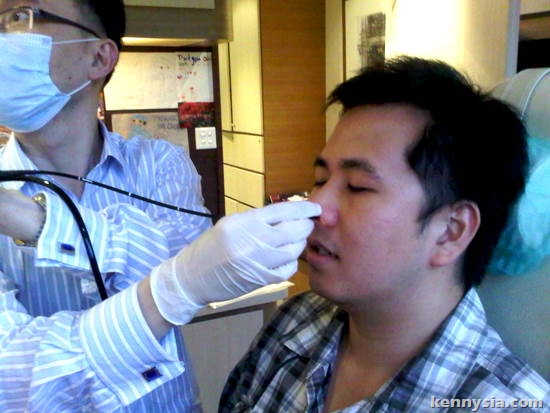 Apnea is when I completely STOP BREATHING during my sleep. In mild cases, all it means is that I will wake up groggy and tired. But the worst case scenario is that I might get heart attack, stroke or in extreme cases – death during sleep.
How tragic would I be if I were to die not because of something fun, but due to lack of oxygen during my sleep.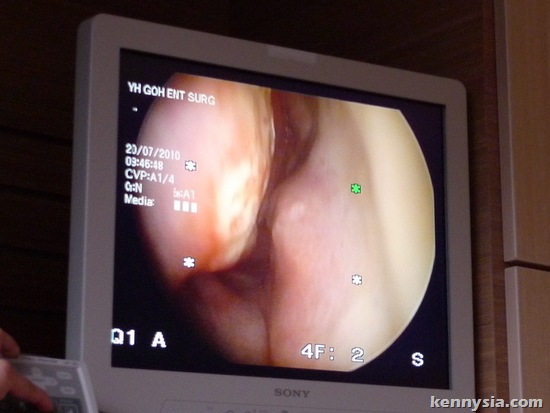 Initially, I was adamant that I did not have sleep apnea. From what I know, it occurs mostly in older and heavily obese males. I thought I was neither, but I was just being delusional.
Dr Goh insisted that I must do the test before he could treat me. Being a good boy, I had to go along with it.
When the results finally came out, I was in for a rude awakening.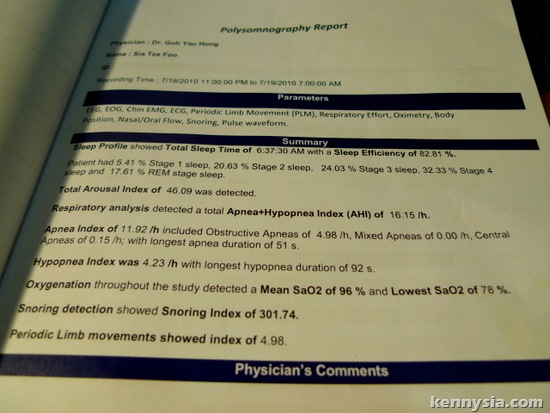 It was measured that during my sleep, I STOPPED BREATHING COMPLETELY on average – 17 times an hour. Overall, I was taking in only 78% of the oxygen I was supposed to breathe in.
It was not just loud snoring I am suffering from. Clinically, I am diagnosed as having MODERATE OBSTRUCTIVE SLEEP APNEA.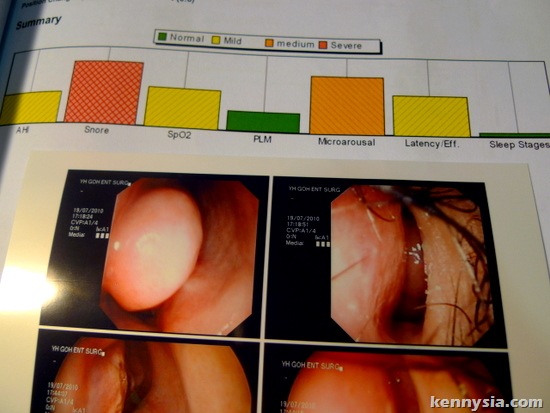 That is some startling statistic to look at.
Dr Goh was as blunt and as straightforward as he could be. He advised me that there are two things I could do to lift me out of this nightmare that has been haunting me both physically and socially since young.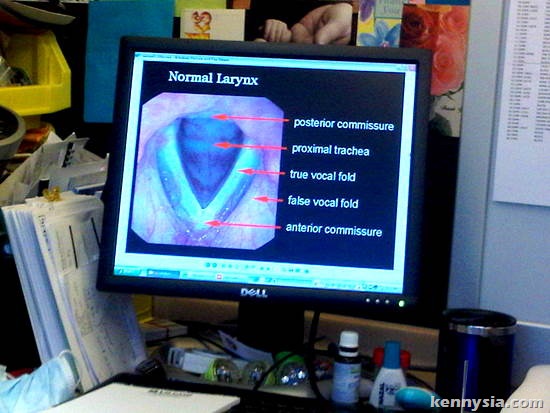 First, I must make make an effort to reduce my weight. Doing so will free up my vocal chords when I sleep.
Second, he'll perform turbinate reduction. By removing the flesh blocking my nose, I will be able to breathe in a lot more oxygen during my sleep.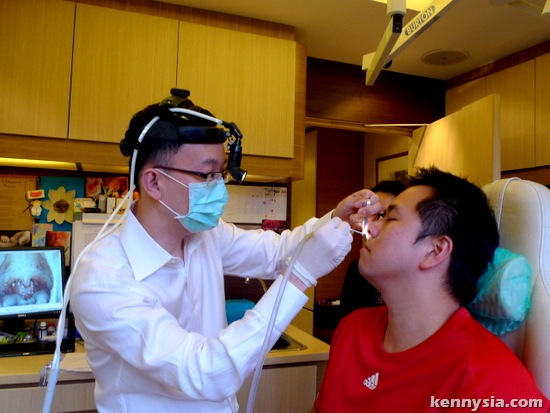 I went ahead with the procedure. The thing only lasted 15 minutes and was no more painful than a dental surgery.
There was bleeding for 3 weeks after that, but that's normal because flesh that was microwaved, cooked and fell off.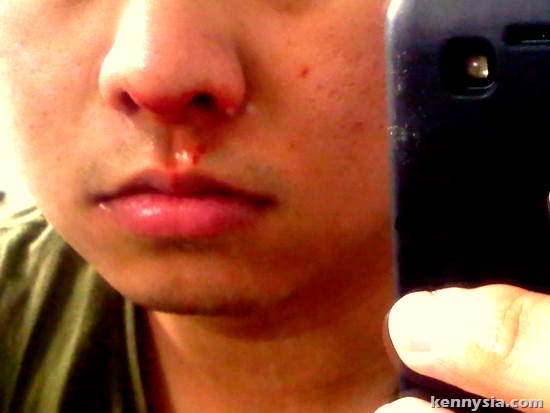 But after the whole thing was over, I took the first deep breathe through my nose – and it felt… refreshing!
It's as if for the past 28 years, I had been living with a blocked nose. When I'm suddenly able to breathe in more air than normal, and that II no longer have to open my mouth to breathe… suddenly it felt different.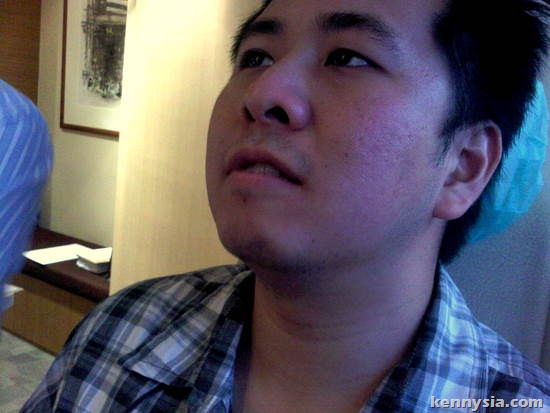 The gush of fresh oxygen going through my nose and into my lungs was reassuring. I breathed like I never breathed before. And it felt real good.
That was only one part of my snoring treatment sorted out. The other part – the more difficult part – was the issue with my weight.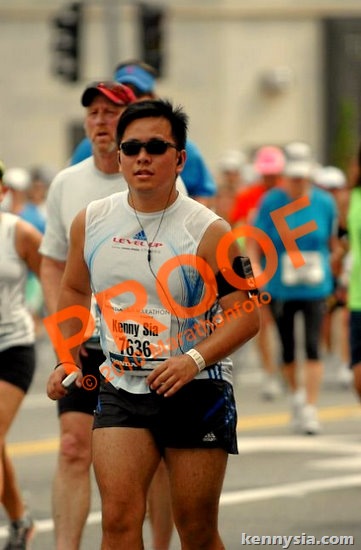 I am overweight. I had initially lost a huge amount of weight since my last marathon training.
But since then I had been travelling every weekend, working through day and night. Unknowingly I was transformed back into a blimp. I was so much into running my fitness centre that I wasn't even participating in it myself.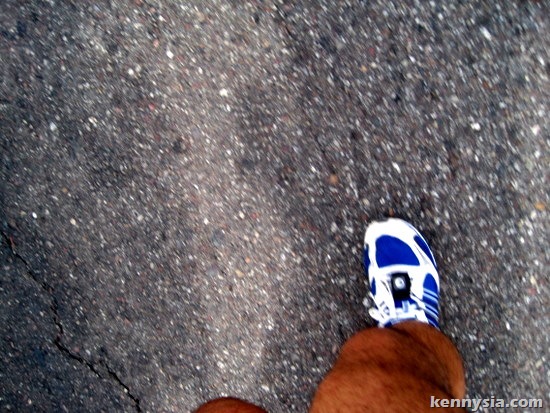 But one good thing about my new nasal passage – now that I can breathe in more oxygen – my stamina has gone up by heaps.
I'm so much more alert in my daily activity now. Gone were the days where I'd run out of breath from climbing up and down the staircase.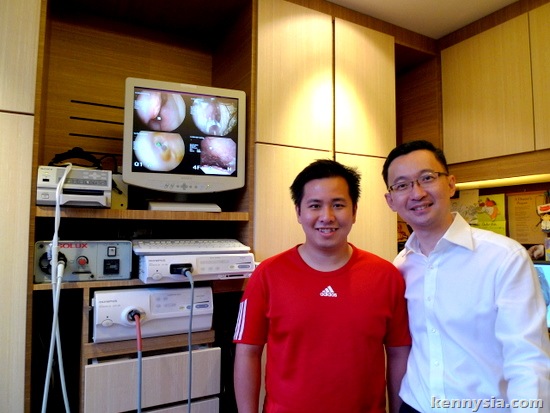 I haven't stopped snoring completely yet because my excess weight is still there. Obviously, I still have a long way to go.
But my ultimate goal was to become like this other one of Dr Goh Yau Hong's patient.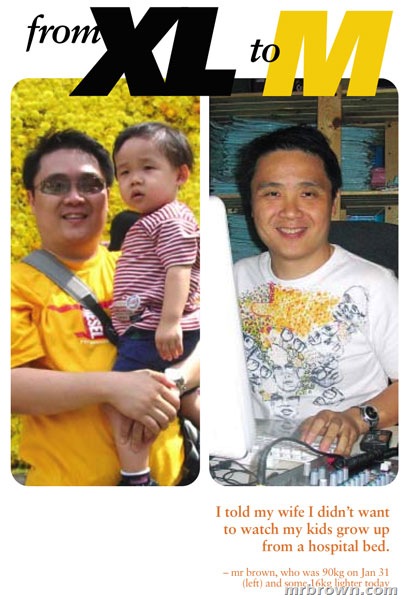 This is Mr Brown. He saw Dr Goh and got so motivated that he lost 16kg in four months, through nothing but diet, exercise and hard work.
He no longer snores now when he sleeps.