I am an indoor cycling instructor.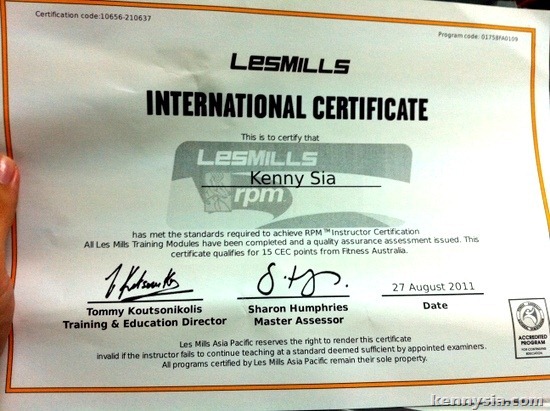 I am also an avid adventurer. When I travel, I hate just going to whatever city the international airport is located. I wanna go out of my way, see things at my own pace, preferably in my own vehicle.
On the 1 June, I decide to combine two of my biggest past-times – cycling and travelling – on my trip to Taiwan.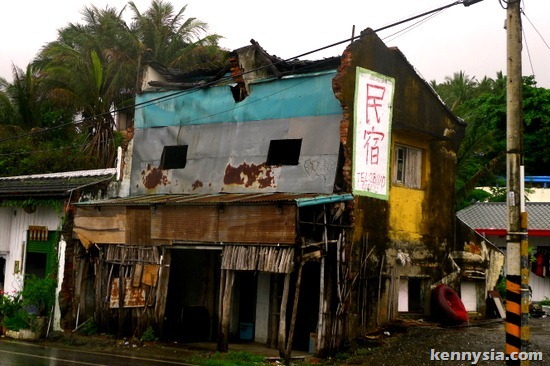 I have long heard about the beauty of Taiwan from many of my friends. The 220km eastern coast of Taiwan is particularly renowned for being the most scenic in the entire island. Add a relatively flat surface, an abundance of bike service stops and a well-accepted cycling culture in Taiwan – I'm looking at a perfect holiday adventure right there. 🙂
There is only one problem.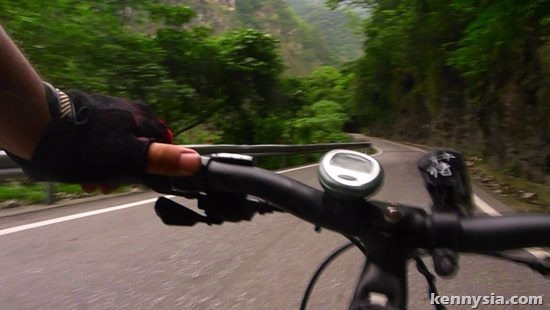 I may be an indoor cycling instructor, but I have never cycled long distance outdoors before in my life. This was the first time I'll be making such a long journey on a bicycle, and although I was a little bit afraid, I was also quite excited.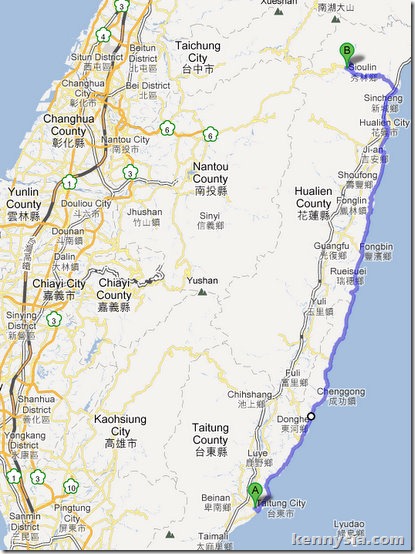 The plan was to cycle from Taitung in the south-east of Taiwan to UNESCO World Heritage listed Taroko Gorge in the north-east. Taking into account rest stops and side-trips, I estimate the journey to take 3 full days.
GIANT is Taiwan's largest bicycle manufacturer, and they are amazing. I had booked my touring bike with GIANT beforehand. When arrived to pick up my bike from Taitung train station, the shopkeeper had already fully equipped it with tools, bags and all.
The rental comes up to around RM150 for 3 days – a bargain for such a good bike.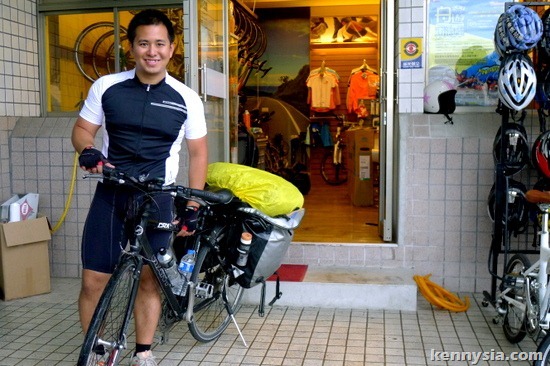 This bicycle is gonna be my best friend for the next 3 days.
The great thing about long-distance cycling in Taiwan is that you can hire a high-quality touring bicycle from a GIANT shop located at most major train stations like in Taitung, then drop it off at the GIANT shop at your destination. This saves a whole lotta hassle of carrying the bicycle back to Taitung when I reached Hualien.
And so, I was ready to start my virgin long-distance bicycle journey, when sudddenly…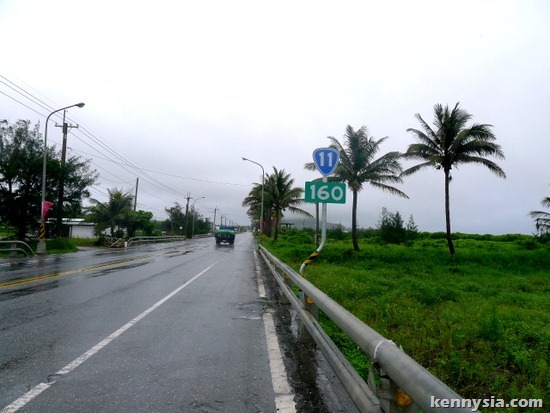 … IT STARTED RAINING! #@%*$!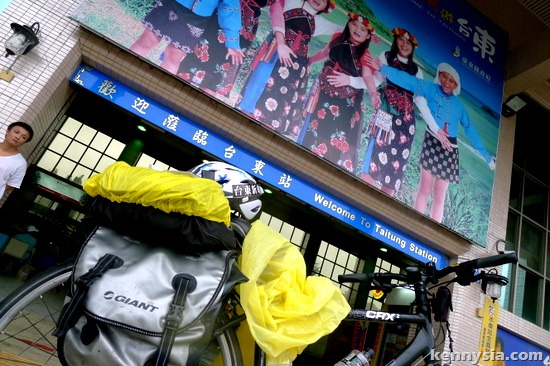 But what to do? I have already made my plans. Suck it up and continue pedalling, Kenny.
With a helmet over my head, and a yellow poncho underneath that, I began kilometre 1 of my 220km journey.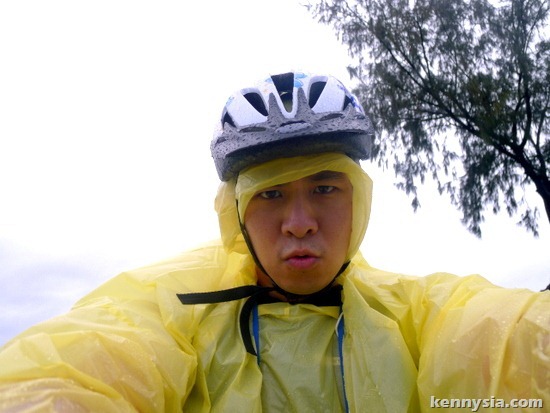 There are two main highways connecting Taitung to Hualien. Highway 9 is atop the mountains, where the air is cool and the road passes through green paddy fields and interesting aboriginal villages.
Highway 11 hugs the coast and the basaltic rock formations by the sea. Both are interesting, but Highway 11 was the road I took.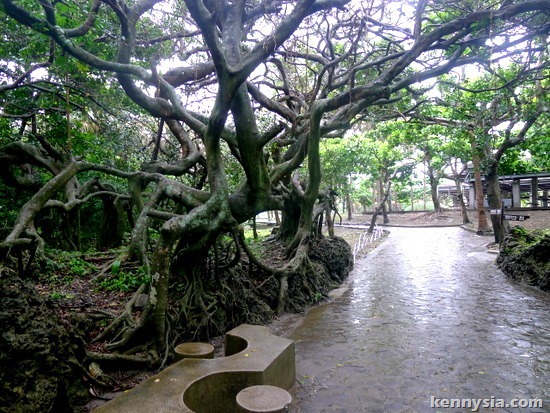 "Siaoyeliu" ??? was an interesting stop about 20km in from Taitung.
Here, the rocks look like tofu.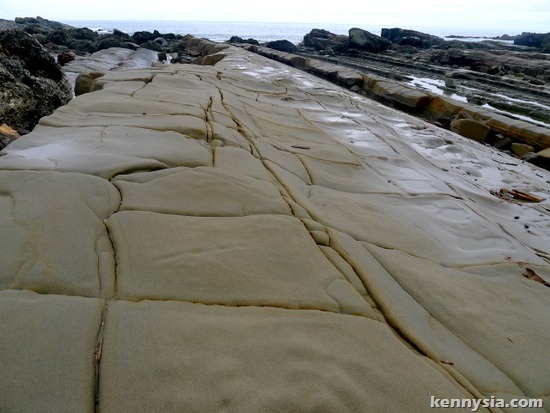 And crabs look like rocks.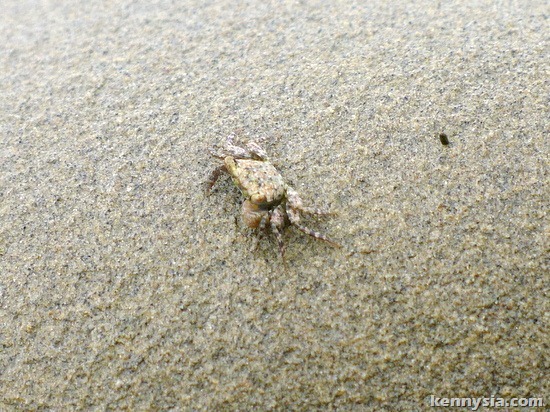 A local cyclist saw my bicycle with luggage, and approached me asking if I'm doing the "round-the-island" bike trip. I politely replied that I am a noob (what's "noob" in Chinese?) cycling the east coast only.
It would love to continue chatting, but it was raining and I have quite a distance to cover, so I continued pedalling.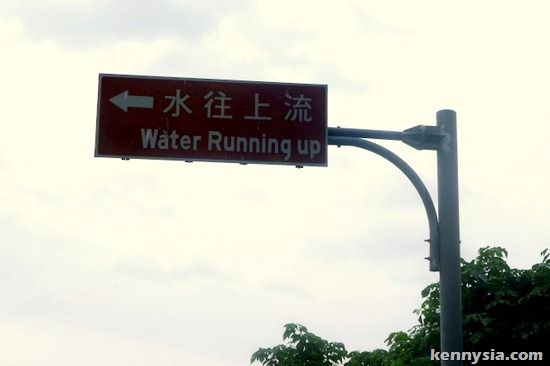 Further down from Siaoyeliu, a signboard popped up in the middle of the road pointing to a visual oddity called "Water Running Up" (????).
When looked from the bridge, it really did seem like the water is running up.
See if you can figure out why.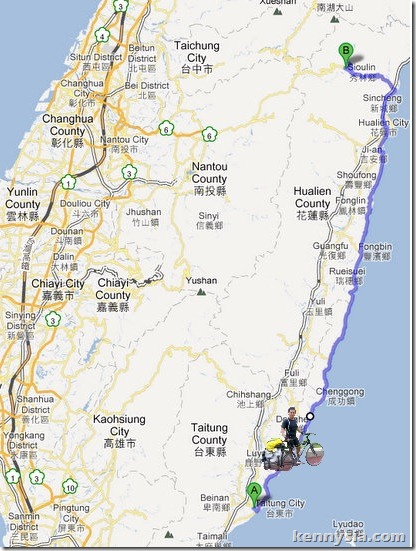 The rain was beginning to subside a little bit by the time I crossed the next town on Highway 11. It was a town with an interesting name.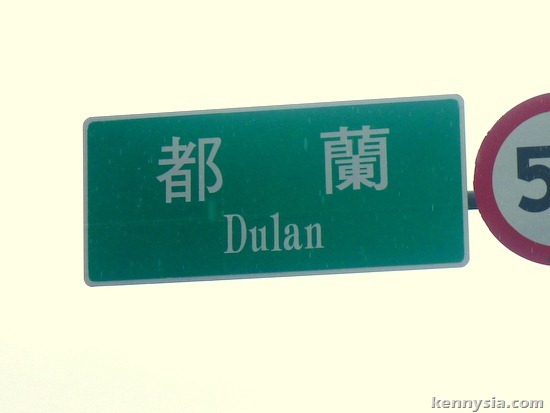 "Dulan".
Everything in Dulan is Dulan.
They have Dulan people.
Dulan schools.
Dulan cows.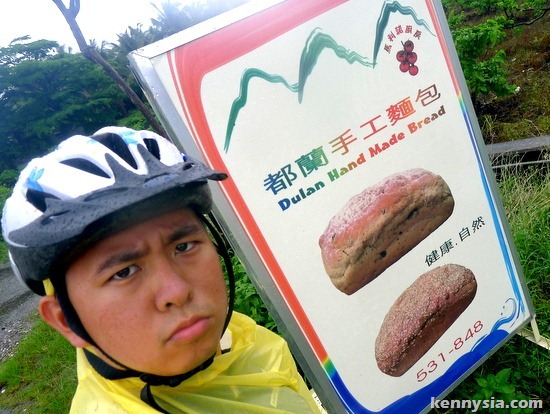 Dulan Hand Made Bread. For real.
I didn't wanna stay too long in Dulan because everyone was really dulan. But then barely 3km past the town of Dulan, a really dulan thing happened to me.
I don't know if my bike hit a rock or what, but my ride suddenly becomes less smooth as I continued pedalling. Before I knew it, the back wheel started bouncing erratically.
It was so bad I couldn't continue my journey.
And that's when I realised the most dulan thing of my entire trip had happened.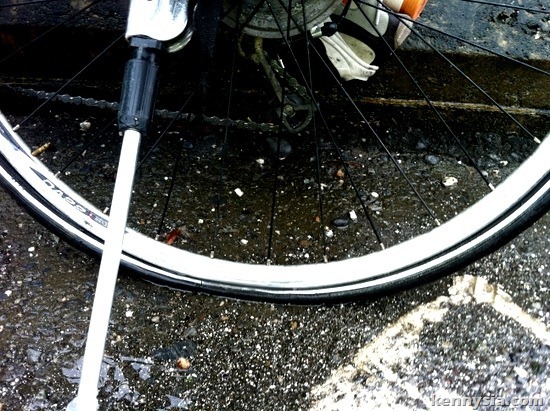 MY BICYCLE TYRE HAD PUNCTURED.
So there I was in the middle of nowhere, still soaking wet from top to toe because of the rain earlier, as I wheeled my bike into a wooden shack on the side of the road.
Frustrated, I took up a handheld pump in an attempt to inflate the wheel.
Nothing.
I ran my finger through the tyre searching for holes.
NOTHING.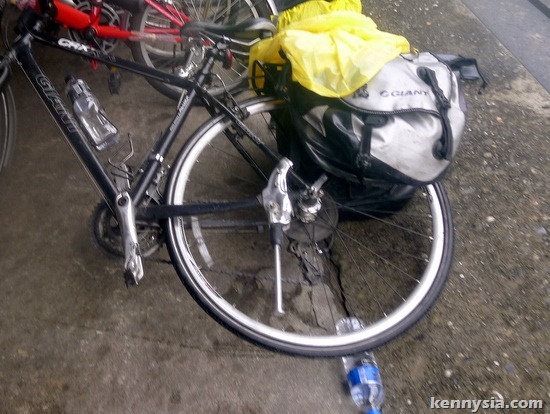 An old man wearing a face mask sauntered out of the wooden shack where I was seeking shelter. Speaking in Taiwanese Hokkien, he asked me what's wrong. I explained to him my predicament. But there was nothing he could do.
A phone call to the Giant bike shop I rented my bike from didn't help either. I was accosted for taking the road less travelled. Giant have plenty of bike service stations along Highway 9, but they couldn't help me since I took Highway 11.
I had no choice but to act quick as the sun was setting. So I did something that no respected adventurer would do.
I hailed down a cab.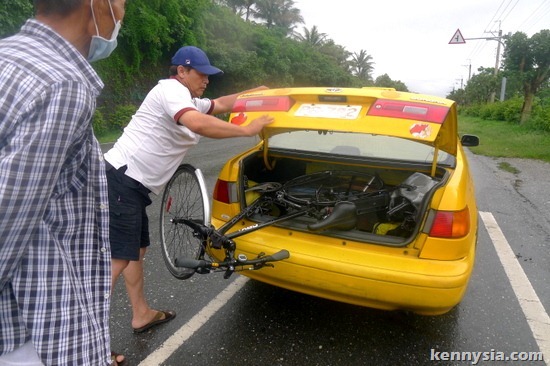 The cab wasn't even available when I hailed it down from the roadside. A passenger was already sitting inside the cab, but she saw I was in trouble and therefore let me share the ride with her. She even said because I'm a visitor from outside Taiwan, and it's her duty to take care of me. I was so touched!
Feeling relieved but shameful at the same time, I got inside the big yellow taxi.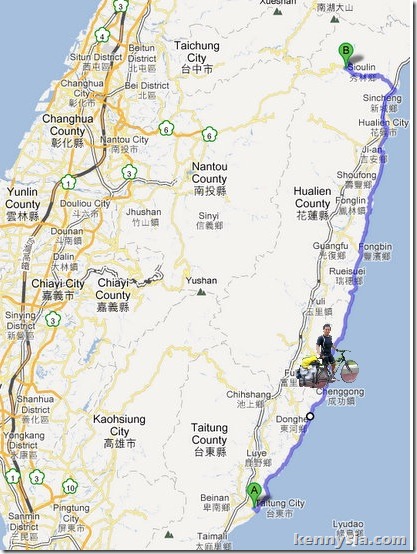 So, from Dulan, I hitched a free ride all the way to ChengGong, the next town 37km along Highway 11.
The cab driver dropped me right off at a dingy little bicycle repair shop. It wasn't an authorised Giant bike shop, but what choice do I have?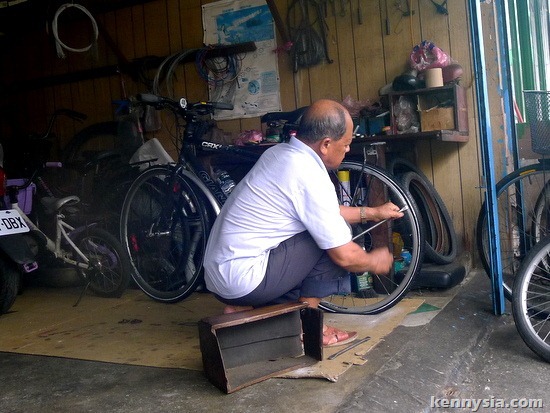 I was quoted NT150 (RM15) to replace the bicycle tyre.
Barely 5 minutes after I set off from the bike shop, the tyre punctured AGAIN! So I returned to the bike shop once more, paid him NT150 once more before I set off on my journey once more.
The tyre seemed to hold up better the second time round and I was confident enough to pedal my way out of Chenggong and onto the highway. This time I prayed hard that my bike tyre will last me the rest of the 220km journey.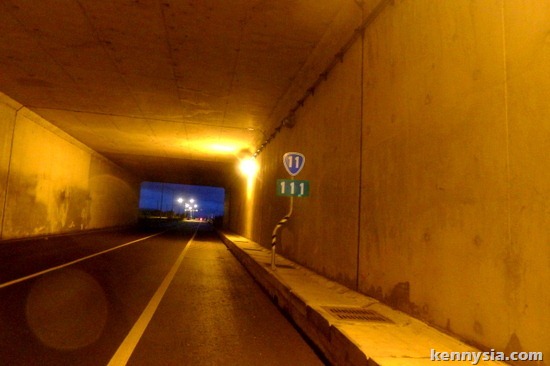 No such luck.
2km out of Chenggong, the tyre went completely flat again as I free wheeled along Highway 11. With no roof over my head, I contemplated staying a night in a tunnel before the fear of being raped by a gang of bored Taiwanese truck drivers quickly put me out of that thought.
I decided not to take any risks any more.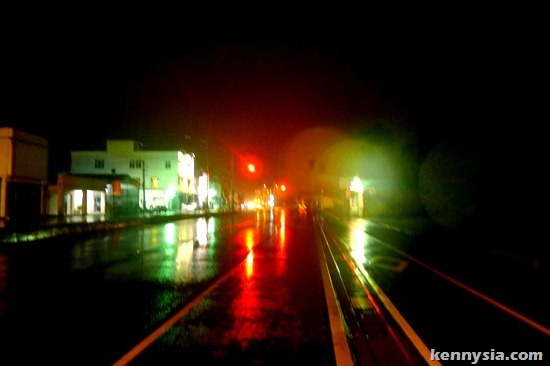 The time was 8pm as I freewheeled down to the nearest shelter to phone a cab. The adventurer in me died a little as a I hopped into the taxi again, but this time to the nearest Giant authorised bike repair shop, 40km across the mountains in a town called YuLi on Highway 9.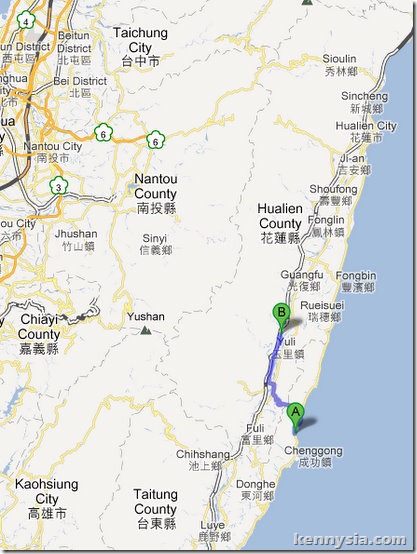 Perhaps, being forced to switch to Highway 9 is a blessing in disguise.
YuLi is located in an area best known for its hot springs. After an entire day cycling in the rain, a hot bath and a good bed are two things I desperately need.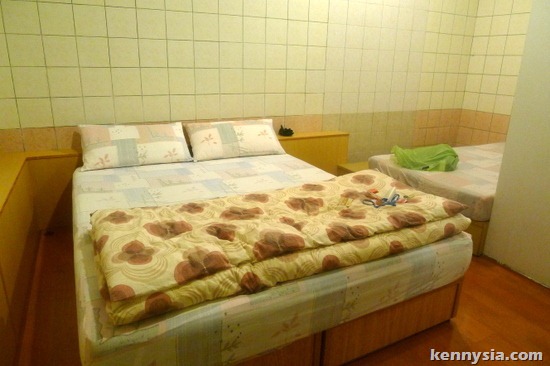 Thi
s is the cheapo hot spring hotel I checked in. Only NT900 (RM90 a night).
It was obvious the hotel was terribly under-utilised. I didn't have reservation, but that's not a problem because there wasn't even anyone staying at the hotel. I walked right in, paid cash to the owner who promptly showed me my bedroom.
There were lizard poo all over the bed, but that's okay. The owner swept them all onto his hand and threw them outside.
No big deal to do so in front of the customer, obviously.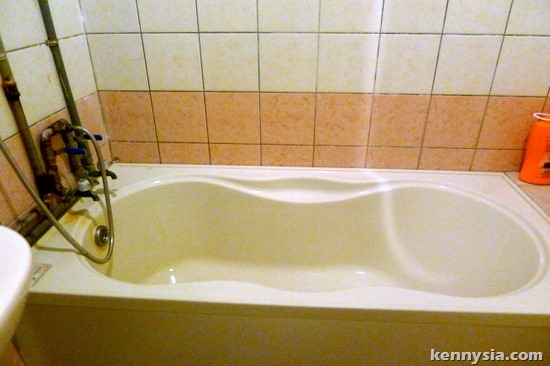 The hot spring water was piped right into the bathtub. I made sure there were no lizard poo in the tub before I sat in.
It was so warm and soothing. They say the spring water here is so refreshing they could use it to make coffee.
I never tried. I don't wanna accidentally swallow lizard poo.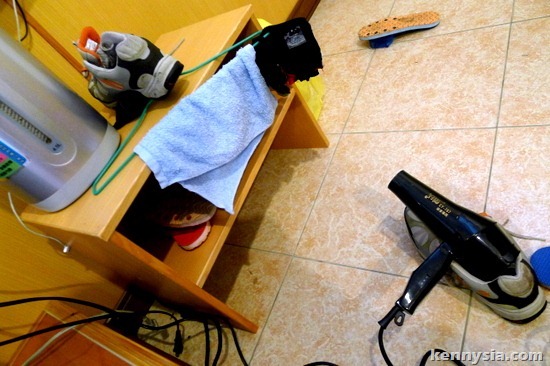 Using the hair dryer creatively to dry my shoes, gloves and towel.
Eventhough the hotel was basic, dirty and somewhat crappy, I was thankful that at least my bike was fixed and that I have a place to sleep.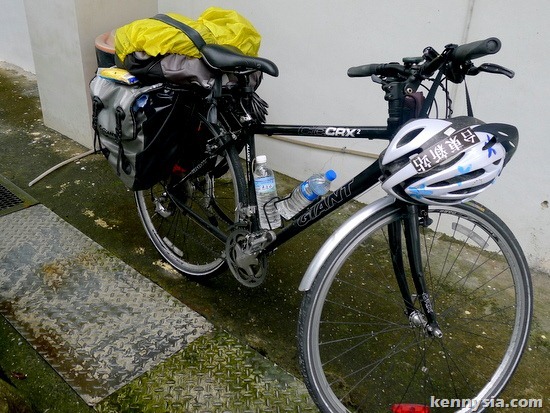 Sometimes, all it takes is the thought of being cold and alone to make you appreciate the simplest things in life.