The clock struck 12 midnight.
I was still at home alone. I had only just finished publishing my previous entry when I received CNY greetings via SMS from Adrian Wong and Geraldine. I was waiting for my parents and brother to arrive Perth Perth International Airport. My family decided to come to Perth partly because my father wanted to escape from the multitude of CNY visits. He appreciates friends' and family's concerns, but he needs his rest more than anything else at the moment.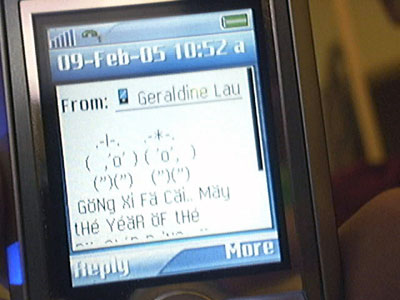 Kim logged onto MSN Messenger. I told her that this is the first CNY that I'll actually give angpow to my parents. Kim was confused, since she thought that its only after we are married that we would have to give angpow to our parents. I'm not too sure myself – my mother had told me that its the tradition to give angpow to our parents once we started working full-time.
Then it hit me. My mother is trying to to con an angpow out of me!!!
I picked the three of them up from the airport around 1:15am. My father has indeed lost more weight – the full cheek and rounded chin are replaced by skinny sinking cheeks. When at home alone, sometimes he would stare into blank space. I am not sure if he is waiting for people to talk to him, if he wanted something to read, or if he just wanted to be alone.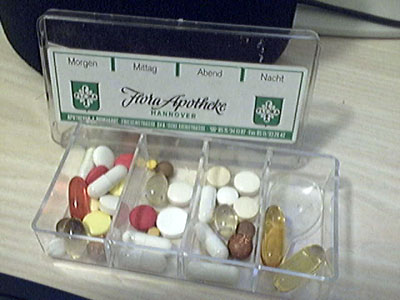 When I asked him what's wrong, he said that its a combination of him feeling fatigued after the long plane ride, as well as the reaction from the cocktail of pills he has to take everyday. Its hard to describe how I feel everytime I see my father suffering. But if you can visualise my beating heart being twisted and wringed dry like a wet towel, then you're pretty close to imagining how I feel.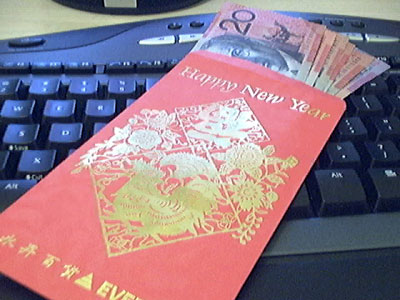 My father and I spoke until about 2:30am. When my parents were about to go to bed, I went to their bedroom and presented my angpows to each of them. I gave them A$395 each, which isn't much compared to what they had given me all these while and what they have prepared for me in the future. I had wanted to give them A$400, but the number '4' is considered bad luck in Chinese – which is why I gave them A$395 instead in red and pink notes. The smile and satisfaction on my father's face upon receiving the angpow lit up my heart. "Lau liaw loh! (I'm old already!)" my father said with a chuckle.
This morning I woke up to find my father sitting in the living room alone, my brother still sleeping and my mother cleaning the house – ignoring all Chinese superstitions. No one is in CNY mood! I changed into my red shirt to add a slight hint of CNY flavour for the day, bought the morning newspaper for my father to read, and went off to work just like any other day.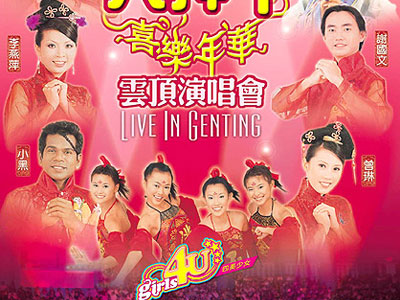 There were no hyperactive little cousins visiting. No noisy Chinese New Year "stars" (note quotation marks) shouting with their incredibly high pitched voices, with their two hands glued together in a "gong xi" pose… "stars" who happen to be unfortunate enough to have pathetic names like "Lung Piao Piao". We didn't even play any of those Vengaboys-remixed Chinese New Year songs or another over-synthesised number by the Thai group "China Dolls".
We had a nice and peaceful delayed reunion dinner with the entire family member present. And that's the way we like it.
So, how was your Chinese New Year?