(Disclosure: I was commissioned for this food-tasting, but I paid for the food myself and the following are my honest and independently written review on their menu.)
After a birthday dinner at home that went awry, I celebrated my birthday again with a few of my close friends in KL.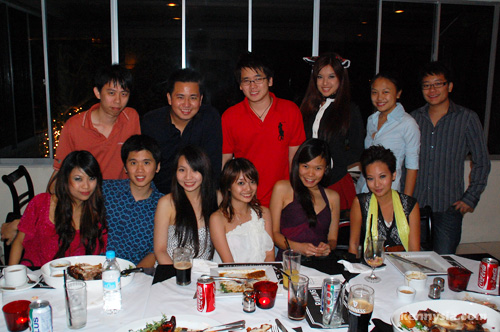 Dear friends,
I am getting old. To celebrate the occassion you are cordially invited to come to my birthday dinner cum tasting… errr… I mean, birthday dinner cum FOOD tasting at Jarrod & Rawlins.
The chef will be preparing several Guinness-infused dishes that's not publicly available yet. There will also be lots of "sausages" and "stuffed pies" to go around, so remember bring along an empty stomach.
P/S. Kenny Sia practices a "No Birthday Gifts Required" policy, so please don't feel obligated to bring any gifts. Like they say, "it's the thought that counts". So as long as you got think, then good enough liaw!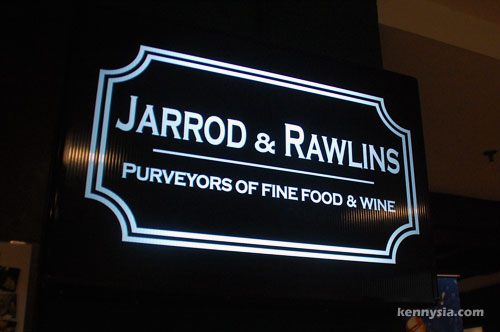 Ahhh… Jarrod & Rawlins.
Sounds like a law firm. Looks like a law firm. But 100% confirm it's not a law firm.
Instead, Jarrod & Rawlins is a very popular chain of restaurants in KL best known for two things: Wine and PORK.
Ask any KL-ite who loves their pork and they surely would've heard of this place.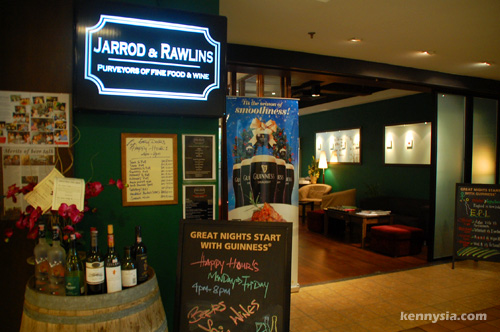 They got five outlets throughout the Klang Valley.
The original one started at Desa Sri Hartamas a year ago. From there, the gastronomic partnership between wine expert Jarrod Check and fine meat lover Denis Rawlins sprouted out four other outlets at Damansara Heights, Ampwalk Mall, 1Utama and Capsquare, with many more to come.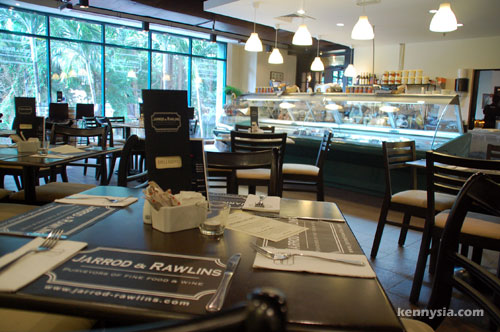 The concept behind Jarrod & Rawlins is not gonna be what everyone is used to. It ain't your run-of-the-mill restaurant. It's more like that Britney song. "It's not a pub… not quite a deli."
J&R is not quite a restaurant, not quite a deli, not quite a cafe yet not quite a pub. It is a little bit of everything, banged up and mashed together, and somehow just… worked.
Anyway if you've been to Mr Ho's Fine Foods, the concept is similar. Except J&R did a much better job!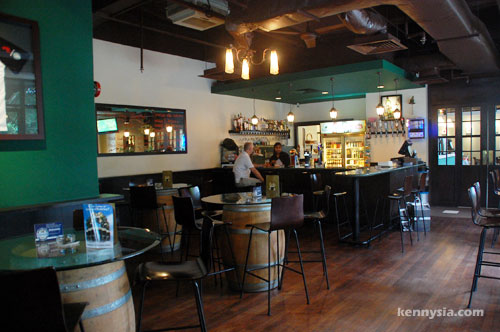 In most outlets, they have a separated area for pubs where the ambience is a little more casual and more conducive to watching sports on the big screen while drinking beer freshly poured from the tap.
Every outlet has a deli where you can pick your meat and cheese from the glassed showcase.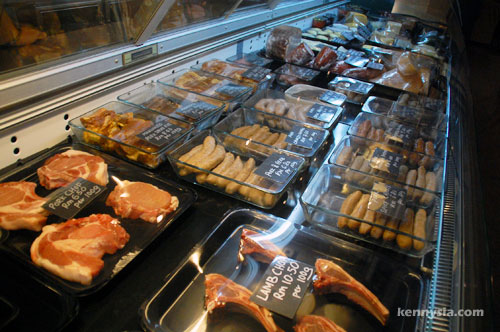 There are more sausages than a men's changing room, and they come in all kinda shapes, sizes and flavours.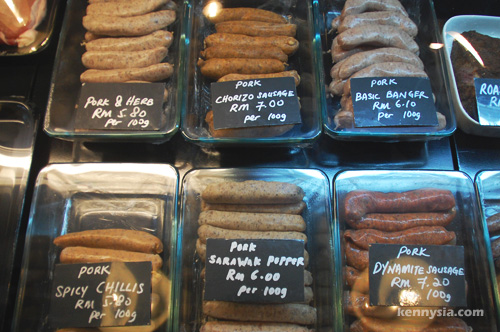 You can choose anything you want, and it doesn't always have to be the biggest sausage. Because you know, it ain't the size that matters. It's how you cook it!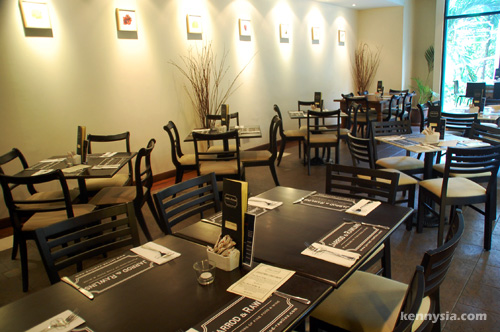 You can order the meat straight from the deli and cook them at home yourself. Otherwise, the more popular option is to pay a little extra and have the chef do it for you.
There are tables for those who wanna dine in. In their Damansara Heights outlet, they even have a posh little restaurant area for those who prefer to be part of the discerning crowd and wine and dine on white cloth-covered tables while listening to Kenny G.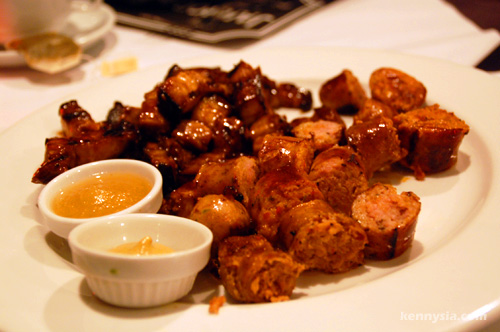 It's almost a punishable crime if you go to J&R without ordering the pork bellies, chorizos and dynamite sausages in a platter. These babies are seriously damn addictively good. My mouth waters just thinking about it.
You know the food is good when you have four skinny girls at the table and they're the first to finish off everything. And then they still asked for more.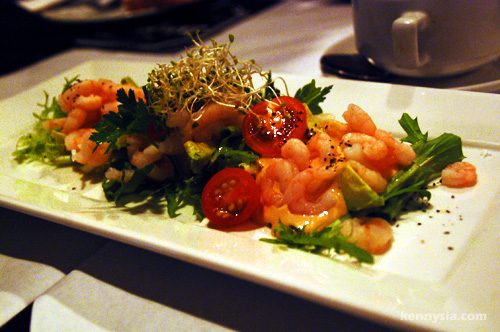 For starters, I ordered the Atlantic prawns and avocado (RM18). Honestly though, it wasn't that good. I've had better prawns at seafood restaurants elsewhere. But it's healthy dish, so no complaints there.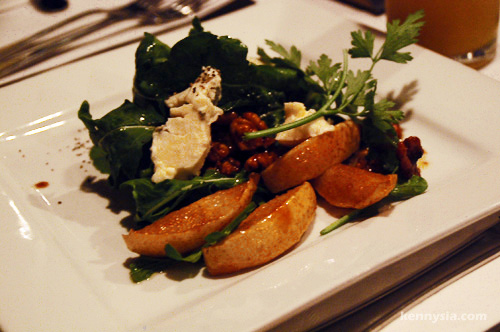 Nicole had the caramelised pear and walnuts on gorgonzola (RM18). Not bad. A nice pure vegeterian dish to warm up her stomach for the humungous meat feast later on.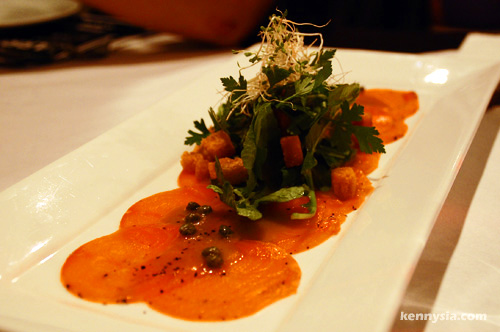 The salmon carpaccio and aragula salad with Guinness wasabi dressing is deliciously light and fantastic.
It's from their Christmas menu, available only from their Ampwalk Mall outlet. These are wafer-thin slices that's cut just enough to tantalise the tastebuds without filling you up too much. The salmon is topped with salad, olive oil, crouton and capers, then glazed all over with Guinness wasabi.
Quite a nice touch on an otherwise boring dish of salmon sashimi.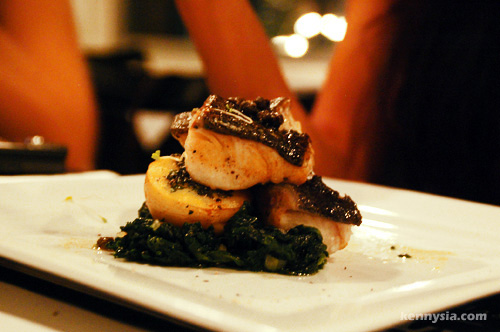 For the main course, Lainey ordered black cod fish with lemon butter on spinach and potatoes (RM48).
Yee Hou opted for the pork cumberland sausage (RM28).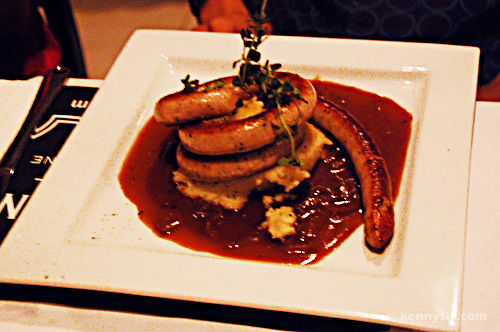 … which look like this!
KY said it looked like something he made last night. Including the sauce.
Despite how dodgy it looked, it must've tasted good. Yee Hou gobbled up everything nothing left to spare.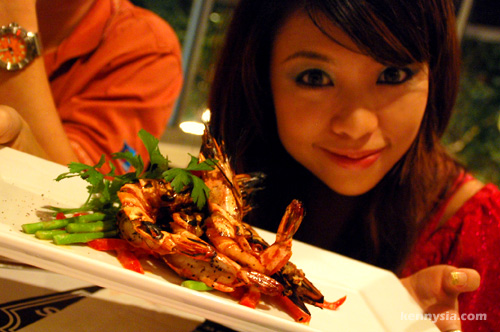 Ringo went for the grilled king tiger prawns with poached asparagus (RM60).
It's yummy. But for a portion that small, I won't say it's worth the RM60 price tag.
Of course, that dish was just the odd one out. As most J&R regulars would tell you, portions in this restaurant are usually very large.
I had the crispy Guinness pork knuckle for mains. But even when the wait staff had warned me, I had no clue how huge it is until it arrived.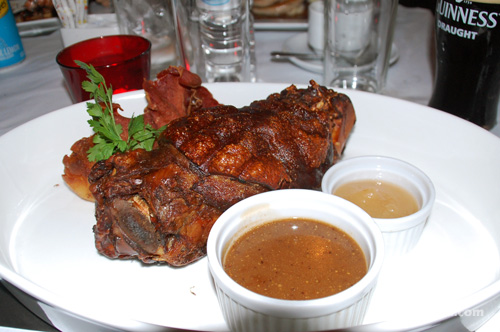 Man, I thought I knew what big was. Everytime I look into my pants, I SEE BIG.
But this!?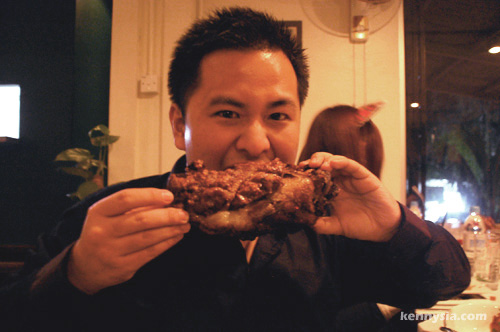 There's tall, grande and venti. And then there's the Jarrod & Rawlins' pork knuckles. It was so freaking enormous that I suspected must've cut it out from one of Godzilla's legs
Seriously, I've never eaten anything THAT size before. There's enough meat to give my doctor nightmares, enough crispy pork skin to make my cholestrol level shoots through the roof and enough fat to power a diesel truck.
It is also one of the most sublime pork dishes I have ever had in a long time.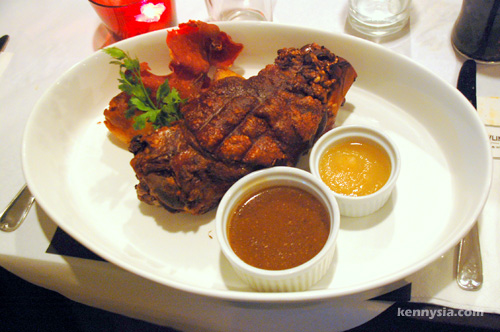 You know they got it right when everytime you cut into the meat, you can hear the beautiful crackling of the crispy skin as it falls away from the bone. Then when you dip it into the sauce and put it in your mouth, you're in heaven.
The dried serano ham served with the dish ain't too bad, but it's the savoury sauce that made it work.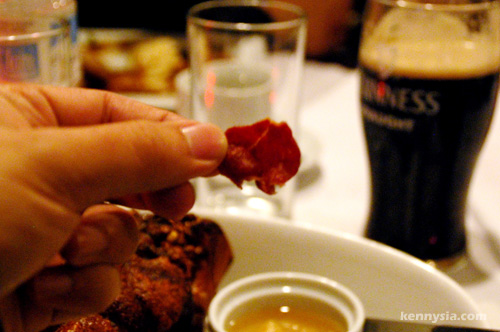 I'm not sure what they put in it there, but we couldn't stop ourselves from stuffing them down our throats like a pack of hungry wolves.
This dish is part of J&R's Christmas menu, and I highly recommend it for all self-confessed carnivores out there. If Jarrod & Rawlins is pork lovers' definition of Heaven, then the crispy Guinness pork knuckles must be their Fountain of Youth.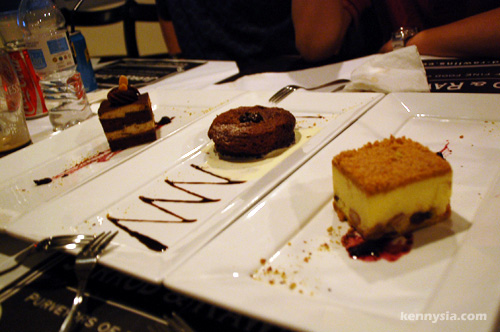 Because everyone was stuffed to the max, we ordered three different cakes to share: the Macaroon Banana, the Warm French Chocolate and the Apple Cinnamon (RM16 each).
I didn't even get to try the cakes because they were all gone before I had a spoon of each. Dammit, I'm the birthday boy!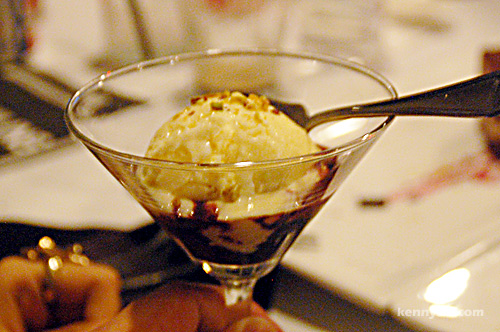 We also had the mixed berries compote with Guinness reduction, vanilla gelato and crushed pistachios from the Christmas menu. Magnificent.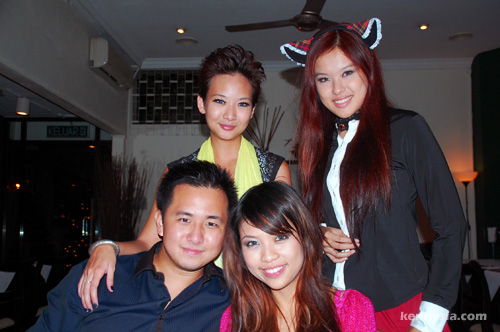 I realised how busy I am lately that I'm begin to lose touch with people that matter to me.
My status on MSN has been on "Appear Offline" mode since like forever. The healthy social life I used to have had all but disappeared. These days, I have been online so infrequently and spending so little time with friends that even simple moments like these, when we gather around the table and talk cock over good food and Guinness Draught that I truly appreciate.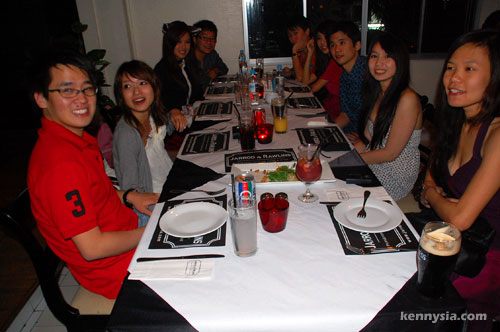 Eventhough it's just simple birthday dinner, we have our moments to remember by. Like how halfway through our food, JoyceTheFairy interjected everyone and said, "Eh I ask you all har. What's the meaning of the acronym LMAO?" And we showed her what LMAO is by literally LMAO-ing at her. Such great friends we are.
I'm glad Joyce could join us because I knew how much she loved J&R. She had to come late after running around the whole day doing MIFA. By the time she arrived, she was starving and yet the first thing she ordered is not food, but a creamy pint of Guinness Draught.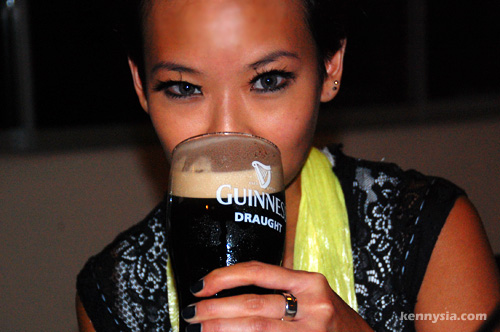 That's what you call RESPECT.

The list of Jarrod & Rawlins outlets can be found here. The pork here is seriously good stuff and if you're feeling particularly hungry or just wanna spoil yourself, I highly recommend the dynamite sausages and the crispy Guinness pork knuckle from their Christmas menu.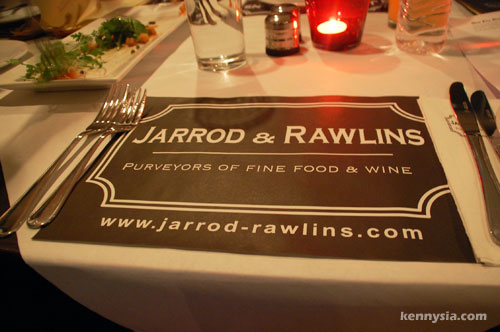 Jarrod & Rawlins' Christmas menu is only available from their outlet in Ampwalk Mall, Jalan Ampang from now until the end of the year. And just like Delaney's Irish Pub, every order of the main course comes with a free pint of Guinness Draught, and a voucher for a RM12 discount off three pints of the black beer and a limited edition miniature glass freebie for the next visit.
But of course, good food comes with a price. The total bill for twelve of us came up to this much.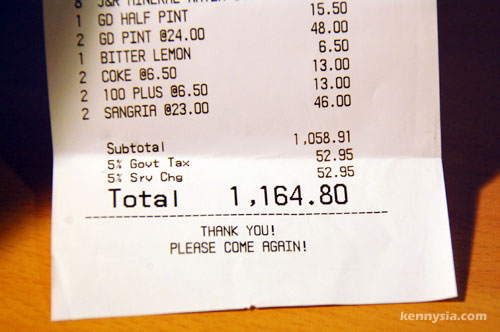 First time ever in my life I footed a dinner bill FOUR DIGITS LONG.
Aiya, it's my birthday after all. Considering the quality of the food, sizable portions, amount of beer and the good times we had, less than a hundred bucks each for all twelve people is still okay lah! 🙂

No, I was not dropped as a judge from Malaysian Dreamgirl.
I'm simply repackaged from an on-screen judge to an online judge. We had a lot of problems with the filming last season because I am based in Kuching, have a full-time job and can't always be flying to KL for the shoot. But not having to appear on screen gives me a bit more flexibility with my schedule.
I won't be there, but auditions for the model search reality show begin this weekend in Penang and Ipoh.