If there's any truth to the words "shopping haven", Hong Kong would be the proof.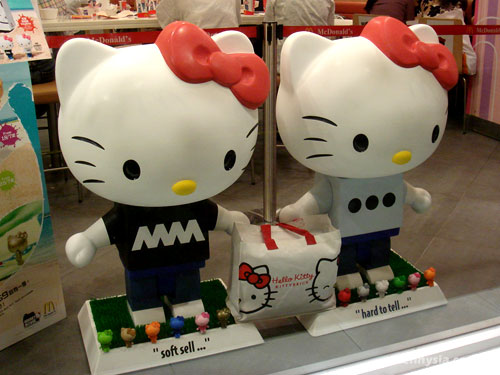 Coming from the humble city of Kuching, a place where there's at best 3 shopping centres of reasonable standards, I was absolutely blown away by the sheer size and magnitude of the shopping districts in Hong Kong.
They've got shops in every nook and corner possible. And I do mean every nook and corner possible.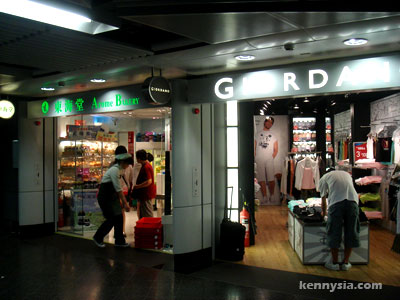 For God's sakes, they've got Giordano in MTR train stations. So technically speaking, you could take the train naked and buy the whole set of t-shirt, pants and underwear before you even step out of the station.
Food and drinks at a train station, I can understand. But who the heck goes shopping for clothes in MTR stations? I have no idea, but apparently Hong Kong people does that.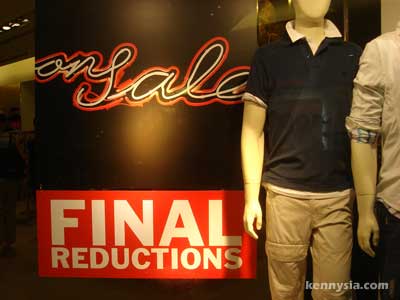 I must've picked the right time to visit because the Hong Kong Shopping Festival is going on in full swing, and everywhere I go I see that dreaded four-letter word.
SALE.
It's like 99.9% of all clothing stores here are screaming "Final Reductions" and "XX% off". Stores in Causeway Bay like G2000 open till past midnight.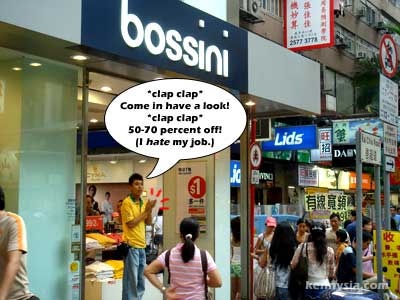 Some even got their poor staff members to stand outside the doorway, clapping their hands loudly to draw attention to their store.
And this is shops like Bossini we're talking about here, not some ciplak pasar malam streetside stall.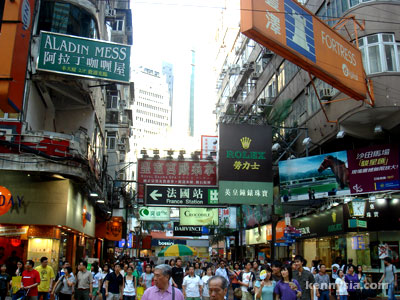 In Kowloon alone, the street markets and shoplots stretch some 5km all the way from Sham Sui Po in the north to Tsim Tsa Tsui in the south.
There's virtually everything and anything imaginable for sale here.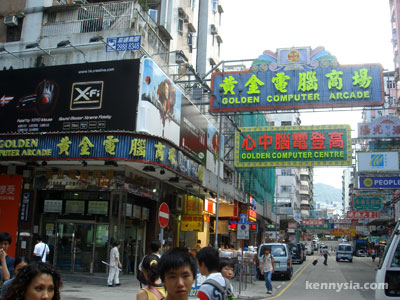 Sham Sui Po is home to two large shopping complexes selling nothing but computer products. This place is a geek heaven and I swear to you, Golden Computer Centre can kick both Sim Lim and Low Yat's collective asses blindfolded, with one hand tied behind his back.
Sure, it's not as big nor as glam as their counterparts back home.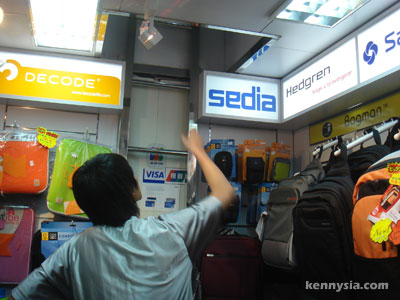 It's small and crampy. When I bought a laptop backpack, the poor lady had to climb a ladder up into this hole in the ceiling to get a new one for me.
However I do find their prices much much lower than back home.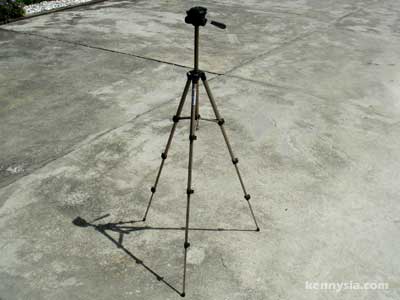 I got this light and foldable tripod for a bargain HK48/RM23.
A full-length tripod a good thing to bring around especially when I'm travelling alone. It's brandless, but for the same amount of money I could only get a suckass table tripod in KL or Singapore.
Just to give you a better idea of the prices here.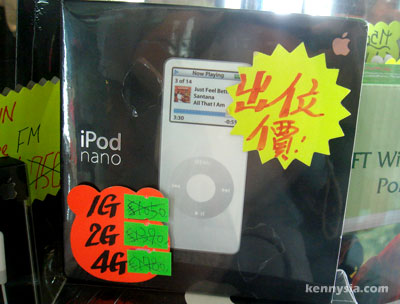 4GB Apple iPod nano
Malaysian price: RM 1099
Hong Kong price: HKD 1780 = RM 855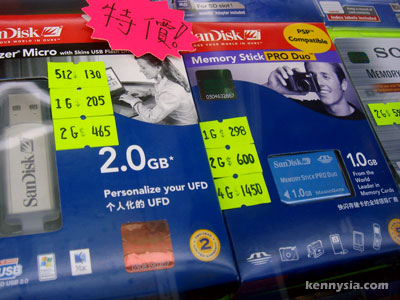 2GB SanDisk Memory Stick Pro Duo
Malaysian price: RM 370
Hong Kong price: HKD 600 = RM 288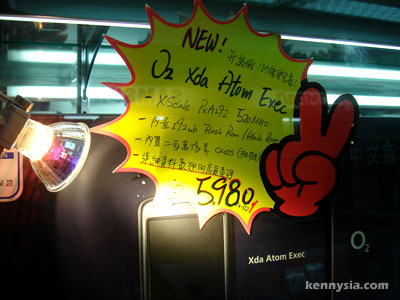 O2 Atom Exec
Malaysian price: RM 2988
Hong Kong price: HKD 5980 = RM 2870
The range here is simply astounding.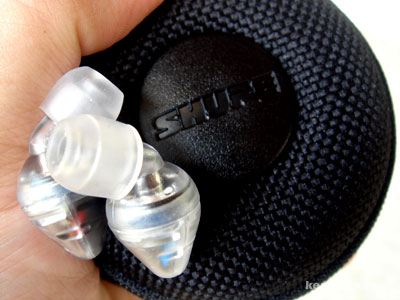 This pair of high-end Shure E2c earphones sets me back HK635/RM305. Can't find something like that in Kuching that's for sure.
My only regret is that I have most of the gadgets I needed already, so there really isn't a much I could buy over there.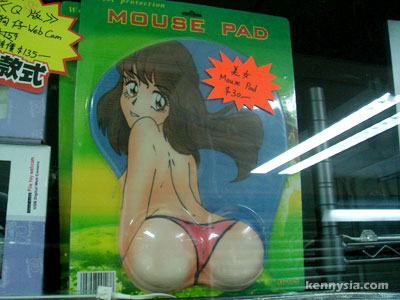 Still, it's fun to come here and listen to the shopkeepers blah-ing out English terms in their Hongkie accent.
Instead of "computer", they say compu-TAH. Instead of "mouse", they say MOU-SY.
So cute! "Mousy"!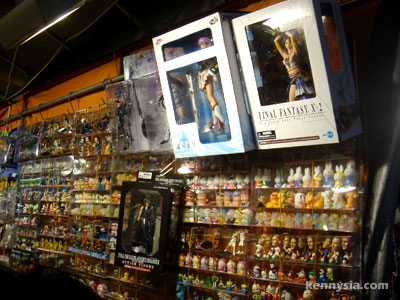 The street markets of Kowloon are a completely different kind of creature on its own.
This is no Petaling Street. For one, the street vendors are the most polite I've seen anywhere in the world. When I approach their stall they'd say sui bin tai (browse all you want). Even if I leave without buying anything, they'd still thank me.
Who said in Hong Kong "you got pressure, I got pressure, everyone got pressure"?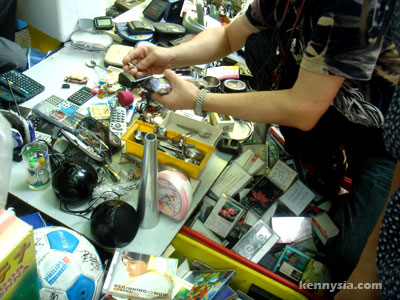 In amongst the pasar malam regulars like fake LV handbags and so on, are treasure throves of bizzare little things for sale.
Such as colourful fish in plastic bags.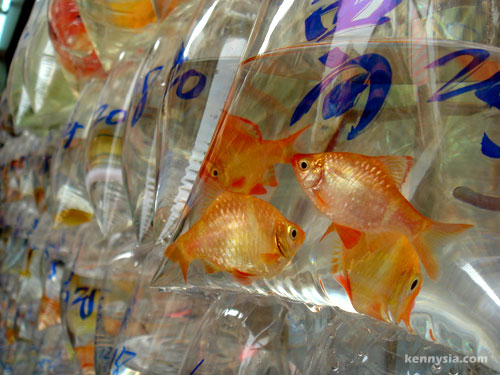 And butt ugly superhero costumes.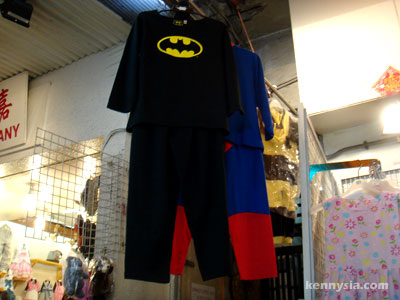 And… what is this.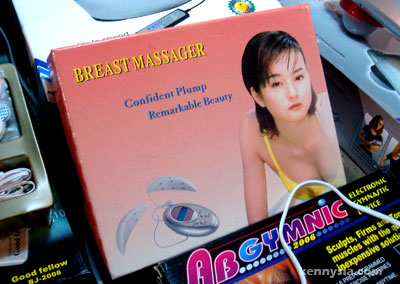 Breast massagers?
WHO THE HELL BUYS BREAST MASSAGERS!?
Wtf. Breasts also need massages one meh. Blood circulation not good enough is it. Go jump up and down lah, why buy breast massager? Can just ask any guy to massage for you, free of charge some more.
RIDICULOUS.
Let's all hope Osim doesn't release those as Osim iBoob. But after watching them release those god-awful mechanical horse-riding machine I'm willing to believe anything.
My gawd, can you imagine what the ad for Osim iBoobis gonna be like?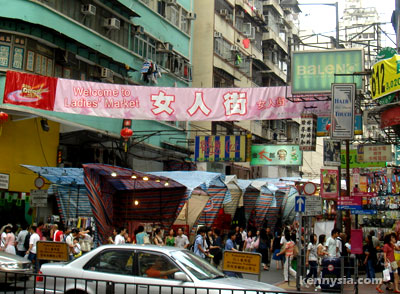 I dropped by to visit Ladies Market after recommendation by several people.
If one could buy fish at the fish market, what could I get at a "Ladies Market". 😉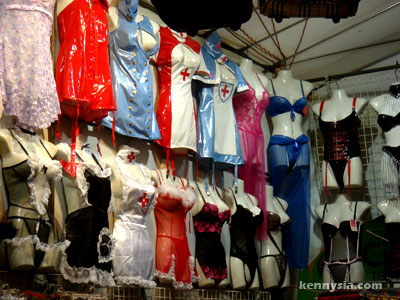 There really wasn't anything suitable for me here, but I bet girls would love this place.
There's at least one sexified version of every single occupational uniform available in here. I'm sure somewhere in there you could find a leather-tight version of McDonald's uniform.
Anyway, I noticed somewhat strangely that they're selling puppets alongside sexy lingerie.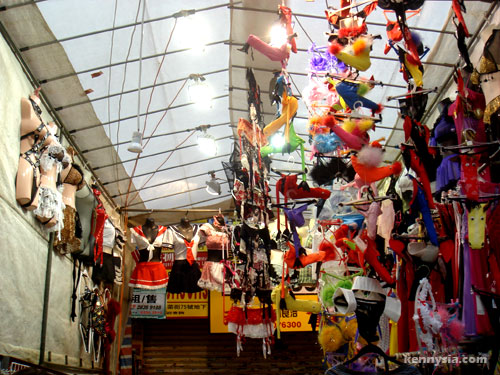 And then it hit me. Boy, did it hit me hard.
Those weren't puppets at all.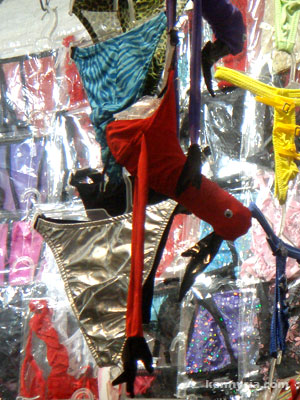 This, my friend, is a pair of men's underwear.
Wait, do you even call it a pair of underwear? There's no pair in this underwear 'cos there's no holes to put your two legs through. That's because you supposed wear it over your dick.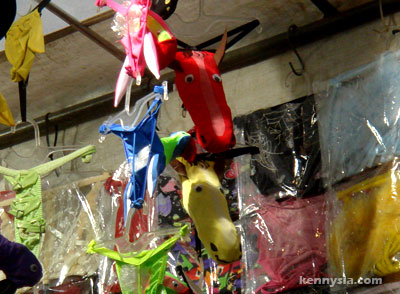 So what do you call this thing?
A penis sock?
Why would anyone buy this thing?
I don't know about you but I reckon whoever designed this thing needs to go on holiday and rediscover the meaning of life.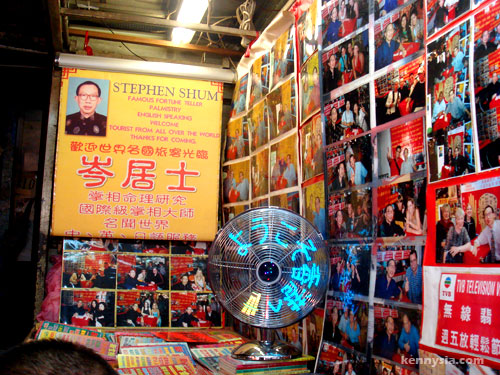 Speaking of the meaning of life, I paid a visit to this fortune teller at the Temple Street markets and I am FURIOUS!
On the outset, this Stephen Shum guy seems pretty professional. His stall is small but filled with photographs of him with famous people. So I guess he must be good. He even got his own website at www.stephenshum.hk
Nowadays, fortune teller also go high tech.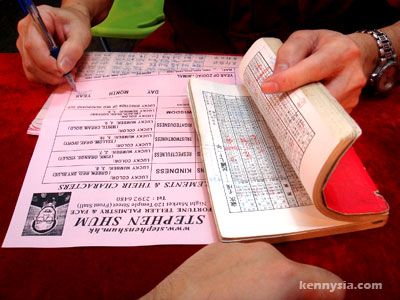 At first, everything seems fine. Stephen Shum checked my birthdate, checked my ears, checked my palms. Then halfway through reading my palm, the fella told me that I'M FAT!
Maiguliu Stephen Shum! I pay you HK70 to tell me about my future, not to say how you think I look ok!
Somemore why you care if I'm fat or thin. I'm your wife ah?
Bus turd.

Click to watch a fortune teller calling me an overweight bitch.
Regardless of that "interesting" incident, I bought plenty of stuff. Not only did I fill up my luggage bag, I had to buy a NEW bag to put all my other stuff.
Here's my loot from the trip.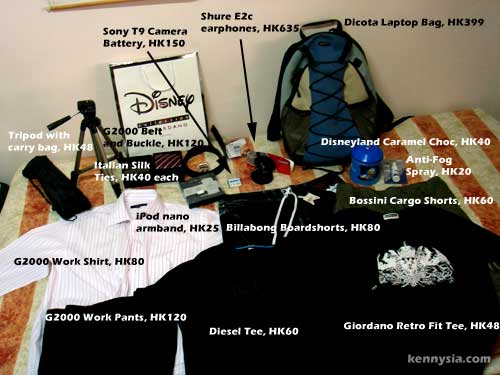 I know, I shall eat grass for lunch and dinner from now on.
By the way, the Watson's here is worth a look. In Hong Kong, Your Personal Store™ is more like a department store. Four floors selling everything from perfumes to electric toothbrush.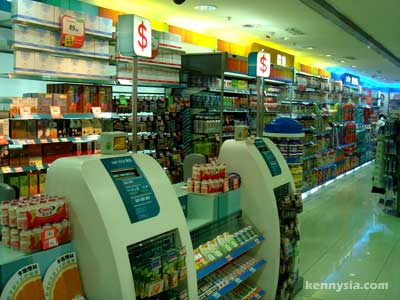 Anyway, for some inexplicable reason, I find myself walking towards the uhh… family planning section of the store. (I like how Watson's and Guardian use politically-correct labels like "family planning" instead of more appropriate names like "sex toys")
Apart from the usual condoms and pregnancy strips and stuff, something else there caught my attention.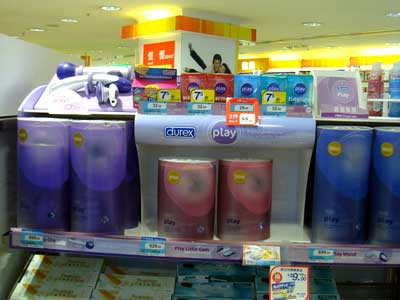 This is definitely not something I've seen before, and I was curious.
Colourful oval-shaped boxes in the family planning section of Watson's. What could it possibly mean?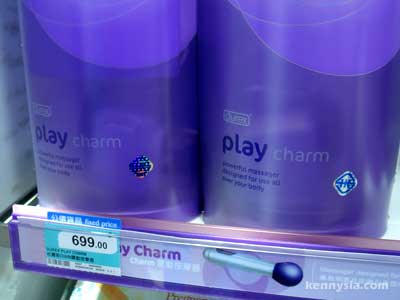 I was shocked. It could only mean one thing.
Watson's in Hong Kong sells vibrators.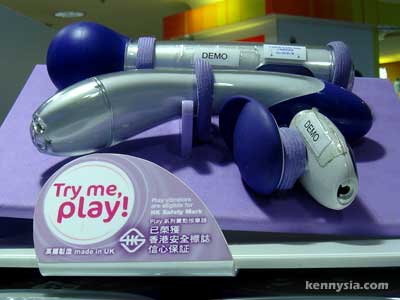 And they even had on display demo units to encourage everyone to try.