They're supposed to sit for their final exams next week, but Irene and IngHui couldn't care less. Instead of piling on books and burying their faces into lecture notes, the two devils took advantage of Curtin Miri's week-long study break to drop by Kuching for holidays, so I met up with them.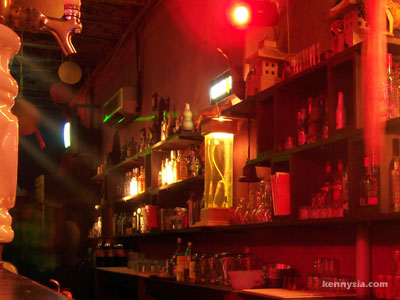 I've known Irene for a while now, but its my first time meeting IngHui since I met her online few months ago. Its interesting hanging out with these two. We met up for cheesecakes at Tom's and hearing the two girls yak about their shall-we-say "extracurricular activities" is easily the most amusing thing I get to witness. Sometimes I think they're betraying the female population talking about the things they talked about in front of me. And they weren't even drunk.
Wednesday night is ladies night, where the girls get free drinks and the guys get to ogle at the girls who came here for free drinks. The three of us initially agreed to go pubbing together as the two girls will be flying back to Miri soon. But alas, they "let go of aeroplane" on me for better plans, and I ended up at the pub alone. Very pathetic.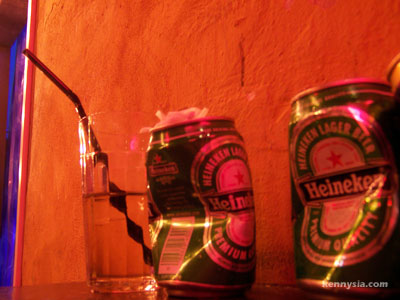 Actually, having a quiet drink alone isn't as loserish as it looks. I was sipping vodka in my little corner, observing the dynamics in the room, when suddenly something struck me. Have you ever noticed the types of people who come to pubs are almost identical everywhere?
Just look at their image, their attire, their body language. Its very actually very easy to sort these people into categories. Here's what I did.
1) The resident pub dwellers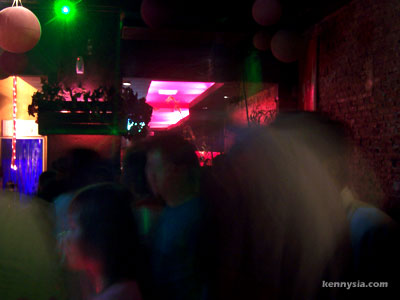 You know the ones. It seems like everytime you visit the pub, they're there. No, not the staff. I'm talking about people who go to these pubs so often its almost as if they're part of their furniture. They always stay till late and they're always saying "Hi!" to people every 2 or 3 minutes. I wonder if they listed the pub as their postal address.
2) The underaged kids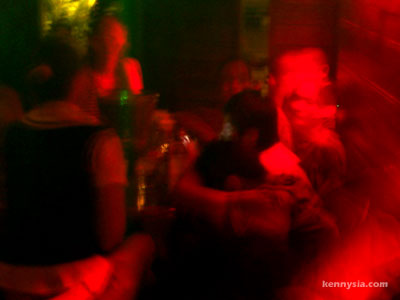 This ones are easy to spot. First of all, they look WAY too damn young to even be drinking. They huddle around the table as if they're having dinner, sitting there looking very bored, yawning, or even sleeping.
Little Annie probably told her mommy she went out for movies with friends, but here she is dazed and drunk after half glass of Tiger Beer. Why do they go to the pub if its so damn boring? I don't know, probably because drinking is the cool thing to do.
3) The popular girls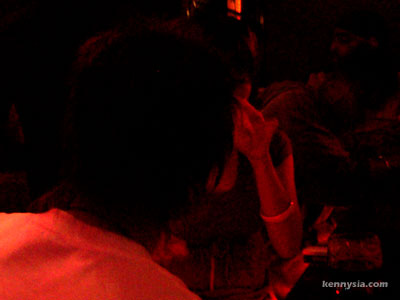 You know her. The popular girl is super chio, nice bod, great top, long legs, thick lashes, million-dollar smile, sashaying in whilst all the guys go ga-ga. The guys she hang out with line up to buy drinks for her and she accepts, winking back at them cheekily, their hearts melt. She enjoys making the guys fall for her, but she doesn't want anything to do with them. That's because she most probably has a boyfriend somewhere.
The guys there have no chance. All her girl friends want to get on her good side, but they secretly bitch and backstab her because they're all jealous of the fact that she steals all the guys' hearts away.
4) The weird loner who drinks vodka in a quiet corner silently using his camera to take photos of everyone else in the pub, most probably to publish them onto his blog later or something.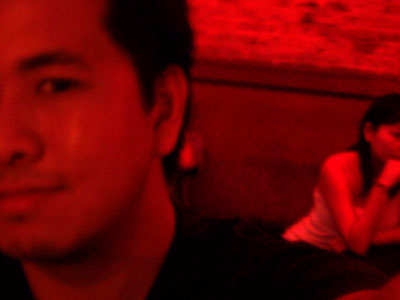 Yea, stay away from him.
5) The popular guys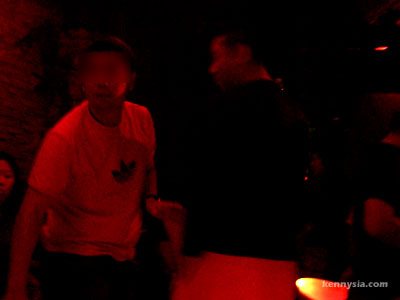 You know him. The popular guy is tall, handsome, big arms, perky butt, spiky hair, million-dollar smile, surrounded by an aura of suaveness.
He's also very rich but that's because he's spending a lot of his father's money because you always see him walking in and out of the private VIP room with the popular girls. All the girls secretly want to have hot steamy sex with him and all the guys are jealous of him but they're not as vindicative about it because they get to have free drinks off him.
6) The rich businessmen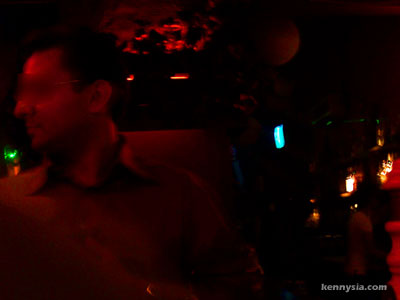 These guys are clearly a little too old for a pub filled with 20-somethings. Sometimes they're seen together with the resident pub dwellers, but most of the time they're just standing there still like a monument. They are very generous alright, ordering Chivas by the bottle and shouting everyone free drinks.
They shamelessly flaunt their wealth, because they can. At the end of the night all they want to do is to get into the pants of a girl young enough to be their daughter. And sadly for us, they usually succeed.
7) The desperate single males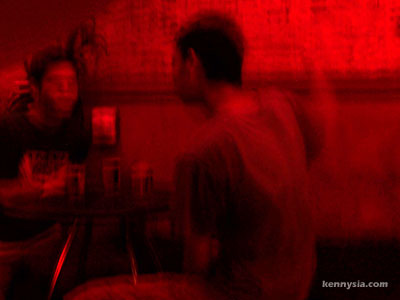 Sit around, beer in one hand, popular girl walks in, eyes lit up, approach her? Nabeh... boyfriend look very fierce, got tattoo one. Waiting waiting waiting, watch soccer on TV, sip another beer, vampy little nymphette walks in. Wah her clothes so terror! Approach her? Don't want lah, too shy. Take another sip, watch somemore soccer, aiya stupid Beckham dunno how to kick, miss the goal completely! CCB.
Waseh one chio bu just walked past me, fuyohhhh, check out the boobs on her. Aiyo how come the boyfriend so fugly, bad taste, dirty dancing some more. Dance with me lah! Haiyah. Finish drinking liaw. Buy another beer? Fuck lah no money. Tiu, so boring, no girls one. Better go home, wank and sleep lah.
8) The vampy little nymphettes
These small, young and petite little girls are helluva easy to spot. They usally come in wearing a top one-inch too low, a skirt one-inch too short, and ended up looking like Bai Ling on a bad hair day.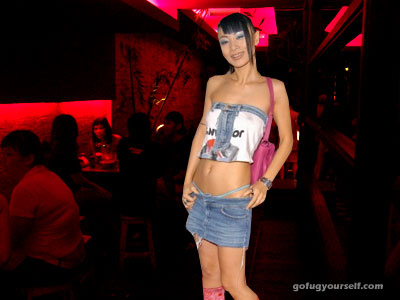 I don't deny that they are sexy mamas with a sizzling hot bodies to boot. Its just that when the slut-factor is turned up way too high, good taste turns sour, clouds turn grey and birds fall off the sky. All the girls hate her and all the guys pretend to hate her whilst they stare at her cleavage.
The vampy little nymphettes will act like divas, cigarettes in one hand, alcohol on the other, coldly rejecting any attempt to start a conversation. Unless you're the rich businessman, the popular guy, or an angmoh, in which case they'll latch on to you like koala bears, virtually begging you to bring them home.
Those lucky bastards.