And with that one single entry, I've booked myself a one-way ticket to eternal crapdoom. The horror!
Well, there goes my reputation...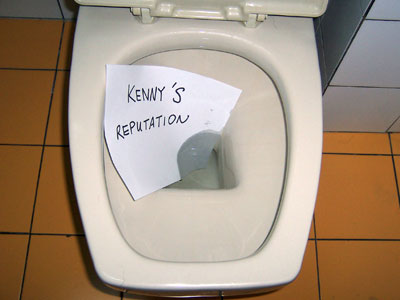 Heh, you guys RULE!
minishorts called it "the BEST APRIL FOOL'S PRANK in blogging history." Dr Liew called it the "Best April Fool Post 2005". (Am I starting to sound like that voice we hear in movie trailers all the time?)
At least everyone had a good laugh about it. And that's good, right? Instead of pulling a prank on some innocent dude, hurting his feelings then blaming him for getting upset on April Fool's - we're all here laughing at my hairy legs.
Gee, I never knew the jungle on my legs could bring people together! :) Something to tell my grandchildren about when I grow old.
Silly, silly me!
*Kenny makes a mental note to never turn up to any future Bloggers' Meet*