I'm flying off to Sibu, Sarawak in 2 hours time for a business-related trip. I'm coming back Tuesday morning, which meant I won't be able to log on for two evenings. Damn I'm gonna miss the Internet. Nicole once said to me after I repeatedly failed to fix up her internet connection, "I feel so handicapped without the internet!". Now I know how she felt...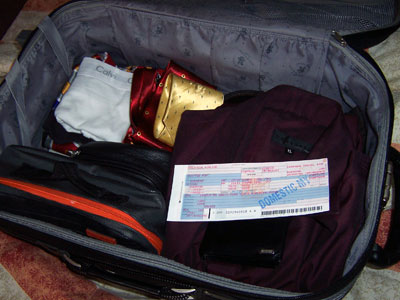 Its my first time going to Sibu, so I'm actually looking forward to it. All I know about Sibu is that its the third largest city in Sarawak after Kuching and Miri, and is home of the Foochow's kampua mee.
Oddly enough, I met more Sibu people when I was in Perth than I did when I'm in Kuching. To me, the Sibu people I know came across as plain, quiet, hardworking and innocent. They live a simple lifestyle: wake up, work, go home, eat, sleep - its the kind of lifestyle conservative Malaysian parents would approve of. Sibu people don't care a lot about making up, wearing fashionable clothings, trying to look good or what not. Its either that, or they tried... but failed. Just kidding. :)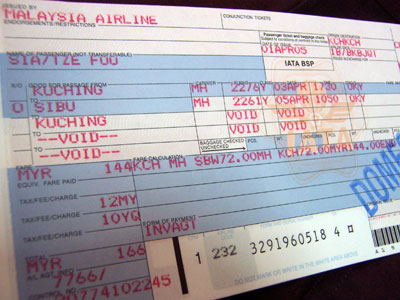 Anyway, to prepare for my trip to Sibu I googled 'Sibu Sarawak', and out came the official Sibu website at www.sibu.com.my.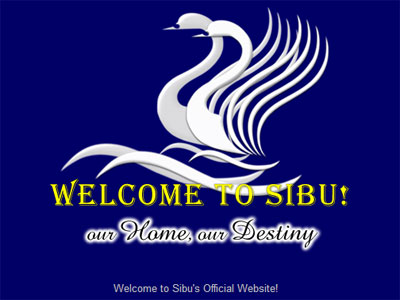 I was greeted with the above welcome page. I hate welcome pages for a reason. Welcome pages are ok if there's more than one link on that page asking you to select your country/language/whatever. But in most cases, there's only ONE LINK on the welcome page. Its an extra work for the webdesigner to create, and extra work for the websurfer who have to click on that ONE link on that page to get to the information they want. And for what? To look at some pretty graphics? Pfft.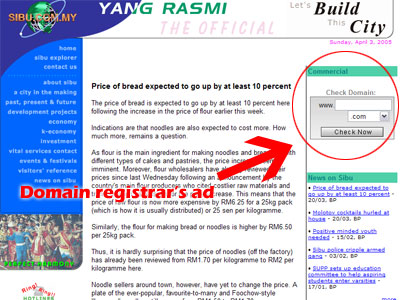 A minor crime they committed is to allow the webdesigner to hijack the website by inserting their domain registration services on the main page. Entering anything in that box will teleport you to the domain registrar's website complete with bad Flash plugins and horrible mouseover sound effects. But funnily enough, I'm ok with having links to commercial services on a government website.
What I can't stand is this... ANIMATED GIFs.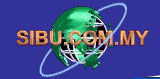 God dammit. Stare at that animation for five minutes and tell me you're not going crazy. The Sibu website is not the only one. It seems like all government websites across Malaysia are obsessed with bad animated GIFs and bad Flash intros. OBSESSED!
Example, JPJ Wilayah.
Go on, click on that link. I dare you. Turn your speakers up loud.
I swear you're gonna have that tune stuck in your head for the rest of the day. It happened to me. Now I feel like doing a cute little Malay dance everytime I hear that tune.
Any more bad government websites to share? Let me know. Meanwhile I'm off to the airport. See y'all in 2 days!