Just got back from the Kuching preview show of the Miss Tourism Pageant 2005 last night.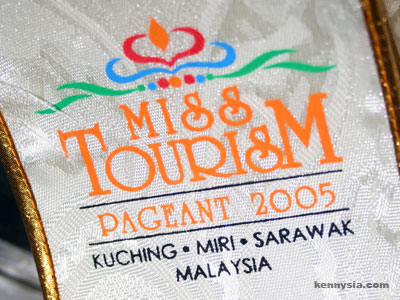 I didn't even know this type of beauty pageant exist, until I caught the bunch of them having lunch at one of the hotel cafes. Miss Tourism is very similar to Miss World or Miss Universe, only less glitzy and particular emphasis is placed on the contestants tourism knowledge and background.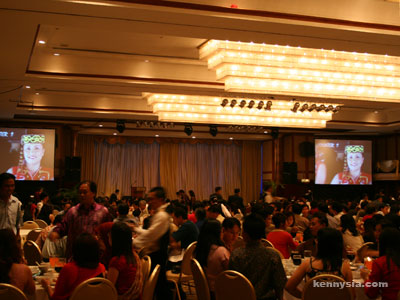 The Kuching 'Preview' Show was held at the Crowne Plaza hotel ballroom. The tickets are expensive at RM300 per person and are difficult to get by. I've called the organizers a few times before but they're unwilling to sell individual tickets as they'd rather sell by the table.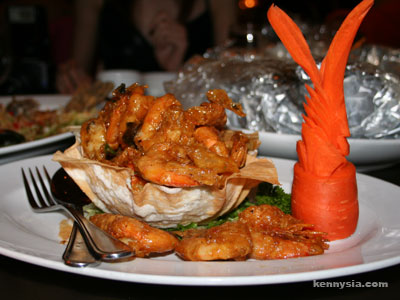 I was finally given a chance to buy the elusive RM300 ticket at the door on the actual event. Having gotten into a minor car accident earlier in the day, I was hesitant to part with my hard-earned cash. So I tried a trick.
I put on my best dress shirt and tailored pants, wore a (borrowed) huge ass digital SLR camera on my neck, and at the actual event I walked into the ballroom confidently as if I own the whole freakin' place.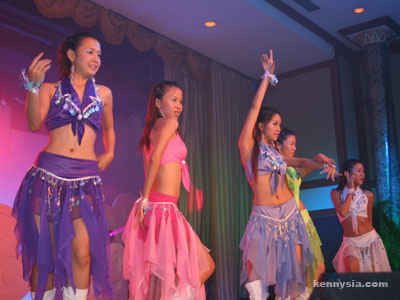 I walked past the reception. No response.
Walked past hotel security. No reaction.
Walked past the organizers. Nuh-uh.
I found my table (they made a mistake by revealing my table number before I even got my ticket), pulled a chair, sat and started eating the shark fin soup and butter prawns they served. Still no dramas. People look at me as if its very common for strangers to share a table like that.
Yes you heard it right. I got to dine at a 5-star hotel, rub shoulders with snobbish socialites, and meet with 30 other beauty queens, all for abso-fucking-lutely FREE. FREE. FREE.
Thank you, lax security guards!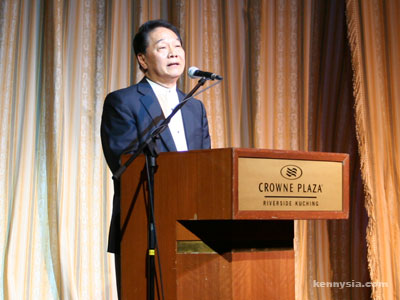 The minister's speech can be summed up as follows:
1. We're not here to see pretty girls, we're here to promote world peace and harmony.
2. Tourism is important so all the government money spent on this beauty pageant is worth it.
3. I got to see all these pretty girls backstage before all of you do, and I took pictures with all of them too. So obviously my balls are bigger than yours. (I'm serious. He did say something to that effect.)
Anyone wanna bet his stupid speech is gonna make the headlines tomorrow?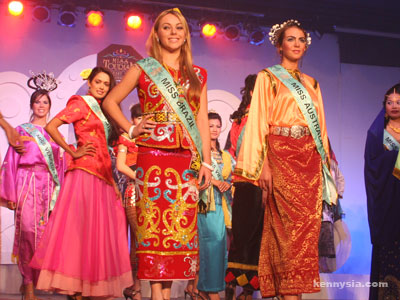 Letting someone like me sneak into the Miss Tourism Pageant was the last of the organizer's concerns. A number of contestants have withdrawn or miss the show completely.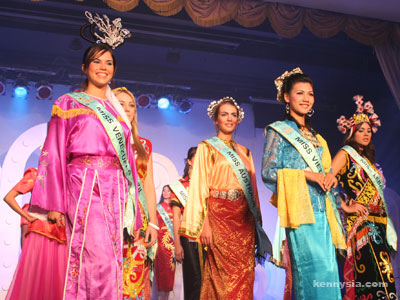 Poor Miss Ethiopia for example, was quarantined at the KLIA because she can't produce her medical certificate and the officials here fear that she may have yellow fever or something like that. I think she's gonna be so traumatised that when she goes back, she's gonna have yellow Asian fever.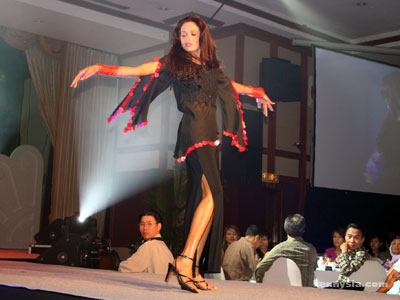 Perhaps the most high-profile scandal was the one involving Miss Tibet. The Chinese government forced her to compete as Miss Tibet-China, but she refused and ended up withdrawing from the contest instead.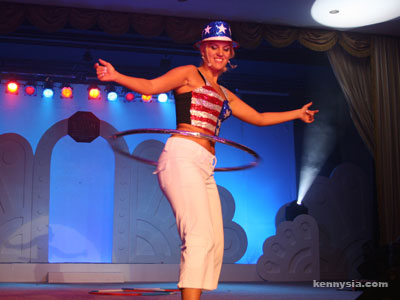 Anyway, after the initial introduction of the contestants, a selected few were invited to perform their 'special talents' on stage. Most danced. Miss USA did it with the hoola hoops.
Miss Singapore was scheduled to do an Aikido martial arts demonstration. But when she stepped forth, she...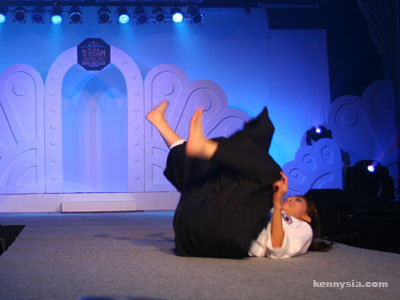 ... rolled on the floor.
... and again, to the left.
... then again, to the right.
And before you know it, its all over.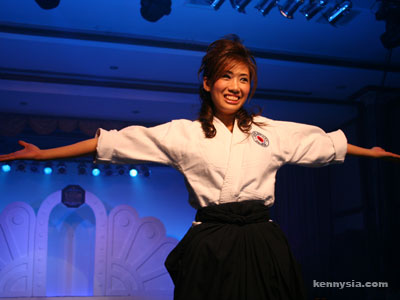 I thought I came for a beauty contest, but I went to a dog-rolling contest by mistake.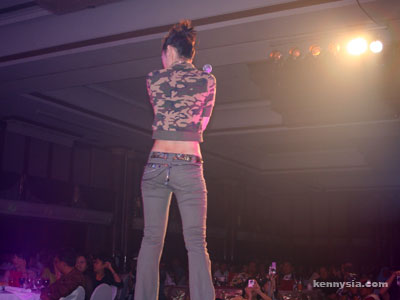 Miss Malaysia easily had the best performance of the night. She sang a rendition of 'In Your Head' 'Zombie' by The Cranberries and her vocals was simply awesome.
I shall upload the videos tomorrow or something.
The evening wear parade was next on the list.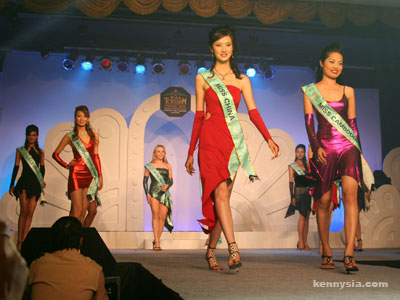 Miss China is damn skinny, but she got a nice albeit flat face though. I dig Miss Hong Kong's outfit (2nd from left) and Miss Brazil (3rd from left) looks fantastic in just about anything.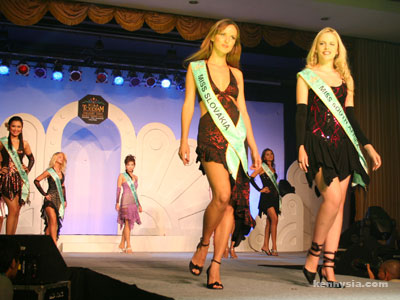 Miss Slovakia on the other hand has a great body but a very 'plastic' face. I managed to snap a photo of her later in the hotel lobby.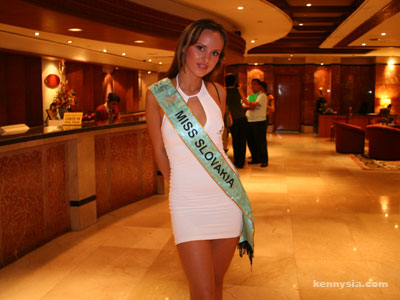 WAH! Look like she just walked out of a Barbie Doll box.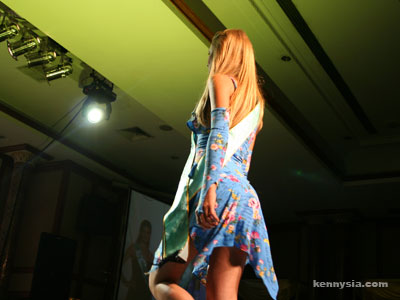 This is that curvilicious Miss Belarus' back. I reckon she has the best dress out of all the girls that night.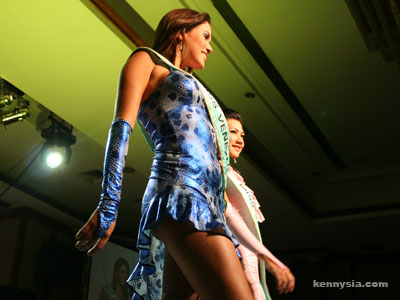 Miss Venezuela in her snake-print outfit. Miss Vietnam in the background. Why is it that all the beauty queens seem to hail from Venezuela?
I was looking forward to a swimsuit parade. Too bad with the conservative politicians in the audience I see a fat chance of that happening.
The next session of the show features the contestants in cocktail wear.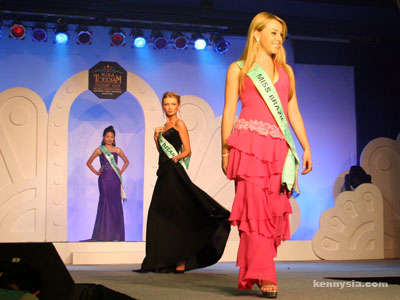 Miss Brazil looking fabulously neon pink. Check out Miss Belarus in that black dress! She looked like she jumped out of a watch ad or something. Those two are definitely my favourites alongside Miss Venezuela. Miss Cambodia in the background kinda pale in comparison.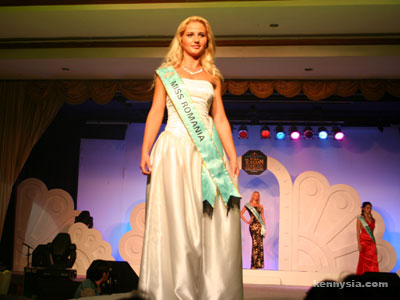 Miss Romania looks like a total doll without Miss Slovakia's plasticky feel. What a queen.
That's Miss Russia by the door in the background. She's another one of those with a good body, but her face something wrong one.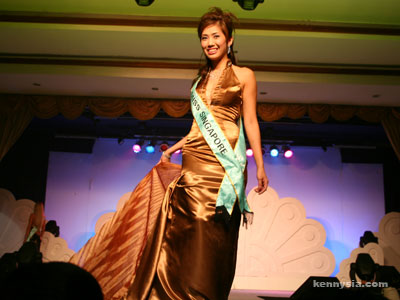 Miss Singapore Celest Foo definitely had the BEST evening wear of the night.
I spoke to Miss Singapore when I stalked bumped into the contestants during lunch a few days ago. That's how I remember her name. Its quite clear to me that she's not the most confident one of the group. She commented how intimidated she felt since the girls there are all so tall.
But Celest is very down-to-earth and I felt as if I was talking to my high school mate or something. There's no pretentious "I'm better than you" air about it. I like her.
The subsidiary title of Miss Damai was to be given out that night, but before that we were rudely interrupted by an intermission program.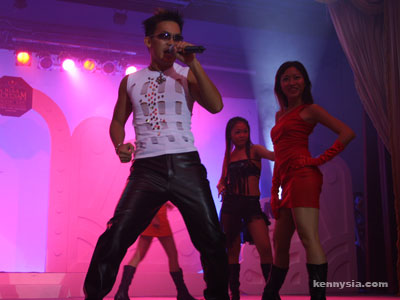 Cheebye lah. Talk about from one extreme to the other.
The moment of truth. Who will win the crown of Miss Damai (whatever the hell that is)?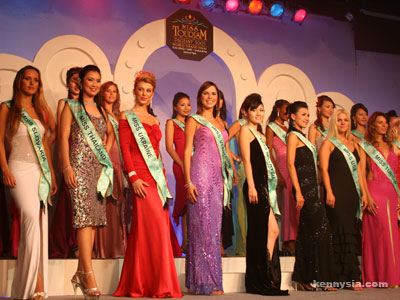 Make a wild guess?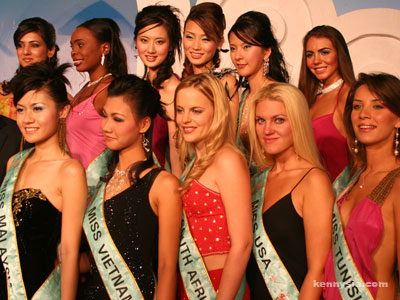 btw, that's Miss Tunisia standing on the far right. Not Miss Tiuniasing ok.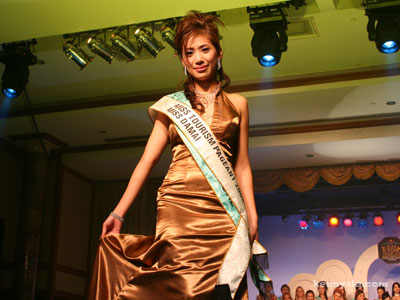 Congratulations Celest! :) You totally deserve it.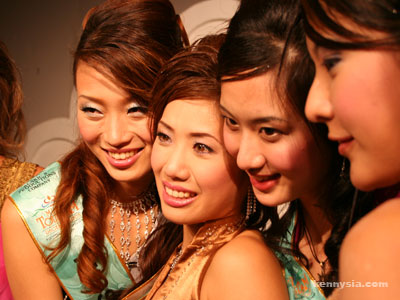 Don't go using your special Aikido talent and roll back to Singapore now.
Coincidentally I'm in Singapore right now, looking forward to attending the Blogger.SG conference tomorrow. Pop by DXO at the Esplanade if you're in town alright.
This wraps up my account of the Kuching preview show. The Miss Tourism Pageant Grand Final will be held in Miri City on the 23rd July. I have my favourites - specifically Miss Brazil, Miss Belarus, Miss Romania and Miss Venezuela. I hope they win.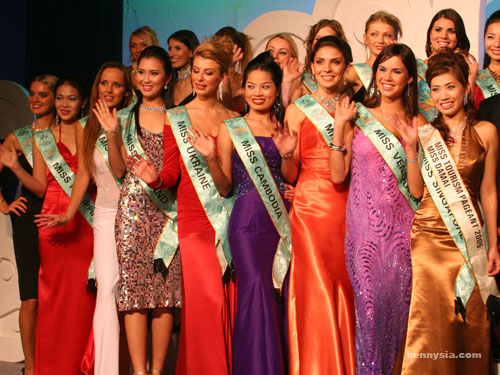 Well, who do you think should win?