One thing that constantly amuses me with Kuching is that businesses here can come up with rather funny names for themselves. Examples include Nemo Bistro in Jalan Ban Hock, or Titanic Lounge in BDC, complete with Finding Nemo and Titanic themes respectively. There's nothing wrong with that, but somehow I'd find it funny if someone were to ask me "Hey! Wanna go Nemo Bistro drink beer?"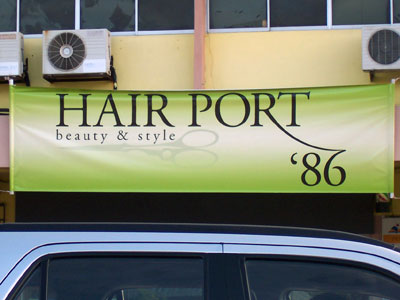 There's a hair saloon in Jalan Ong Kee Hui (near Soon Onn Furniture) called Hair Port '86. The first time I saw that name, I thought "What a stupid name. Hair Port... sounds like AIRPORT! What lah! The hair dryer like aeroplane so noisy one is it?"
It did pique my curiousity though. Perhaps Hair Port was meant to be like a central point for all things hair! That's why its named like that.
Anyway, I'm about to start work again next Monday and I hadn't visit my hairdresser since before CNY, so I figured its probably time for a hair cut. As I'm always up for trying something new, I popped in the saloon earlier today for a hair cut and wash.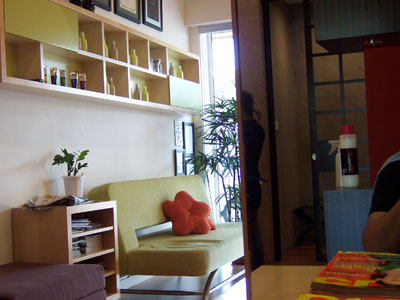 I am rather impressed by the interior of the hair saloon. The variety of bright colours marry well with each other, and the design of the furniture are all stylish and contemporary. The soothing music playing in the background makes it all the more inviting. This contrasts other hair saloons I've been to that's usually filled with patches of hair on the untidy floor, and the stench of hair care products permeating through the air.
I was greeted by Ling, who quoted me RM30 for a men's hair cut and wash. That's rather expensive by Kuching's standards, but considering a similar 15-minute service in Perth would cost AUD23, I thought the price is rather acceptable.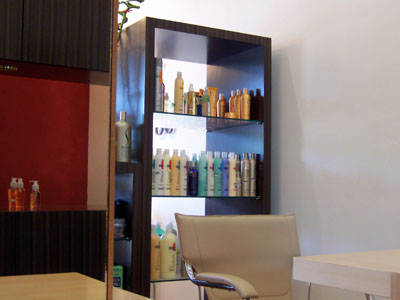 I was seated on one of their comfy chairs in front of the mirror. Ling placed a stack of Cleo magazines in front of me, which I never touched. Here's a shot of me before my hair cut.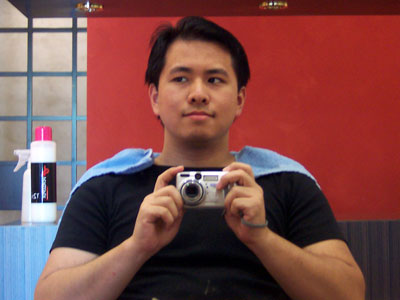 To my horror, Ling proceeded to pour shampoo and water onto my head while I was still sitting on the chair! Holy Cow! Wouldn't that drench my top? I would have though that they would wash my hair in one of those basin instead. But apparently, that's the SOP for hair wash here. Talk about a culture shock.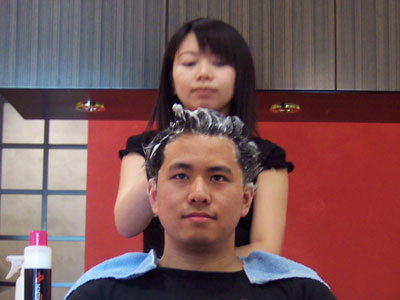 Somehow Ling managed to defy gravity and removed all the foam from my hair before it reached my tee. I was also treated to a good 20 to 25 minutes of head and neck massage, which was so good it made my neck numb. I was then led to the basin for a rinse of my hair. Ling wrapped a towel around my head, which made me look like Osama bin Laden.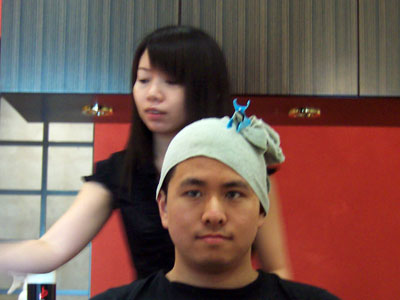 This is what I look like after the towel dry. I reminded myself of a young Aaron Kwok. Teehee.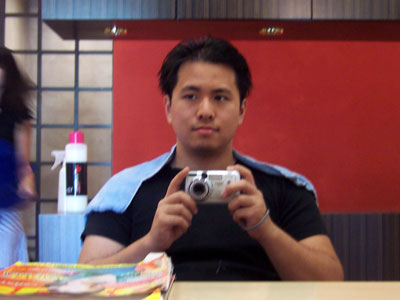 The actual hair cut was done by the taukeh-nio (proprietor) herself, Lina Chung.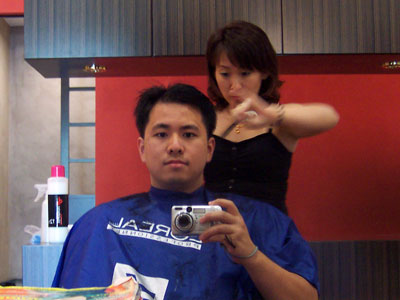 Lina is friendly and chatty. I learnt that Hair Port was established in 1986 (hence the '86 suffix in the name) and used to be located in Kuching Plaza until December last year. As patrons to Kuching Plaza dwindled, Hair Port relocated to this new area. Lina's father is the owner of Soon Onn Furniture, and the interior of the saloon was designed by her nephew Ronald Chung - coincidentally also a graduate of Curtin University.
Here's Lina's name card.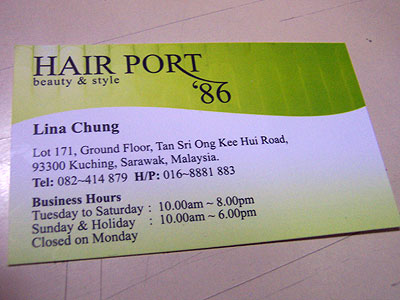 After Lina skillfully snipped and buzzed my hair, I was once again led to the basin to rinse off the residual hair. After a blowdry and some minor touch up, Ling returned to apply liquid hair wax on my head.
And this is what I ended up like.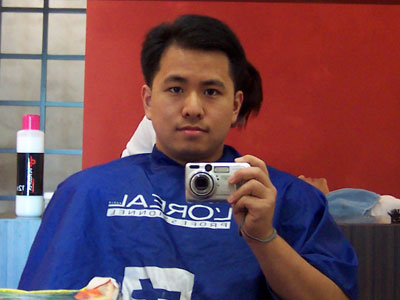 So what do you reckon? Good? Bad?
Or had I just wasted RM30 looking exactly the same as I did before?