I'm so busy these days packing away all my stuff that even finding time to shit is a miracle. I admit this is gonna be a half-arsed entry.
By this weekend, someone will be coming over to take away my computer monitor. That doesn't mean I won't be able to blog. I can still blog, just that I won't be able to see what I'm typing. So teh wrods mgiht npt comw out clrrektly.
*~*~*~*~*~*~*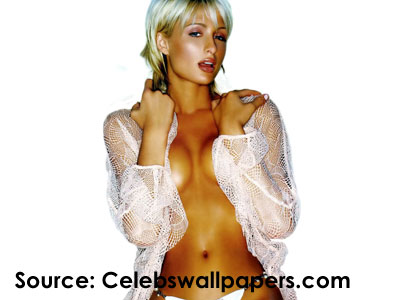 I think by now most of you would have heard of
the news
about the heiress to the Hilton Hotel fortune, the divine Miss Paris Hilton, who had her online mobile phone book hacked. For those not familiar with Paris Hilton, let's just say that's she's more well known for her wild party antics, lack of general common sense, and her infamous sex video. The contents of her phone book and other stuff like notes and camera pictures are published on
hiltonhacked.com
. Among the list of about 500 contacts are phone numbers and email addresses of prominent celebrities, such as Eminem, Limp Bizkit frontman Fred Durst, Jay-Z, Avril Lavigne, Ashley Olsen, Ashlee Simpson, etc.
Ashlee Simpson?! I don't know what those two airheads can talk about. Imagine Paris sms-ing Ashlee (1-310-254-7114).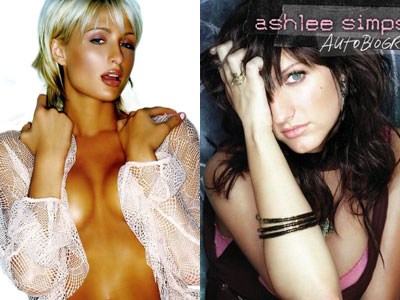 Paris: hey what's up?

Ashlee: not much... what's up?

Paris: errr... nothing major... i'm just hanging... what's up?

Ashlee: dunno... well you messaged me first, so... what's up?

Paris: just... partying... ummm, what's up?
Fascinating stuff.
Eminem is another odd person to be on Paris Hilton's phone book. One is always so disturbed and angry, and the other one laughs for no reason. What would Paris Hilton and Eminem (1-917-776-7643) talk about?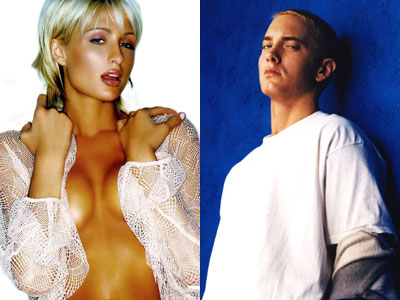 Paris: hey what's up?

Eminem: Alright. Now lose it.

Paris: AH-AH-AH-AH-AH

Eminem: Just lose it.

Paris: AH-AH-AH-AH-AH

Eminem: Go crazy.

Paris: AH-AH-AH-AH-AH

Eminem: Oh baby.

Paris: AH-AH

Eminem: Oh baby baby.

Paris: AH-AH

To her credit, Paris Hilton has the number for Feed the Children (235-933-98001) stored on her mobile phone. Tell me seriously, how many people have phone numbers of charities stored on their mobile phone? Do you? Of course not! Because NO ONE STORES PHONE NUMBERS OF CHARITIES ON THEIR MOBILE PHONES!
Its as if she's the kind of person that would feel sorry for the children in Africa all of the sudden. So much so that she would ring up Feed the Children and say "Hey! Let's give those children from Ethiopia the penthouse suite of the Hilton Hotel in Las Vegas!"
Maybe Paris Hilton isn't donating to Feed the Children at all. Do you see how sicky and skinny Paris Hilton is? And then it struck me. Maybe Feed the Children is giving food to Miss Paris Hilton instead!!! THAT'S IT!!! Remember, you hear it first on kennysia.com. ;)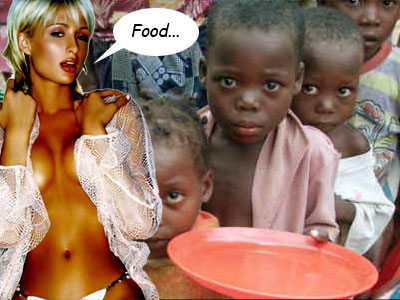 (Feed the Children is a legitimate charity btw. So if you haven't given enough, give more. Because some people need it more than we do.)
There are even two doctors on the list, Dr Pat and a Dr Randy Harris. Frankly speaking, I reckon the name "Randy Harris" sounded more like a porn star's name than a doctor's name. Could Paris Hilton be wanting to expanding her video library? Would we ever see One Night In Harris? Only time will tell.
Its as interesting to note who is on the phone book as it is to note who is notOne Night in Paris co-star Rick Salomon?
There's Australian mobile phone numbers of herself and tennis *cough*star*cough* Mark 'The Poo' Phillippoussis. I did try calling both numbers, and not surprisingly their accounts are already cancelled. Someone called DJ Am, who happened to be Nicole Richie's boyfriend. He answered the phone call with an annoying tone, "This is the FBI speaking..."
You know what, looking through all these is kinda fun! Its a bit like looking into someone's private life or reading someone's blog (hey... what are you doing here?) Then again, I kinda felt sorry for Paris Hilton. After all, this is such a huge invasion of privacy and I'm sure she's copping a lot of shit from her acquaintances.
Then I remembered how much I hated her, and miraculously, my guilt suddenly fades away. :)