Last year, we were given a taste of Arthur's Day.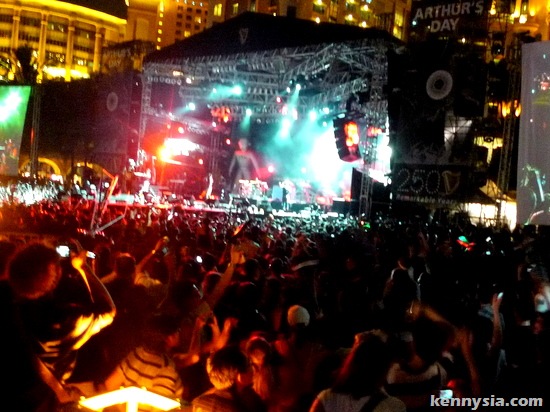 15,000 fans gathered at Sunway Lagoon to celebrate the 250th anniversary of Guinness. We sang, we danced and we partied with The Black Eyed Peas. It was easily the most memorable live concert held in KL last year.
Apparently Malaysians have shown so much love that the folks at St James's Gate in Dublin decided to make Arthur's Day an annual event.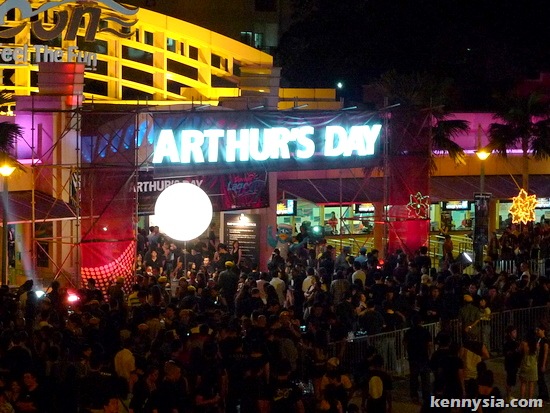 This year, Malaysia is once again given the honours of being the only Asian city to host this global celebration.
Malaysia Boleh!
And it's still gonna be big. You wonder how Guinness is gonna top Arthur's Day after bringing in the Black Eyed Peas last year. Well, this year they're bringing in not one, not two, but THREE major international acts!
Headlining the live concert on the 24th September is none other than... FLO RIDA!
If you don't know who is guy is, obviously you haven't been hitting the clubs often enough.
Flo Rida is the man behind almost all the big hits these past 4 years - Elevator, Right Round, In The Ayer and the song that every virginal teenage boy wished a hot chick would grind them to - Low.
Performing alongside the Flo Rida is Jamaican superstar... SEAN KINGSTON!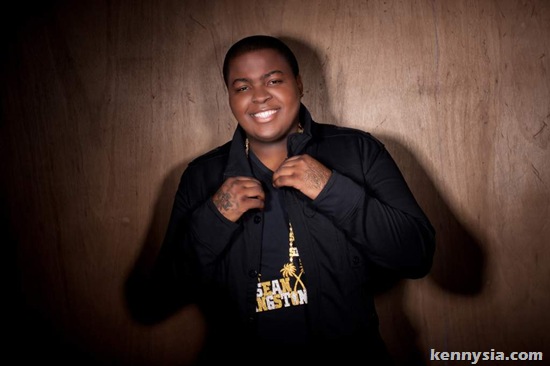 Also featuring on Arthur's Day... COLBY O'DONIS.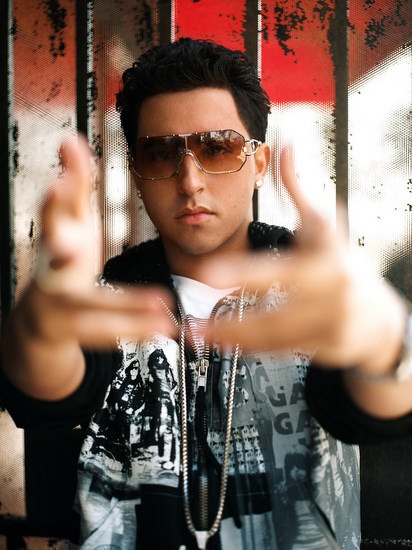 You'd know him for his collaboration with Lady Gaga, Akon and Malaysia's very own international superstar... MIZZ NINA.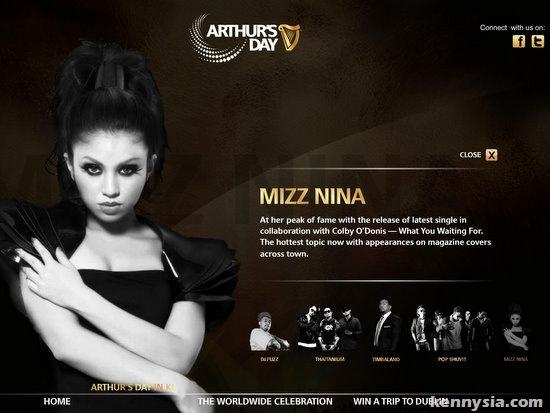 A.k.a. "sexy's my name, yeah sexy is my name OH YEAH."
The supporting acts are awesome too. Among them, Melissa Indot, Pop Shuvit and Thaitanium and DJ Fuzz.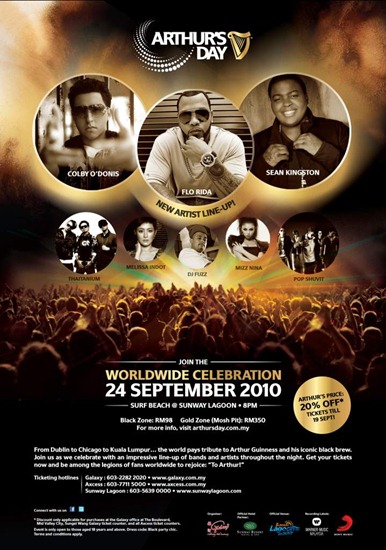 Tickets are now available for sale at Axcess with 20% discount till this Sunday.
Good news is, Guinness has got some tickets to Arthur's Day give away. On top of that, there is a chance for somebody to win an all-expense-paid trip to the birthplace of Guinness - DUBLIN.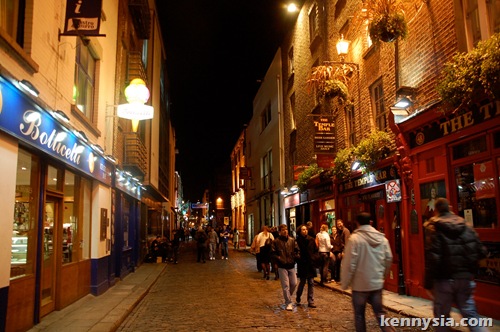 Here are two ways to score yourself some of that cool swag.
One, is to re-enact a music video and upload it onto Youtube. For specifics, click here.
Two, you play a little game.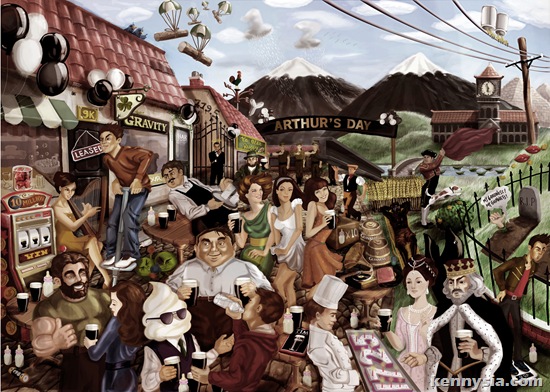 Go to www.arthursday.com.my and take a look at this picture very closely. Click to enlarge if you wanna.
There are 40 facts relating to Arthur Guinness and his creation hidden in the picture above. How many of them can you see?
Decipher as many as possible and e-mail them in to contest@arthursday.com.my for your chance to win. First person to send in most correct answers wins the trip to Dublin, Ireland!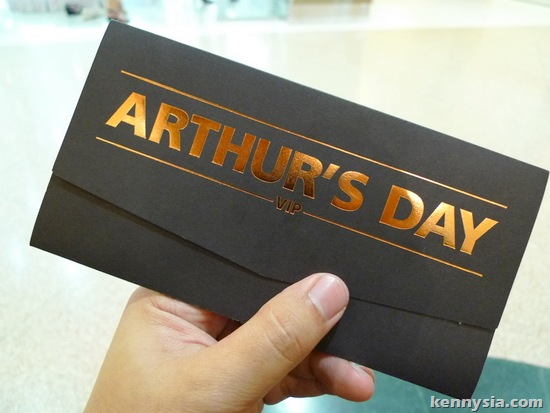 Weekly and consolation prizes ain't too bad either. It's Arthur's Day Mosh Pit tickets worth RM350 baby!
For hints, follow them on Facebook or Twitter. Otherwise, all the contest specifics can be found right here.
Yes, I knowwwww. It's not that easy to find 40 facts from this picture.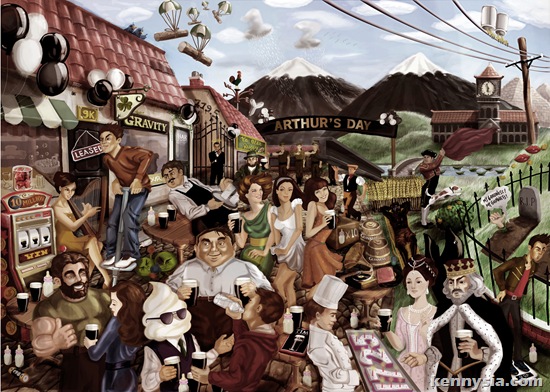 But guess what? After a while I got some of them sorted.
For example, the first hint on Twitter is: "The feathered flying creature that says 'Lovely day for a Guinness'"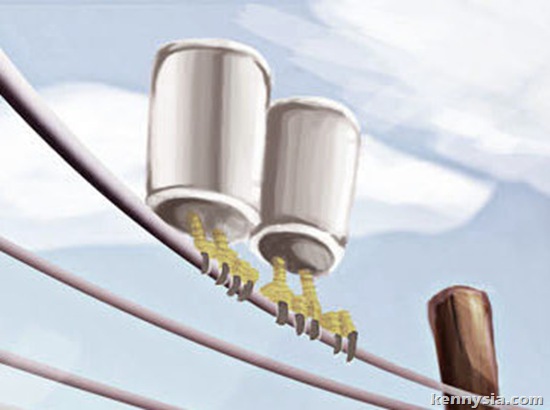 Answer: TOUCAN!
The second hint: "The 'bejewelled colour' of Arthur's creation."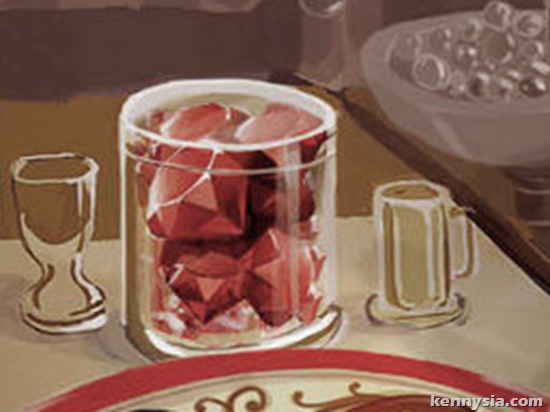 Answer: RUBY!
The third hint: "The brewing ground of the legendary black stuff."
Answers: ST JAMES'S GATE!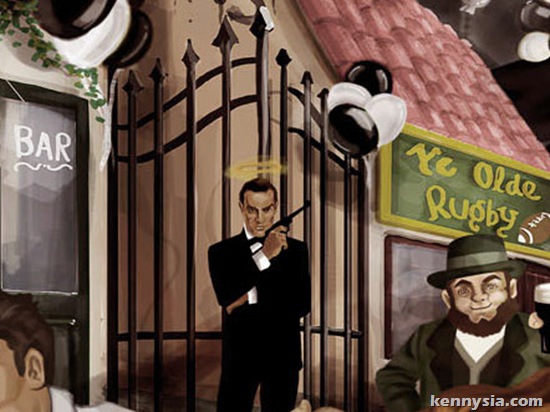 Geddit? Saint + James Bond + Gate = St James's Gate.
Liddat also can!