Disclaimer: kennysia.com is politically neutral and does not endorse any political party. That, and this is a bloody long blog entry.

This 8 March, one of the most exciting fights will see BN-SUPP Challenger Alan Sim take on DAP Champion Chong Chieng Jen for the championship title of Bandar Kuching MP.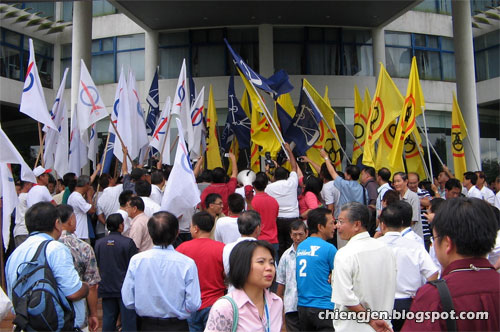 Bandar Kuching is dubbed "the toughest seat in the whole of Sarawak" with perfectly good reasons.
The state of Sarawak has been under BN rule ever since the formation of Malaysia. In the 2004 federal elections, BN won every single seat in Sarawak except for one. DAP stalwart Chong Chieng Jen emerged the lone Opposition winner in the parliamentary seat of Bandar Kuching, ceremoniously denying the state BN complete representation at national level.
No doubt, BN was pissed.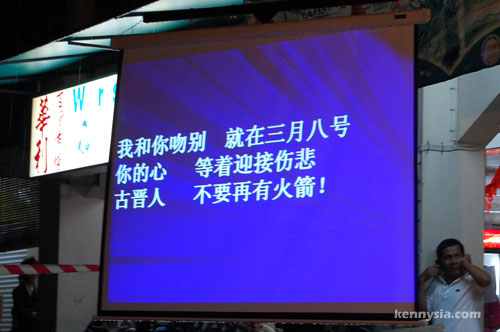 2 years later in the 2006 state elections, BN lost even more seats to the Opposition. Eventhough DAP fielded inexperienced newcomers to combat BN's old knights, the DAP underdogs still won an upset victory in almost all the Chinese urban constituencies in Sarawak.
Enter the 2008 parliamentary elections.
BN-SUPP is no longer fielding an old dog against DAP's young and energetic lawyer Chong Chieng Jen. Instead, they chose someone who is almost the mirror image of DAP's Chong.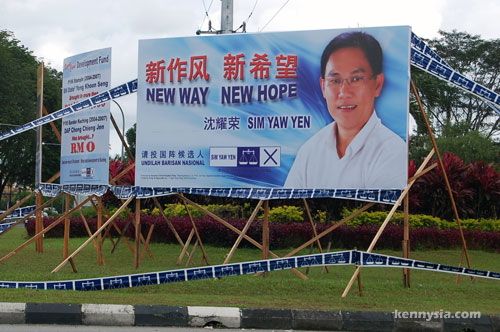 Young, energetic, extremely capable and hardworking, Alan Sim is the head of the SUPP Youth contesting in his first ever election.
Alan Sim is also a lawyer who, unlike his older colleagues, speaks fluent English and identifies a lot more readily with the young urban voters of Bandar Kuching. He is smart without being arrogant, sympathetic without being helpless. All these qualities made him very likeable among the people he serves.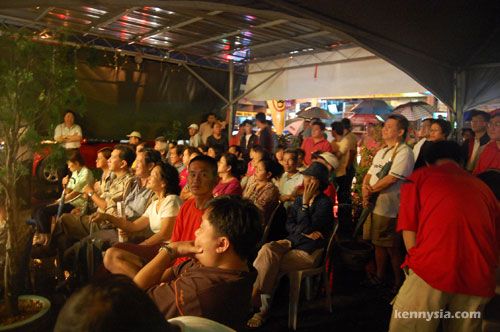 I first met Alan few months ago when he asked me out for lunch and I gave him a few basic tips on starting up a blog. His blog is now live at www.alansim.net. I caught up with him again last Friday evening for this interview. On both occasion, I find him genuine and sincere. The guy really does across as a true leader.
SUPP is not as out-of-touch as many may think. Alan is very well aware of the concerns of the local Chinese. At our hour-long chat, we spoke extensively about allegations of corruption, the Malay agenda and non-Muslims' irrational fear of increasing Islamisation.
Below is a transcript of my interview with Alan Sim, the BN-SUPP candidate for Bandar Kuching.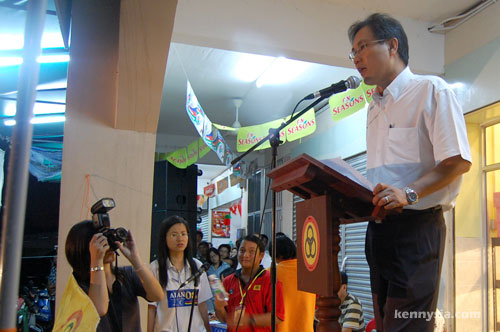 Kenny: First time contesting in elections. How do you feel right now? Are you taken aback by how hostile it can be?
Alan: No, actually I have helped out in five elections before. It's nothing new. Actually there will be a lot of personal attacks that are levelled at the candidates, which is not exactly what we wanted. We should be able to talk more about what are your thoughts, about certain issues, rather than making personal attacks on each other. But since DAP started doing it, we can't help it lah.
Kenny: I think a lot of people are taken aback. Like, "Wow, I didn't know it can be so brutal."
Alan: It's all very hostile. It's all personal attacks. They don't talk about what they can do for the people, what are some of their ideas. It's all personal attacks. Last election, we have been trying to explain to people what we want to do without making personal attacks. And that strategy obviously didn't work. That's why this election we change a fair bit. We are going to be aggressive in publicity.
Kenny: Can't just sit back and absorb all the attacks, isn't it?
Alan: Absorb all the punches I don't think so lah. *laughs* By the end of election it'll be taxing and we'll lose a lot of votes, so I think we have to go on the aggressive mode.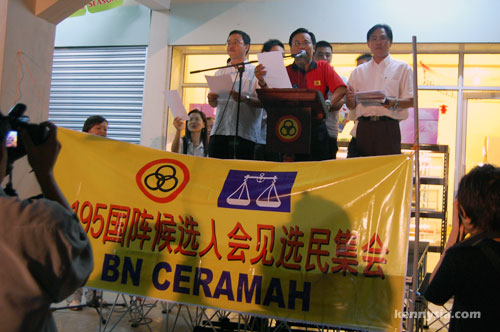 Kenny: So what's a typical day of campaigning like?
Alan: Well I think I sleep on an average of about 5 hours. That is if I can sleep well at all because I think there's a lot of things in the mind also. But that is expected of politicians. Normally, I would go visiting in the early morning to places where there's a crowd, like coffee shops and the wet markets. And later say about 9am, I would go to the commercial areas where it's busy and speak to shopowners.
Kenny: Any interesting things happening there? Have you seen people that turn away or don't appreciate your visit?
Alan: Not many, eventhough I realise that out of every two person I think one of them is gonna be on the other side. In general, people are still quite polite. That should be the kind of culture that we should encourage. We can have political differences. We don't have to get too personal about it. That's my view.
Kenny: I think for them, everything become personal and people don't separate personal attacks from what's meant to happen in an election.
Alan: But not in the case with voters. For example, today I walked into a shop. I was shaking hands with them and they were giggling. I don't know what they were giggling about but when I turned back I saw them decorating a DAP vehicle. I mean it's ok for me. I walked into their shop, they are also our fellow Malaysians. They should have every right to their political thinking. It's fine for me.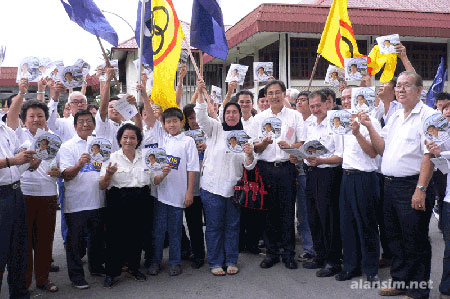 Kenny: Do you think a lot of young voters are complacent about what's happening? Do you find a lot of them are not interested with what's going on, or don't care about elections? Like "why vote"?
Alan: I think if you look at the voting percentage in the last few elections, it has been like something 60% to 65% turn out. That is not very good. Where are the other 40% of the people? It's quite alarming, that kind of voting rate. That shows what you rightly pointed out in that a lot of people are not too concerned. They are quite indifferent, as in "whoever becomes the government I don't really care."
Kenny: If the 40% comes out to vote, it could swing either way.
Alan: It could, very well. Last parliamentary election, Barisan Nasional lost by 2,041 votes over 55,000 possible votes. It is very, very small percentage. It is important that people come out to vote, but somehow or rather it is not happening, no matter how hard we try. Our canvassing team have been going to every house and help them to do a voter search to let them know which polling station they'll be voting in. And we even provide them with transport. The number of people involved in this election on polling day itself, just on our side, is probably coming to 2,000 people working on that day. Despite of all these efforts, it's not working. In other countries, you may see people voluntarily coming out to vote.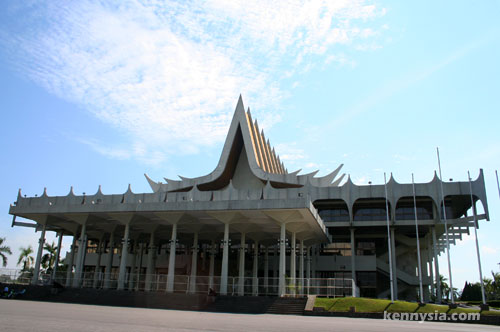 Kenny: What is your take on the rising cost of living that we're experiencing?
Alan: I think the rising cost of living is a global problem. I think it's faced by every country. The main cause is the increase in the crude oil price. The crude oil price has gone past US$102 per barrel. As I've been saying all these while, that's because of 4 countries where there's a huge demand there: Brazil, Russia, India and China. These are 4 main countries where there's big population. They are doing well, and the amount of crude oil that they need is quite scary. The demand is increasing at quite an alarming rate.
Kenny: So there's nothing much we could do?
Alan: Not to say there's nothing much. Government has put in quite a lot of effort in terms of controlling prices of basic items. All along that's been done by the Ministry of Trade and Consumer Affairs. Once you go into price control, you have to subsidize. There's no way out. You can't ask people to sell at a loss. So the only way you can control is through subsidy. That has been done all along. That's why despite all this hoo-ha I think Malaysia, certain items in general are still much cheaper than in other countries. So the only other thing that we could do if we want to soften the impact of all these inflaction is look at a better economy. If you have a better economy I'm sure people won't feel the pinch so much. If everybody is doing well, you're not short of money, then I think the impact of inflation could be lesser.
Kenny: Because you can afford these things.
Alan: I was in China recently, I brought my mom for a holiday. If you're in Shanghai that region, they won't even feel [the effect of inflation]. You have a tourist guide who just bought an Audi A4 that costs 500,000 RMB. A tourist guide! Can you imagine? He's in his 30s. That kind of thing will never happen in Malaysia - tourist guide buying a luxury vehicle. But if our economy is as strong, then... maybe?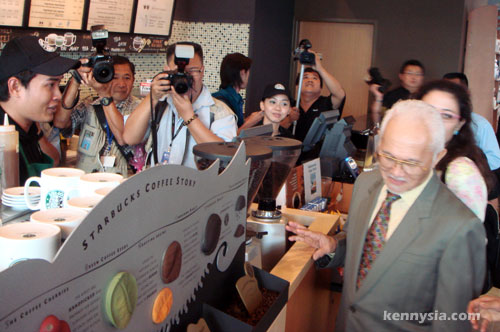 Kenny: Is there hope that one day we will be?
Alan: In general, I think Malaysian economy is not doing too badly, if you look at our GDP and all that. But of late, I think people are talking about a slow down in Kuching.
Kenny: I think Kuching is actually developing. I mean, judging by the number of malls around, I think it is developing. I'd be surprised if people say that Kuching hasn't been growing.
Alan: No, growing or not growing is another thing. I think people are talking about businesses being bad. That is what they're saying lah. But the way I look at it is it's more competitive. Just look at one example. If you look at foot reflexology centres...
Kenny: Too many of them!
Alan: Just how many... it's about 100 now in Kuching. Big and small. Some are quite big scale. Whenever there's money to be made, everybody will jump in. So of course it's becoming competitive, so the business is being shared by all the competitors. So people are saying business is bad because of stiff competition.
Kenny: Business is growing faster than the population.
Alan: Probably lah. When I started out as a lawyer back in 1990, there's not that many firms in Kuching. There was only about 50 firms in Kuching. Today, we have more than 150 firms. I don't even know some of the lawyers in town now. It's all about competition. And the reason why we have all these competition is because over the past 20 years Malaysia has been enjoying good economy growth rate, and people have accumulated some wealth.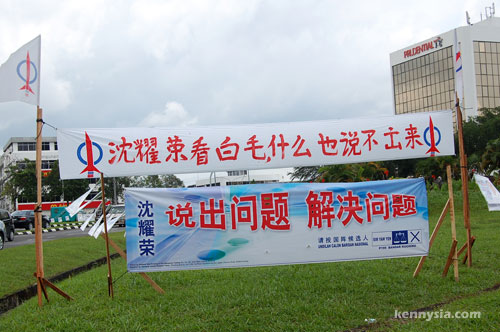 Kenny: A bit of chance to respond to some of the "allegations" that your rival has been making. I think one of the first things, if you see the posters around town, is that they said that you might not be able to speak out against the Chief Minister or the Prime Minister. How would you respond to that?
Alan: I think it's not a "personal thing". I think in politics, if you belong to a team, you talk about policy. You don't go and make personal attacks against your leaders. Even Chong (DAP) himself, when I saw him at the DUN sitting, all he did was make one comment about the CM then he would sit down. I have never see him once engaged in a debate with the CM.
Alan: Let's not get too personal in politics. There's a lot of allegations of corruption by the Opposition. The simple question that we ask: in Malaysia, we have anti-corruption laws. They are all lawyers, why don't they go and lodge a report? The law is there, and they are making all kinds of allegations. The proper thing to do is lodge a report. Get some of them charged.
At this point, I raised a point made by the Opposition about how most government projects were given to 'The Family' without an open tender. At Alan's suggestion, I think it'll be wise not to include this part of the interview on the blog.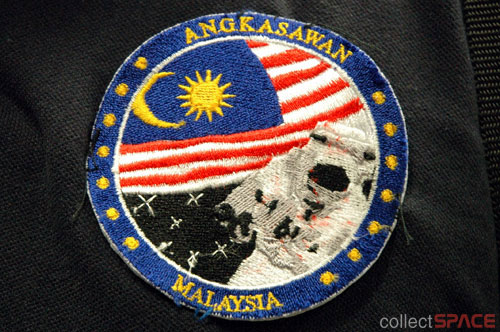 Kenny: What do you think of the Angkasawan project?
Alan: That project ah? Well, I think... there was a term that was used for it, because we didn't really launch the...
Kenny: Space tourist, is it?
Alan: Something like that. There's a lot of people who talked about that. But of course, as a nation, we may have certain vision that is to take us to greater height. For example, building the Twin Towers. I think it's something that's iconic. A country has to be identified with certain things that will take you to certain levels. But I don't know, there are differing opinions about the way that it was done. About how it was not really Malaysia being able to go to space. There's quite a lot of people who spot on that.
Kenny: Do you think it's a good thing?
Alan: Well, maybe money could be better spent? I agree money could be better spent.
Kenny: Alright. Do you think that it's important that young voters be exposed to fair and balanced news in the media? In our current situation, is that happening?
Alan: The freedom of expression in Malaysia has improved a lot over the past decade. We have opposing views expressed in the paper all the while. If you know how to read Chinese newspapers, there's a lot of coverage for the Opposition. Whatever they said is not being censored. I mean, nowadays it's also difficult to censor anything. Come on lah, if you don't allow me to publish it I can always go on the Net.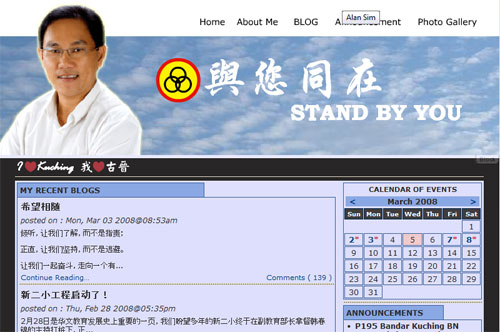 Kenny: You've been online as well. You have your own website. How is it working out for you?
Alan: Yes and no lah. I think you gave me some tips before. It's a question of going in to maintain it lah. But being so busy, it's sometimes so difficult to update it. And then to engage a webmaster to manage it for you is impossible. Especially when we're talking about a political blog. Basically, people want to know your take on political issues. You should be doing it all on your own lah, but then we run into a lot of problem because of time constraint.
Kenny: It's very time-consuming lah, I know that. Have you received good feedback and a lot of support?
Alan: On both sides. There are a lot of people who are of course my political opponents, seize the opporutunity to attack me on certain issues. But I take it with an open mind. It's ok, they can come in and they can level all kinds of attack. I'll just explain myself.
Kenny: You are very patient then! I guess a lot of people are just gonna breakdown. So you are very patient.
Alan: But I don't want people to call me names. I'll just take it out. Things like foul words and foul languages, definitely I'll take it out. Swearing at my family, that one I'll remove it. Then they'll come back and say something else.
Kenny: That just stoops to a new low I think. Well, this one is another sensitive question I suppose. Then again, you have the freedom whether to answer or not. Do you think the current government is corrupted?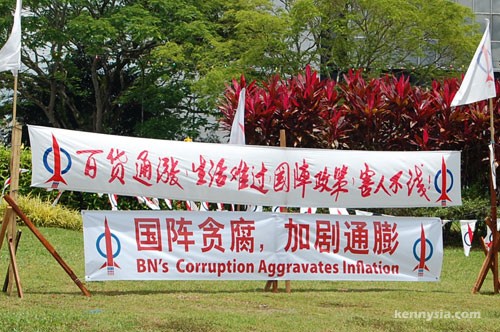 Alan: As I said, there's a lot of allegations levelled at the government. But what I'm saying is, the law is always there. Lodge a report. When you have the evidence, lodge a report. DAP always claimed that they have a lot of evidence. They're always voicing it out in ceramahs. Why don't they just lodge a report with the police if they think there's any corruption? And there are also certain prosecutions by the government. Top-level people, ministers, civil servants. So?
Kenny: So you think the government is clean, would you say that?
Alan: No, I won't say that. I won't say that. Definitely there could be certain cases which are unexposed. But of course, if there's any act of corruption, personally I would not condone it also. I condemn any act of corruption and the person should be dealt with by the law.
Kenny: Go through the proper channels?
Alan: Go through the proper channels, don't just throw allegations at everybody and say that we are corrupted. For example, even at my level, even as MBKS councillors they say that we are corrupted. I for sure say that if there is any evidence of corruption that you can find against me, I will not contest in the election. I'll be out. That is my pledge.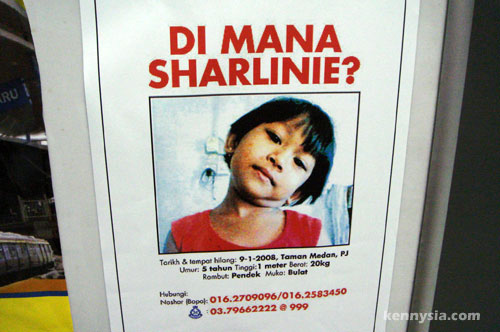 Kenny: That is great. The police service and the government servants, can be improved then?
Alan: Well I think the standard of service provided by the police left much to be desired. They are not performing to the people's expectations. I mean, it's not from me. I seldom have cases with the police, but I received a lot of complaints. And most of them I think are genuine complaints. Generally people are quite frustrated with the police in Kuching.
Kenny: So it is a concern?
Alan: Yes it is a concern. And in fact, it would be my top priorities to get the security matter sorted out.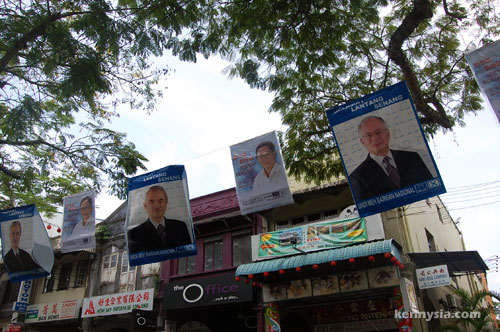 Kenny: Ok, another sensitive issue again. Once again, you're given the freedom to answer or not. Do you think Malaysia is an Islamic state, or a secular one?
Alan: To me, that question has always been argued and things like that but life still goes on as usual. The more important thing is that we still have freedom of religion. You can still be a Christian, I can still be a Buddhist. We should not be too bothered about the argument about whether Malaysia is still a secular or an Islamic state.
Kenny: But personally you won't make a comment about that?
Alan: I won't make a comment about it. I know Tun Dr Mahathir has made certain statements to the effect that Malaysia is in fact already an Islamic State. Also, the Opposition are harping on it. But whether Mahathir made that statement or not, has any changes taken place? Is there any effect? I don't really think so. It's still the same. I can still go to my temple, you can still go to your church. More important thing is that we still have the freedom of religion. And Sarawak I think is quite special in that freedom of religion is really felt here.
Kenny: I think we are a lot more tolerant than the West isn't it?
Alan: We are a lot more tolerant. I mean in Sarawak in particular, you look at the Chay Sua (Muara Tebas) temple - it's a Chinese temple right in the middle of a Malay kampung. Where can you see that in Malaysia? It never happened anywhere else in Malaysia. I think Sarawak is special, very special.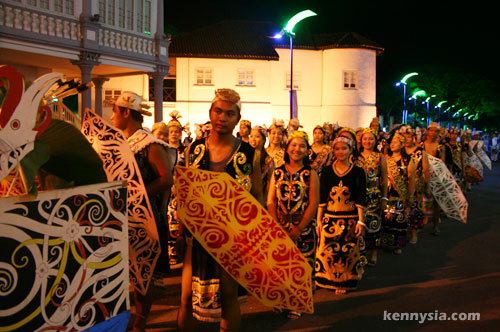 Kenny: What is your stance, or perhaps your party's stance, on the New Economic Policy and the quota system?
Alan: New Economic Policy came about in the 1970s. It was modelled on Mahathir's Book The Malay Dilemma. If you read that book then you can look at the rationale behind that book. I think the New Economic Policy should not be continued indefinitely. I think the government should have a look at it from time to time. With globalisation Malaysia has to stay very competitive. If you have a policy that protects one race, then of course you may lose the competitiveness. But hopefully, eventually, when our Malay friends are ready, government should look at reviewing the New Economic Policy.
Kenny: Alright.
Alan: It is a very sensitive issue.
Kenny: It is, I know. I think we need to thread very carefully as well. Here's another question put forth by a reader. When in parliament, if something is clearly against your conscience, will you vote against your party line? Just to give an example, previously there were some BN members who were making some remarks that were considered sexist. And when the motion was moved to reprimand them, it was turned down because BN has the majority in parliamant. So the question this reader put forward is, what would you do in a similar scenario?
Alan: I think there are certain principles. As a team, you may be asked to toe certain party lines. But that doesn't mean that you personally agree with them. In terms of certain stance, you may take it outside the parliament and say you don't agree with this personally. Things like this better lah. Some things are uncalled for lah. For example, talking about ridiculing the ladies' period and all that. I don't know... "leak". *laughs* Nonsense lah. I think that one cannot be excused. That is my personal view.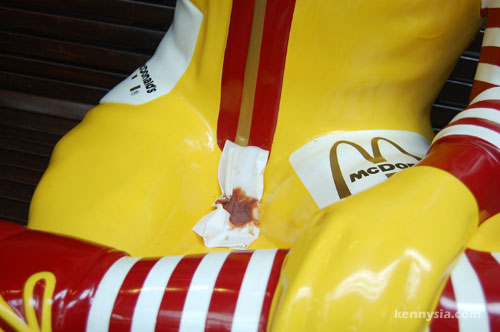 Kenny: So eventhough you may not agree with what they are doing, you will still follow the party's principles?
Alan: I think we are often put in very difficult situation. If you don't toe the party line, you may face certain penalty. But of course it depends what is the issue. If it is something so serious you might have to really...
Kenny: So it is a case-by-case thing?
Alan: It is a case-by-case thing. If it is something so unimportant, you cannot just say "it is against my conscience, I don't want to vote it." So I think it depends on the seriousness of the matter. If it is something that really is against Chinese interests and what you stand for then sorry lah, you may have to sacrifice your political career and go lah.
Kenny: Do you think the whole Barisan Nasional coalition works well?
Alan: I think Malaysia is a multi-racial country, there is no better formula. Unless somebody can tell me that there's a better formula. I think if you compare Malaysia with other multiracial countries, it has done very, very, very well.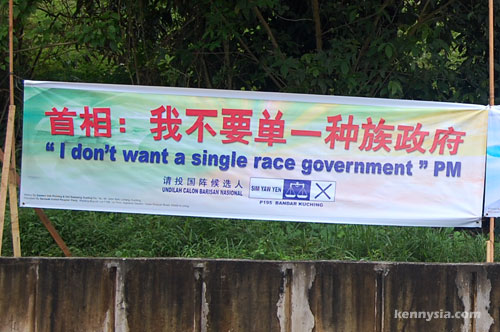 Kenny: So what is your take on race-based political parties? As in forming a political party where all the members are of the same race, for example.
Alan: I think if you look at Barisan Nasional, it's not formed on that basis. There are 14 parties inside, MCA representing only Chinese, MIC representing Indians, UMNO representing Malay, PBB representing Dayaks, whereas smaller parties like us may be representing majority Chinese but ours is a multiracial party also. We have a lot of Dayak comrades also. But it doesn't mean we are just racial based party lah. It's more looking at the overall. When we fight the election, we fight under Barisan Nasional. We don't fight as SUPP. If you notice that, that means Barisan Nasional is the party for all races because we are composed of small little units that represent different interest groups. So I think this formula probably works better in the Malaysian context. Imagine all of us inside one party, how would that work? We would be arguing among ourselves all the time.
Kenny: I think a lot of younger people coming back from overseas, and they see parties formed based on idealogies. For example in Australia, there's Labor and Liberal. In America, there's Democrats and Republicans. Whereas here we see that there's parties based on Chinese only, Indians only, Malays only. The Lain-Lains don't know where to go. I think people are saying why is there a difference. Looking at the history, I agree that there is a need for it. But that was a long time back. I think we have grown as a nation now, and if there's still a need for race-based parties?
Alan: I think as I pointed out, in the Malaysian context probably there's a need to. To form based on ideologies, even within the party we'd be arguing day and night about what should we do.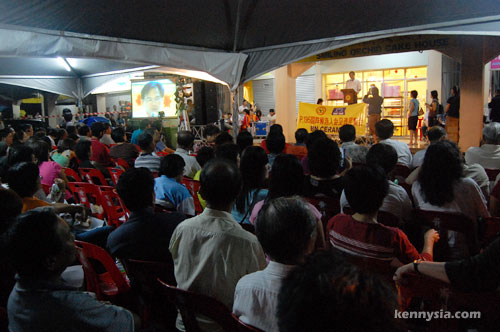 Kenny: What are some of the things that you will do if you get elected onto the parliament.
Alan: One of my top priorities would be on the security issue. We have like about 13 or 14 cases of robbery cases already for this year, so it's quite scary. Even last night's incident, I think there was shooting involved. The robber was trying to fire the gun at the victim, but it didn't work. The gun was defective. It is getting worrying and we have to do something about it.
Alan: And of course the road system in Kuching we have to look at it. If you notice, our speed around the city is around 20km/h. Our airport is 10km from the city centre. Used to be around 10-15 minutes, now it's half an hour. You want to go to the airport, your friends come in from West Malaysia and they ask you "can I make it?" You'll have some doubts lah. Last time we used to say, "10 minutes lah, no problem."
Kenny: Public transport?
Alan: Public transport is another area we definitely have to look at. Especially if you're talking about savings from oil and all that. I think we have to fight for some money for Kuching to work on the public transport system. How many of us use public transport?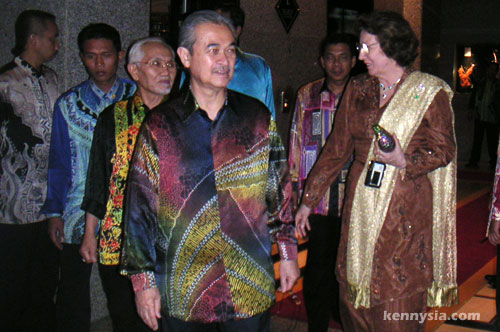 Kenny: Last but not least, why should people vote for you or for the Barisan Nasional in general?
Alan: As I said, now that the Pak Lah government is different now, we allow the MP especially backbenchers to speak out. So I will be able to bring the people's voices into parliament as well. It is not just DAP, being the champion of people's rights, can speak out just about anything they want. I will be able to do that also, plus of course I will be able to deliver. DAP talks only, at the end of the day they can't deliver much because they have no vision to form the government. That's the difference. They are only contesting in how many seats? There are 222 seats, how do you even form a government? They have a lot of problems even with PKR. They are contesting against each other in two of the constituencies. So obviously they can't form a pact with PKR even if they were to win all the seats. The only way is maybe to form it with PAS loh. But is that what the Chinese people want? To see a PAS and DAP government? We know for certain that at the end of the day, BN is still going to be there, it still going to form the government. So DAP can say anything they want, they will remain as an opposition. I think that is the difference. People know the only way for us to perform, is to be part of the coalition government.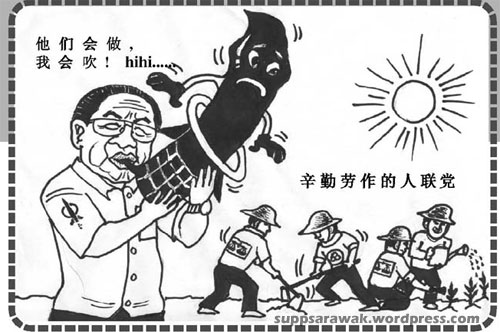 Kenny: Well I guess, looking at the way it is, this is a very tough seat isn't it?
Alan: Just for your information, there was a survey done in West Malaysia where even when there's 70% Chinese majority seat, it is very tough for Barisan Nasional government to win. In fact MCA only won 2 out of the many seats with 70% and above [Chinese majority]. Most of the seats are won by DAP. And Kuching is 92% Chinese majority, so it's the seat with the biggest Chinese voters. So it's tough lah.
Kenny: All the best in your elections, and thanks for taking time out to chat with me.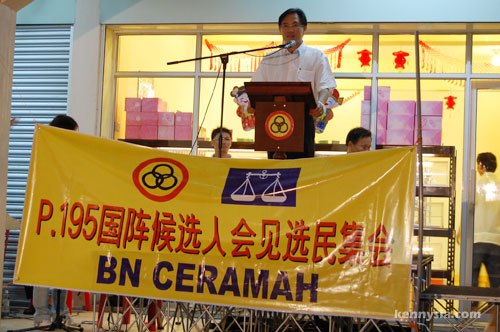 My next interview is with DAP's Chong Chieng Jen, Alan Sim's opponent and the defending champion for the seat of Bandar Kuching.