Disclaimer: kennysia.com is politically neutral and does not endorse any political party.

There's been a growing support for DAP in Kuching in recent years.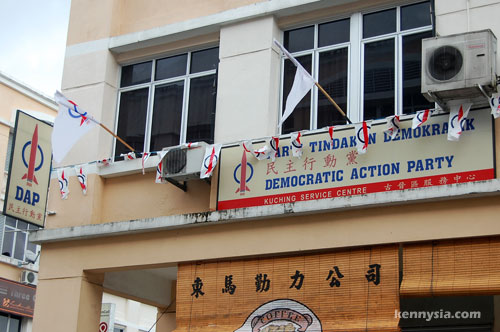 If the results of the 2006 State Elections was any indication, there is a silent dissent across majority of the public. Speak to any Chinese resident off the streets, and few have very nice words to say about the ruling government.
Over here, the Chief Minister is not exactly the most popular person, and there are good reasons for that.
No doubt, he is the most powerful person in Sarawak bar none. Known colloquially as "Pek Mo" or "White-Haired", Taib has ruled Sarawak for a staggering 26 years. He is so wealthy that his personal fortune has become one of mythical proportions. No one knows for sure how rich he is. Some say he is richer than the Prime Minister of Malaysia. Others note that he has in his possession a US$2 million grand piano purchased from Liberace and drives around in a Rolls-Royce.
Because of his power and influence, very few people dare to speak up against the CM.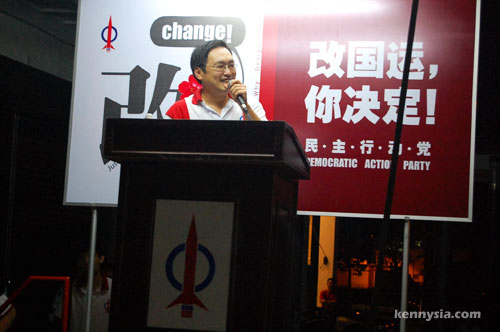 But DAP's Chong Chieng Jen is one of those few who dare.
In state assemblies, Chong is notoriously known as the "budak nakal" (naughty boy) - a nickname given to him by his rivals. Chong is known for his insistence at throwing difficult questions at the government, as well as his stubborn refusal to take no for an answer. Because of that, the BN hates Chong, the moderators hate Chong, and yet his supporters love him to death.
Chong is an fantastic public speaker and possibly one of the best we have in Kuching. He is loud, he is funny, he is extremely sarcastic.
Recently, I attended the ceramahs organised by both BN and DAP. One thing I noticed with interest that while BN ceramahs were more well-organized with good lighting, plastic chairs, shelter and food provided for the audience, most of the time their ceramahs were only attended by not more than a hundred people.
On the other hand, the DAP ceramahs which has no chairs and shelters were attended by the thousands. Many of them stood under heavy rain, holding onto umbrellas willingly just to listen to this man, Chong Chieng Jen, speak.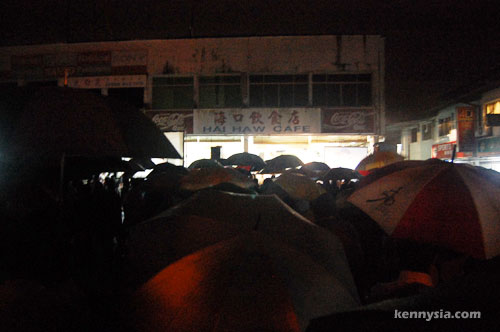 The people who attended the DAP ceramahs always get what they come for. Government inefficiencies are exposed and thrown out in the open. The inability of SUPP to speak up against UMNO and PBB were re-enacted with a massive dose of sarcasm. The audience are always entertained, laughing and clapping along the way.
When addressing his rivals, Chong would attack them with unforgivingly caustic remarks, followed up by a trademark smirk that seems to say, "Haha! I got you now, suckersssss!"
It's not hard to see why BN love to hate him. Not only is he good at getting under the skin of BN, he also enjoys watching them get riled up. And for the Opposition, there's nothing more satisfying than watching high and mighty BN leaders lose their composure and make a fool out of themselves.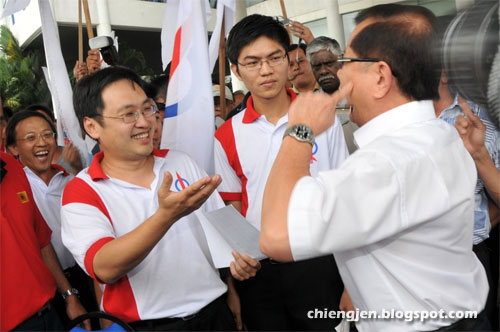 I caught up with Chong Chieng Jen last Sunday, right after he filed police report on alleged vote-buying by the BN camp.
I'm not sure what happened to the outcome of the police report, but below is the transcript of our interview.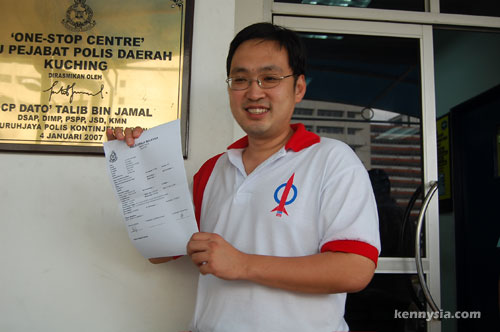 Kenny: So tell us, what's a typical day of campaigning like for the DAP?
Chong: In the mornings, we walk around distributing posters. We come back noon time for a press conference, answering part of the issues brought up by the other side and also putting forth our arguments and policies on certain issues. After the press conference, we go around to visit the voters again until 5pm, then we go back to prepare our speeches for the ceramahs. And after the ceramahs, it's around 11.30pm already.
Kenny: It's only temporary lah during the campaigning period. But this time round you got a 13-day campaign period.
Chong: Yeah, it's a bit long!
Kenny: Do you think it's better for you?
Chong: It's hard to say. One factor that is clear, is that the longer the campaigning period is, the more money we have to spend. Work is more taxing on both parties.
Kenny: Are you able to get a lot of money raised for this campaign?
Chong: We have our sympathizers and our donors. If there is any shortfall, we come out with our own money lah.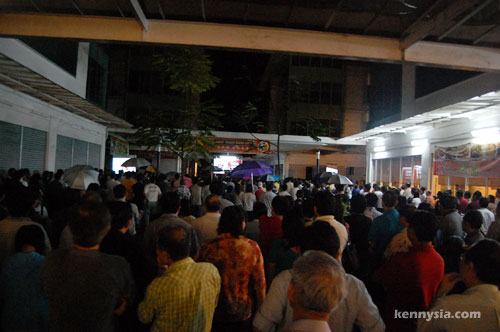 Kenny: You are the incumbent for Bandar Kuching. How difficult is it, being the only Opposition MP from Sarawak in parliament? Do you feel powerless sometimes?
Chong: Not exactly powerless, but you feel that the responsibility is heavy. There are a lot of issues people would like you to bring forward, especially when it comes to certain government policies. When all the other Sarawak MPs are from BN, they don't really dare to speak up against some of these government policies. So you feel that you are obliged to. And the time to speak in parliament sometimes is quite little. Imagine 100+ of us fighting for a slot of time to speak.
Chong: But well, just for the record, I have brought many issues to parliament. The time length that I've spoken in parliament is much more than all the 6 SUPP MPs add up together! *laughs*
Kenny: I've actually been to the state assembly before, and I saw the way you speak. You are very good at getting under their skin! I think you got your nickname of "budak nakal", isn't it? Do you take it as a compliment?
Chong: I think so. I'm not in there to please them or make them happy. I'm in there to piss them off!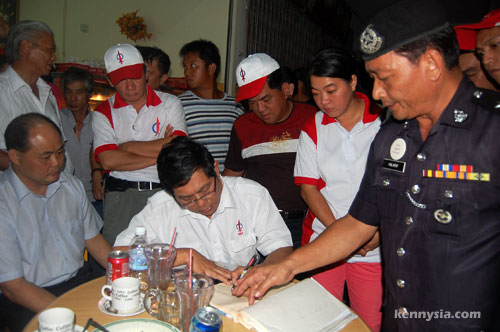 Kenny: I noticed that the DAP always like to move motions to cut minister salaries by RM10. Have you guys EVER actually been able to get it through?
Chong: No, no, never! It would be a slap on the face of the prime minister if any of the minister salaries get cut. Even in the British parliament, I don't think there's any record of Opposition motion getting through, because that would be really against the government.
Kenny: Are they really that poor they can't even spare RM10?
Chong: No, no! It's more of a "face" thing. It's more symbolic.
Kenny: I'll give you a chance to respond to some of the "allegations" made by your rivals. But before that, I want to ask you, do you think the current government is corrupted?
Chong: *laughs* I think that is an understatement! They are VERY corrupted!
Kenny: Both state and federal?
Chong: Both are very corrupted.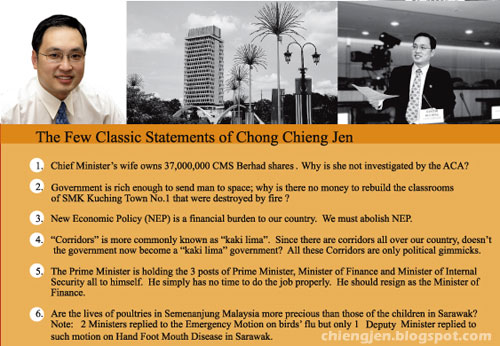 Kenny: If you have reasons to believe that the government is corrupted, why didn't you go through the proper channels such as the Anti-Corruption Agency (ACA)?
Chong: The ACA is just a toothless tiger. Toothless tiger in the sense that when it comes to top-level politicians, they are unable to do anything. That's number one. Number two, once you lodge a formal report with ACA, you cannot bring up the issue again. You cannot talk about the issue anymore after you made a formal report. And our duty here is not only to make a report, we have a duty also to expose this thing to the public and create the awareness. That is more important. Because ultimately I believe, to change the country, to battle corruption, the people's awareness must be there.
Chong: So if I lodge a police report, and the police do nothing; or if I lodge a report to ACA, the ACA sits on it, that's the end of the matter. I can't even raise it in parliament, I can't raise it in DUN, I can't raise it outside. So then the issue will just cross. Just like what happened to See Chee How of PKR. They go and lodge a police report and with ACA, they go and get themselves sued by the Chief Minister, and now you cannot talk about the Japan Times logging issue anymore.
Kenny: So the ACA, in your opinion, is ineffective?
Chong: It's a toothless tiger. It's ineffective.
Kenny: Just put it up there to say "hey we're doing something about it", but not really working?
Chong: That's right.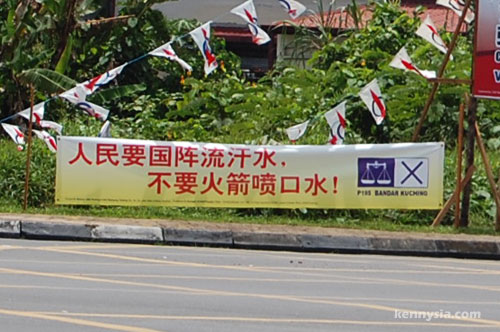 Kenny: What is your take on Barisan Nasional saying that DAP only knows how to talk, but don't really have solutions to problems?
Chong: No, we have solutions. We have solutions to everything that we talked about. Like for example, security issue. We suggested the IPCMC (Independent Police Complaints and Misconduct Commission) that has been proven to be very effective in Australia. We have been barking on this issue, pushing the government to set it up. But what's lacking is the political will by Pak Lah.
Chong: Another issue is CMS having all the government contracts to themselves. Our solution is have a public tender. Well? That is our solution to a more equitable distribution of wealth. That is not adopted. So what do you mean?
Chong: If you go down to more specific cases, such as drain blockage and rubbish not being collected. Alright, so we go and complain to the relevant authorities, ask them to do their job. Likewise, even the politicians at SUPP, they don't go and collect the rubbish themselves, they don't go and clean the drain! They also ordered the relevant people to do it! Our job is to raise these issues and get it done. The person to get it done are the civil servants. So these are just empty accusations.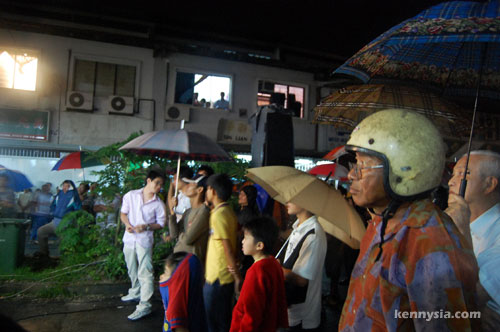 Kenny: Do you feel that the local media is still being unfair towards the Opposition?
Chong: The Chinese media is quite alright. Of course, there is a certain degree of unfairness. Things said by [SUPP chairman] George Chan will always appear in the front page. So, we have learnt to live with that. But at least our news get carried out. The censorship is not so much. Only when it touches the Chief Minister, then the censorship will come in.
Kenny: It is difficult isn't it?
Chong: Yeah, all the newspapers are owned by SUPP tycoons.
Kenny: Regarding the rising cost of living, do you think we have not been doing enough to control it?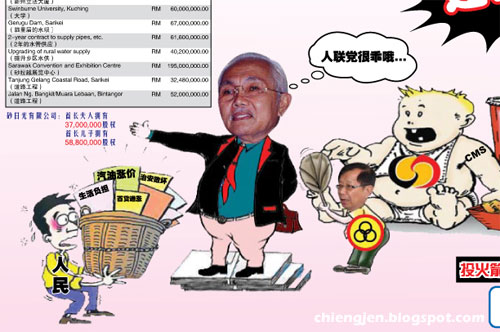 Chong: I think the government is not only not doing enough to control it, they are aggravating it. There are a lot of policies such as increasing electricity tariff, introducing mandatory testing for commercial vehicles twice every year by Puspakom, and last year Puspakom announced an increase in testing fee by 30%. That all add up to the cost of operation. And the corruption by the police, by the JPJ, those are hidden costs to operate business. Ultimately, these hidden costs will translate into the prices of consumer goods. Another one would be Bernas. The import of rice is controlled solely by Bernas, and they are making a profit. At the end of the day, we are eating rice of a lower quality but at a higher price.
Kenny: From past experiences, do you think when the government knows that the public know all these issues, they buck up?
Chong: Yeah it's highly effective especially when it comes to election time. Like for petrol and diesel prices, that is a clear example of how the voice of dissent of the people is heard by the relevant authority. Since we won the 2006 state elections, the petrol prices have not gone up, the diesel prices have not gone up, despite the fact that international crude oil prices have gone up by 50% since 2006. So that is the voice of dissent of the people, and I think it's effective.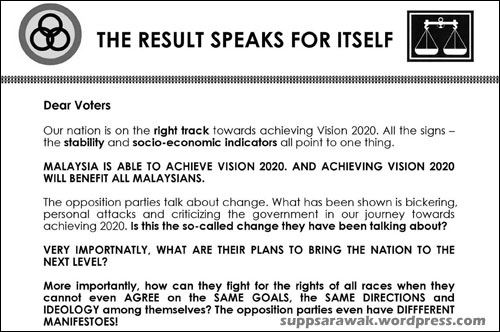 Kenny: What is your take on BN's statement that "only the BN government can bring development, stability and progress to the country"?
Chong: *laughs* That's rubbish! Ok, the development in a country is brought about by the public sector and private sector. They complement each other. In Kuching, especially in the city area, development will be carried out REGARDLESS of who is the sitting MP in the area. The most developed place in Malaysia is Kuala Lumpur, and we have so many DAP MPs there. The least developed area is Ulu Kapit or Baram, and all the time Barisan Nasional has won the elections in those areas. Likewise in Kuching, and Kuching is developing at such a fast pace that I don't think the government policies are catching up with it. Well, Kuching is under DAP. After I won the Kuching seat in 2004, we had Swinburne University, RM60million project. We had The Spring coming up, a private sector development. We had Boulevard coming up. We have another 4-star hotel coming up in Bukit Mata Kucing. All those are huge projects, involving tens of millions. So, the thing they said about development is zero. Rubbish. And today, I put up the banner already saying that under the 9th Malaysia Plan, the development fund for Kuching is RM300 over million.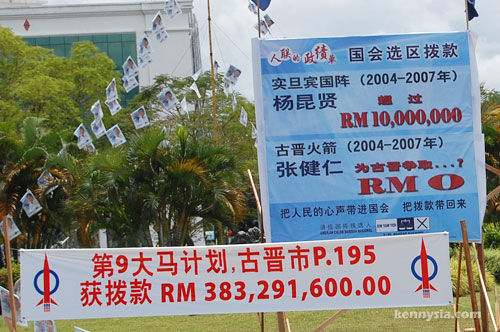 Kenny: Moving on to issues affecting the whole country. I guess one of the concerns that many young voters are having, is when do you think this New Economic Policy is going to end?
Chong: It'll never end. It will never end. It's N. E. P. - Never Ending Policy. I have spoken that in parliament. The reason is that the NEP has become a tool for those in power to enrich themselves, at the expense of the general public. And those in power are the ones who determine whether NEP will stay or not. So the vicious cycle will go on and on and on and on. Well, unless there is a very drastic revolution in our country. Otherwise as it goes, it will never end.
Kenny: By "revolution", I hope you don't mean bloodshed or whatever!
Chong: Yeah I hope revolution is not bloodshed as well. There are Malays who are very poor. Ultimately, the top figures, the ones who impoverish the general Malays will point fingers at other races.
Kenny: The interesting thing is that the other component parties within the BN do know that people do not like it. But I don't think they want to say anything.
Chong: The thing is that, they are bound by their party 'whip'. They are bound by the BN 'whip'. They cannot speak against the NEP. That's it. Full stop. Regardless however outspoken you are. Like there's one, Zaid Ibrahim of Kota Bharu, he did speak against NEP. He didn't get disciplined, but I don't think he's making any progress either. *laughs* All the UMNO people don't like him.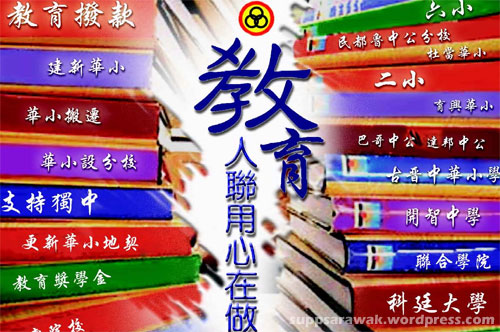 Kenny: Let's talk a bit about education, in particular, Chinese education. I am a graduate of Chung Hua Middle School No. 1. What do you feel about Chinese independent schools certificates still not being recognised by local universities?
Chong: That is one of the biggest irony. I read in the papers that this George Chan is trying to get three overseas universities to recognise independent school certificates. What? You are the government. Why don't you get your OWN universities to recognise it first before you go overseas? The discrimination is just there. And SUPP is powerless, powerless to change it. Now that the standard of Chinese independent schools is worldwide recognised, it is time that the government of Malaysia should take note of that effect, and give recognition to Chinese independent school certificates.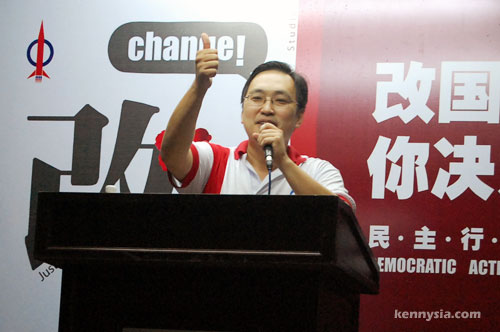 Kenny: Do you think Malaysia is an Islamic state or a secular state?
Chong: By constitution, we are a secular state. That is the constitution. It was only Mahathir who is the only PM to say that we are an Islamic state. So far I think we are still a secular state, although we are moving towards Islamization of Malaysia.
Kenny: You don't think it's something that non-Muslims should be afraid?
Chong: We should be aware of. We should raise our objections, and send a very clear message to the government that we do not want an Islamic state in Malaysia. Things like that, when Mahathir said that we are an Islamic state, the Chinese component parties will try to justify it, saying that we are a moderate Islamic state, not an extreme Islamic state. But by doing so you are already conceding to the status of our country. Before Mahathir made that statement, it was a well-accepted position that our country is a secular state. In a secular state, all other religion would have been respected. If you accept the fact that we are an Islamic state, then it is only a degree of Islamic state that you are arguing now. So the argument will be, in an Islamic state, which law should take supreme? The Syariah or the Constitution? All the while that is not an issue.
Chong: The Chinese component parties in Barisan Nasional, when Mahathir made such an unconstitutional statement, they should stand up for the right of the non-Muslims. But instead they concede to it and try to convince the non-Muslims that we are an Islamic state, just that we are moderate lah! How moderate are we, or how extreme are we, that is a spectrum. Then slowly, it will be moving towards an Islamic state. So we should not concede to the statement that we are an Islamic state.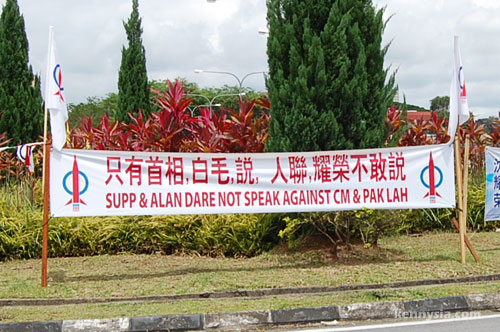 Kenny: What are some of the things that you will do if we elect you into the parliament?
Chong: I will continue to do what I have been doing. All the unfairness, all the issues of the people. In my pamphlets, I did mention certain examples. During the sugar shortage problem in Kuching, I raised the problem and what happened is that they send sugar in on a navy vessel for us to solve the problem. Another one is 1st Silicon [a silicon wafer foundry invested by the state government]. I mentioned in 2004 that this is a drain on our state coffer. About 2.5 billion ringgit has been lost. So I talked about it in parliament in mid-2005. In 2006, the government cut the loss and sold it off to a foreign company. Things like that. We go along on this policy. That is a form of pressure on the ruling government to do their job properly. That is our role as opposition. Of course, individual cases like writing letters to help people make applications, those we have been doing that all year round.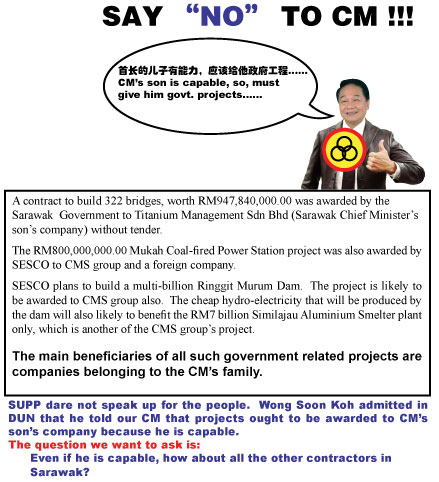 Kenny: Lastly, why should we vote for you and the DAP in general?
Chong: To strike a balance, especially in parliament. The parliament is the top-level policy making institution in the country. If there is an imbalance of power between the opposition and the ruling party, then the outcome of it will be very unfair. So there are a lot of issues of corruption, nepotism - all these about state government ministers and officers. Those issues will never been brought up in parliament [if not for the DAP]. If an SUPP member is elected, he will never bring it up in parliament also. It is only through DAP that we will bring up these issues, and by bringing up these issues, we can have hope that these issues will be addressed.
Chong: One example. The Chief Minister has decided not to stand as a candidate for parliament. Can it be because of his health problems? Or is it because I have, on many occasion in parliament, directly accused him of... *laughs* I have urged the ACA to investigate. I have brought up the issue of his wife owning 37 million shares in CMS. I have brought up the issue of his son being the majority shareholder of Titanium Management Sdn Bhd, which was awarded a government contract consisting 300 over bridges in one contract like that. Maybe it's because of these issues that I brought up that he didn't get the approval of the Prime Minister to stand as an MP? As a compromise, his son decided to stand? So this is how we prevent the injustices from happening.
Kenny: Thanks for that. I always enjoy hearing you speak, and I think you are one of the best public speakers in Kuching. All the best in the elections.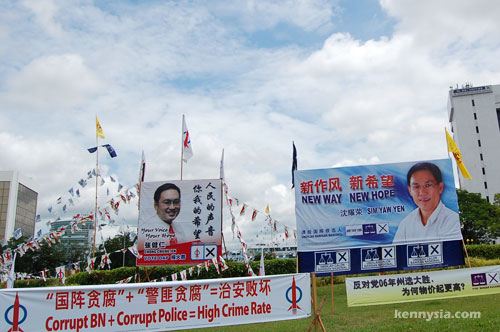 After two interviews with two candidates from both sides of the political divide, kennysia.com wraps up this 2008 Malaysian election coverage. This sure has taken me hell lot of time to do, I sure hope that my effort has given people a better idea on who to vote for this 8 March.
Check your polling stations. And remember, vote smart.