The Miss Sarawak World 2006 happened last Thursday and I was lucky enough to attend the event.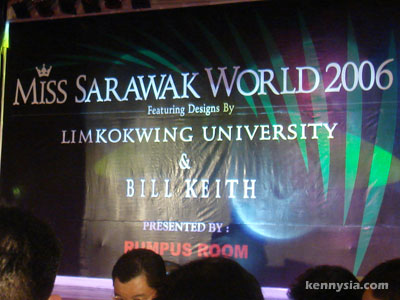 Unlike the last beauty pageant which I gatecrashed, I got legitimate ticket to watch this one. :P This event is organised by a friend of mine Joyce Lee, so I shouldn't misbehave myself.
The tagline for this year's Miss World competition is "Beauty With A Purpose." The winner of this leg of competition will go on to represent Sarawak to compete with winners from around the country for the Miss Malaysia World title in KL. If successful, she'll then be in the running for the Miss World 2006 Finals in Warsaw, POland.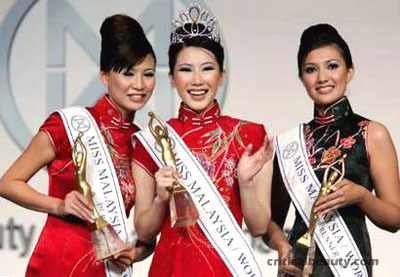 Sarawak has produced a Miss Malaysia World 2 years ago in Gloria Ting, so it's not entirely impossible that we could go all the way.
The Miss Sarawak World pagent was held at the Crowne Plaza hotel. This is our menu for the evening.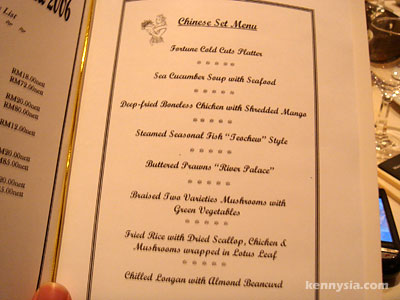 And this is our menu of a different kind.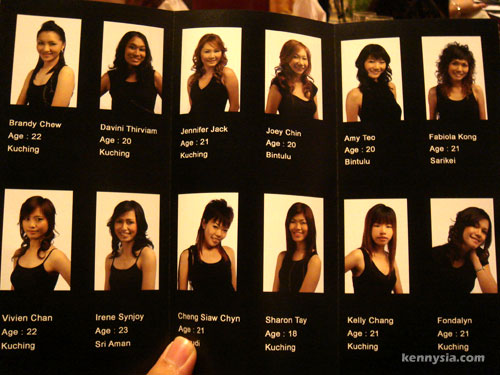 The contestants were getting a long time to get ready to come out on stage. But based on looks alone, the top 3 favourites among our table were Vivien Chan, Fondalyn and Amy Teo. In true World Cup spirit, one of us even wrote the odds of each contestant winning next to their photos. ;)
As with all contests as big as this, it is important to invite a politician to grace the event.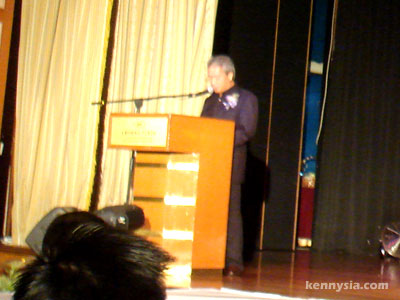 You'd think that if you're a Datuk invited to deliver a speech at a beauty pageant, you should at least know how to pronounce the word "pageant". But nooooo... this beloved Datuk of ours went up on stage and called this contest a "beauty pigeon".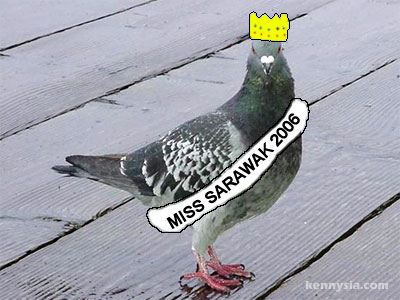 So bizarre that his speech went a little like this.
"You see, critics have a lot of misconceptions about beauty pigeons. Many think that beauty pigeons serve little purpose. They are wrong. Pigeons like the one we have this evening can do a lot in enhancing our country's image."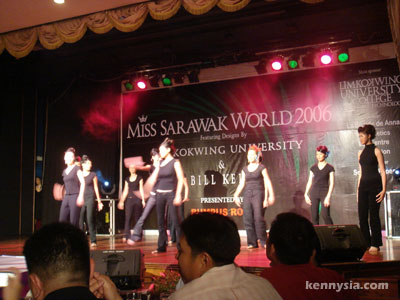 Finally, 1.5 hours after the advertised starting time the beauty queens decided to all come out on stage for their opening dance. I had one of the better views that evening as I was literally 2 tables away from the stage.
The contestants then walked up to the microphone to introduce themselves. Here's where the judging started and the audience subconsciously picked their favourites.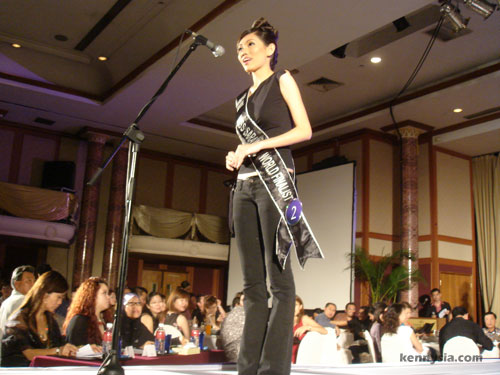 This is my favourite, 21-year-old Fabiola Kong from Sarikei. Odd name, but she has great poise and was the better-looking one that evening.
Another contestant with a strange name was this 21-year-old Kuching girl called Fondalyn.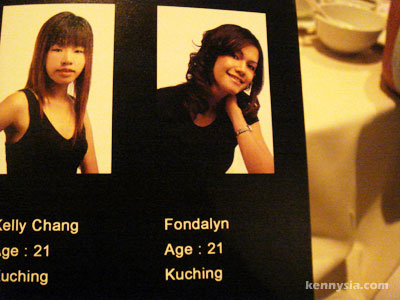 Fondalyn? What are the odds of someone's name sounding so much like "fondling"? Kinda makes me wonder if she has cousins called "Carressing", "Hugging" and "Kissing".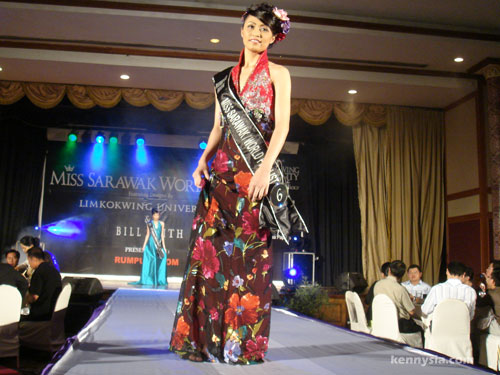 The Bill Keith Evening Gown Showcase was definitely one of the better shows that evening. The 11 beauty queens look so absolutely stunning in those dresses, I feel like asking them all out for a dinner and dance with me.
But I shy lah. :P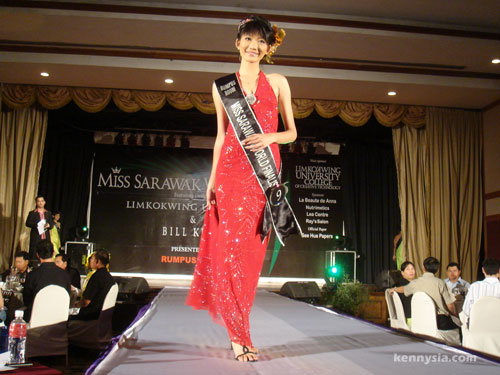 This is Amy Teo.
She was the hot favourite among the crowd to win the Miss Sarawak World title. The sweet Bintulu lass with a heart-melting smile drew roaring applauses from the audience everytime she came out on stage, and she took them all in confidently in her stride.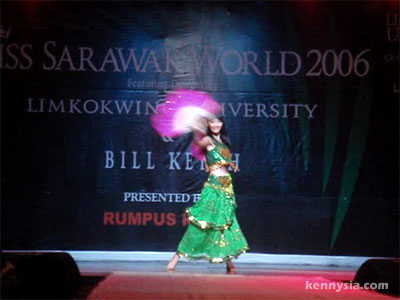 As if the other contestants weren't jealous enough, Amy Teo wowed the crowd further when she delivered an explosive dance performance to the tune of Jolin's "Dancing Diva". Other contestants came out for their talent show as well but they all paled in comparison to Amy's.
She was in a completely different league, and for a moment it seemed as if the title was well within her reach.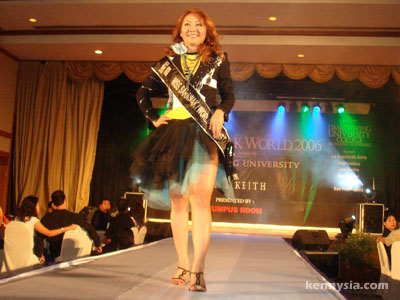 I still like Fabiola Kong though. :P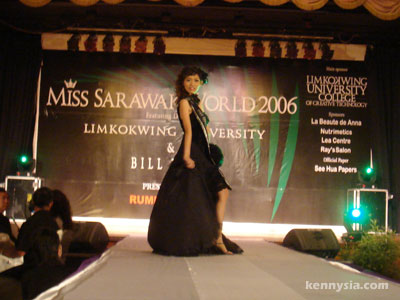 I reckon the show was pretty well organised from top to bottom. My only disappointment is that there was no swimsuit parade!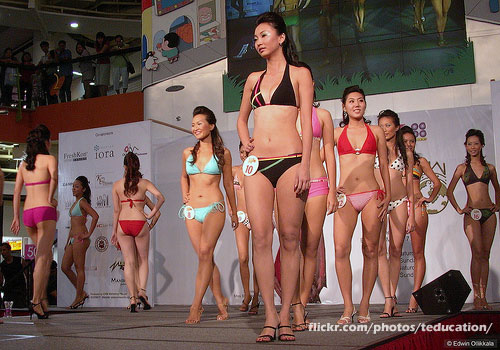 What the heck? How could that be? The swimsuit parade is such an integral component of beauty pageant shows, something is missing if it wasn't shown. Why cut it out right? Anyway, if the girls get through to Miss World Finals, they still have to do a swimsuit parade what.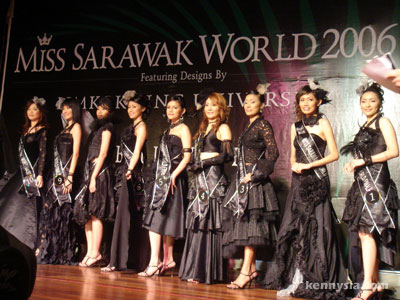 The finalists were narrowed down from 200, ot 11 to 6. Favourites Amy Teo, Fabiola Kong and Fondalyn all got through. Then it was down to question time to test the finalists confidence and spontaneity.
There's no easy way to say this - but they bombed. Big time.
Some can't speak fluent English, some had too much "uhmmm..." and "ahhh..." in their replies, and some didn't even answer the question correctly. Even crowd favourite Amy Teo struggled during question time. The way she's going, she's gonna be in big trouble if she were to head over to KL for Miss Malaysia.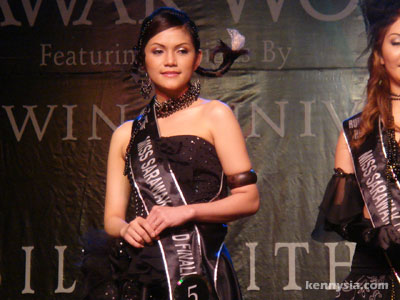 One contestant did shine though.
While everyone was mesmerised by Amy Teo's smile, it was dark horse Fondalyn who cruised through question time and articulated herself elegantly without the awkward pauses. She proved to everyone that she's not just a pretty face.
The judges had it easy.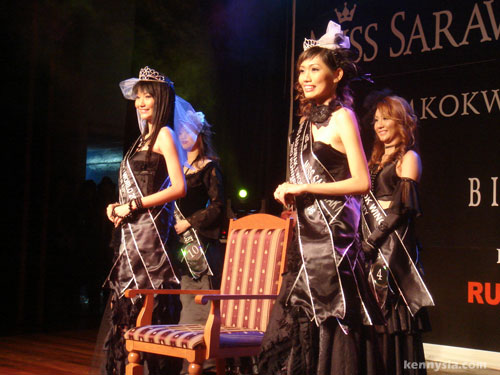 The results were anounced.
In the end, it was Fabiola Kong at 3rd place, Amy Teo got 2nd.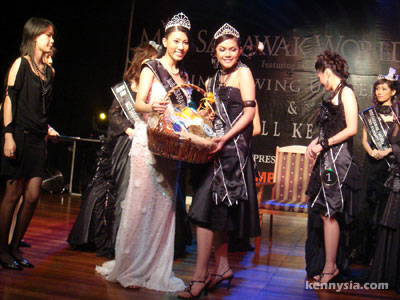 And Miss Fondalyn was crowned Miss Sarawak World 2006!
Congratulations Fondalyn on winning the beauty pigeon! You're definitely most deserving to the title.
Now's your chance go to KL to the Miss Malaysia World Finals and show 'em what Kuching girls are made of.
Kolo mee!